Overview
Overview of antihypertensive agents
Table: Drugs used to treat hypertension
Location of action
Class
Subclasses
Renal drugs
Drugs affecting the RAAS

ACEis
ARBs
Direct renin inhibitors

Diuretics

Thiazide diuretics
Loop diuretics
Potassium-sparing diuretics

Extrarenal drugs
Direct vasodilators

Calcium channel blockers
Potassium channel openers
Nitrodilators
Endothelin antagonists

Agents acting via the sympathetic nervous system

Drugs affecting CNS sympathetic outflow (e.g., clonidine)
Drugs affecting the ganglia (e.g., hexamethonium)
Drugs affecting the nerve terminals (e.g., guanethidine, reserpine)
Drugs affecting the α and β receptors
Drugs in the thiazide class
Drugs in this class include:
Hydrochlorothiazide (HCTZ; prototypical drug in this class)
Chlorothiazide
Chlorthalidone (1st-line agent in the treatment of hypertension)
Indapamide
Metolazone
Chemistry and Pharmacodynamics
Chemical structure
The chemical structure for HCTZ:
Molecular formula: C7H8ClN3O4S2
A benzothiadiazine that is 3,4-dihydro-2H-1,2,4-benzothiadiazine 1,1-dioxide with substitutions of:

A chloro group at position 6
A sulfonamide at position 7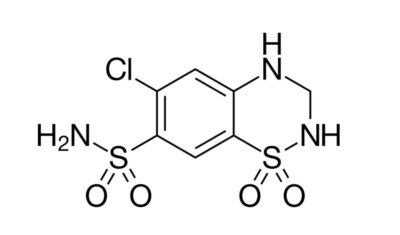 Mechanism of action (MOA)
Primary MOA: ↓ reabsorption of NaCl through the inhibition of the Na+/Cl– cotransporter in the distal convoluted tubule (DCT)

With this channel blocked → ↓ Na+ reabsorption
Water always follows Na+:

Water stays with Na+ in the tubules (rather than being reabsorbed).
Diuresis results from the osmotic effect of Na+.

Diuresis → ↓ plasma volume → ↓ BP

Initially causes a transient ↑ in the RAAS and sympathetic tone to compensate for ↓ BP and cardiac output.
Transient ↑ in the RAAS explains why there is a synergistic effect between thiazides and ACEis/ARBs.

There is also a modest ↑ in vasodilation via an unclear mechanism.

Thiazide use results in:

↑ Excretion of Na+, Cl–, K+, and water
↑ Reabsorption of Ca2+:

↑ Na+ excretion → ↓ cellular Na+ levels →
↑ Compensatory exchange of Ca2+ for Na+ (via the basolateral Na+/Ca2+ exchanger)

Development of hypokalemia:

↓ Na+ reabsorption in the DCT →
↑ Na+ delivered to the collecting ducts (CDs) →
Stimulates ↑ aldosterone release
Aldosterone stimulates Na+/K+ exchanger to ↑ Na+ reabsorption and excrete K+ → hypokalemia

Development of a metabolic alkalosis:

↑ K+ excretion in the CD →
Aldosterone-stimulated ↑ in K+/H+ exchanger →
Reabsorbs some of the extra K+ in the tubule in exchange for H+ (which is excreted) → metabolic alkalosis via H+ loss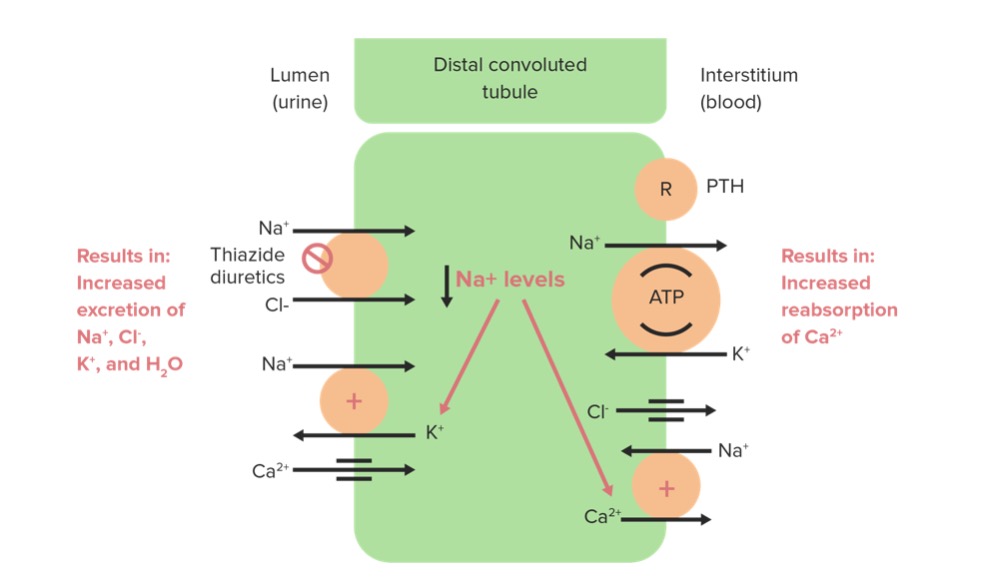 Pharmacokinetics
Table: Pharmacokinetics of thiazide diuretics
Drug
Absorption
Distribution
Metabolism
Excretion
HCTZ

Well absorbed
Peak effect in 4 hours
Bioavailability 65%–75%

Vd: 3.6–7.8 L/kg
Protein binding 40%–68%

Not metabolized

Urine
Half-life: 6–15 hours

Chlorothiazide

Poor oral absorption
Peak effect: 30 minutes IV

Distributed throughout the extracellular space
Not metabolized

Urine
Half-life: 45–120 minutes

Chlorthalidone
Peak effect 2–6 hours

Vd: 3–13 L/kg
Protein binding: 75%

Hepatic

Urine
Half-life: 40 hours

Indapamide

Rapid and complete absorption
Peak effect: 2 hours

Vd: 25 L
Protein binding: approximately 75%

Extensive hepatic metabolism
Metolazone
Onset of action: 1 hour

Vd: 113 L
Protein binding: 95%

Not metabolized
Urine
HCTZ: hydrochlorothiazide
Vd: volume of distribution
Indications
Indications
Most thiazide diuretics share similar indications, including:
Hypertension
As an adjunctive therapy for edema in the following conditions:

Heart failure
Hepatic cirrhosis resulting in ascites
Mild to moderate renal dysfunction (CKD stages 1–3):

Includes CKD due to nephrotic syndrome, glomerulonephritis, chronic renal failure
Note: Thiazides are relatively contraindicated in patients with anuria/severe renal failure (CKD stages 4 and 5).

Corticosteroid use
Estrogen therapy

Off-label uses:

Hypercalciuria
Diabetes insipidus
Clinical pearls
All patients should be monitored for BP, creatinine, Na+, and K+.
Chlorthalidone and indapamide:

1st-line agents for monotherapy when treating hypertension
1.5–2× as potent and longer half-life than HCTZ
ALLHAT (Antihypertensive and Lipid-Lowering Treatment to Prevent Heart Attack Trial) showed reduction in cardiovascular events (has the most evidence of all the thiazides).
May have ↑ side effects and risk of hypokalemia

HCTZ:

Commonly used as 1st-line agent for hypertension, though less effective than chlorthalidone or indapamide
Comes in combination pills with ACEis, ARBs, and/or calcium-channel blockers
Not as effective with creatinine clearance < 30 ml/min

Metolazone:

May be more effective than other thiazides with CrCl < 30 ml/min
Often combined with other diuretics
Adverse Effects and Contraindications
Adverse effects
Table: Adverse effects of thiazide diuretics
Thiazide adverse effects
Mechanism
Management
Hypokalemia
↑ Urinary Na+ causes ↑ K+ exchange in the CD → ↑ K+ excretion
↑ Dietary intake of K+ or supplementation
Hyponatremia and hypovolemia
↓ Na+ reabsorption results in ↓ serum Na+; water follows Na+, potentially leading to hypovolemia (most likely to occur in the 1st few weeks of therapy)

↓ Starting dose
Without overt hypovolemia: ↓ Free water intake
With overt hypovolemia: Replete Na+ with IV saline.

Metabolic alkalosis
↑ Exchange of K+ for H+ ions in the CD
Potassium supplementation and/or lower dose/switch agents
Hypomagnesemia
Not fully elucidated
Mg2+ supplementation
Hyperuricemia
Thiazides ↑ urate reabsorption
Avoid thiazides in patients with untreated gout or at high risk for gout.
Hypercalcemia
Thiazide-induced ↑ of Ca2+ reabsorption
Typically inconsequential in absence of CKD or hyperparathyroidism
Hyperglycemia

↓ K+ → hyperpolarization in pancreatic β cells → ↓ insulin secretion
Seen in higher doses in patients with underlying diabetes

Consider alternative agents in patients with diabetes.
↓ Thiazide dose
Correct hypokalemia.
Treat diabetes.

Dyslipidemia

Not fully elucidated
Risk is ↓ with indapamide.

Lipid monitoring
Lipid-lowering diet and medications

Photosensitivity
Not fully elucidated
Wear sunscreen and protective clothing.
Hypersensitivity
Underlying sulfonamide allergy
Avoid thiazides.
Contraindications
Thiazide contraindications:

Hypersensitivity reactions
Anuria and/or renal failure
Hypotension
Hypokalemia
Allergy to sulfa drugs
Gout

Thiazide precautions:

Diabetes
Hypercalcemia
Hepatic impairment
Certain medications:

Lithium
Carbamazepine
Corticosteroids
NSAIDs

Pregnancy and lactation
Comparison of Medications
Some of the other most common diuretics include loop diuretics (e.g., furosemide), potassium-sparing diuretics (e.g., spironolactone), carbonic anhydrase inhibitors (e.g., acetazolamide), and osmotic diuretics (e.g., mannitol).
Table: Comparison of diuretics
Medication
Mechanism
Physiologic effect
Indication
Thiazide diuretic: Hydrochlorothiazide
↓ Reabsorption of NaCl in the DCT through the inhibition of Na+/Cl– cotransporter
Loop diuretic: Furosemide
Inhibits the luminal Na+/K+/Cl– cotransporter in the thick ascending limb of the loop of Henle

Edema/ascites
CHF
Hypertension

Potassium-sparing diuretic: Spironolactone

↓ Reabsorption of Na through the ENaC channels in the CD
Inhibition of aldosterone receptors in the CD

↓ Blood pressure
↓ Edema
Does not cause ↑ excretion of K+
Anti-androgenic effects

CHF
Edema/ascites
Hypertension
Hirsutism in females
Primary hyperaldosteronism

Carbonic anhydrase inhibitor: Acetazolamide
Inhibits both the hydration of CO2 in the PCT epithelial cells and the dehydration of H2CO3 in the PCT lumen; results in ↑ HCO3– and Na+ excretion

↑ Urinary excretion of HCO3– → metabolic acidosis
↓ Intraocular pressure

Edema in patients with metabolic alkalosis
Altitude sickness
↑ Intraocular pressure
Off label: normal pressure hydrocephalus

Osmotic diuretics: Mannitol
↑ Osmotic pressure in the glomerular filtrate → ↑ tubular fluid and prevents water reabsorption

↓ Free water
↓ Cerebral blood volume

Increased intracranial pressure
Increased intraocular pressure
PCT: proximal convoluted tubule
DCT: distal convoluted tubule
CHF: congestive heart failure