Overview
Definition
Ependymomas are glial cell tumors in the CNS arising from ependymal cells.
Glial cells are supportive tissues within the brain and nervous system.
Ependymal cells produce CSF.
May arise anywhere in the ventricular system (intracranial ependymoma) or spinal canal (spinal ependymoma), but most commonly:

Children: the posterior fossa at the floor of the 4th ventricle
Adults: lumbosacral spinal cord or filum terminale
Classification of nervous system tumors
Table: Classification of nervous system tumors
Categories
Specific tumors
Neuroepithelial tumors in the CNS

Astrocytoma, including glioblastoma multiforme
Oligodendroglioma
Ependymoma and choroid-plexus tumor
Medulloblastoma (embryonal tumor)

Meningeal tumors

Meningioma
Hemangioblastoma

Sellar-region tumors

Craniopharyngioma
Pituitary adenoma
Pinealoma/pinealoblastoma

Primary CNS lymphoma
Primary CNS lymphoma
Metastasis to the brain (5x more common than primary brain tumors)
Most commonly arising from:

Lung, breast, and renal cell carcinomas
Melanoma

Peripheral tumors

Schwannoma, including acoustic neuroma
Neuroblastoma
Epidemiology
Intracranial ependymoma:
Incidence:

< 6%–9% of primary tumors arising in the CNS
30% of primary CNS neoplasms in children < 3 years old
In children, 90% of ependymomas are intracranial.
3rd most common pediatric brain tumor (behind medulloblastoma and pilocytic astrocytoma)

Age:

More common in children than adults
Median age at diagnosis: 4–5 years old
25%–40% of patients are < 2 years old.
Intracranial ependymoma in adults usually occurs prior to age 40.

Sex: slight predominance in men
Location: most commonly occurs in the posterior fossa
Spinal ependymoma:
Incidence:

Approximately 25% of primary spinal cord tumors
In adults, 75% of ependymomas are in the spinal cord.

Age:

More common in adults
Median age at diagnosis: 30–40 years of age

Location:

Approximately 50% occur in the lumbosacral cord or filum terminale.
Approximately 50% occur elsewhere in the cervical or thoracic spinal cord.
Etiology
No known cause of ependymoma
Clustering of the disease within families has been noted.
Increased incidence of spinal ependymoma in neurofibromatosis 2 (NF2)
Pathophysiology
Arises from ependymal cells:

The cells line the cerebral ventricles and passageways in the brain and spinal cord.
Derived from radial glial cells in the subventricular zone

Transformation from normal ependymal cells into neoplastic cells:

Genetic mutations
Epigenetic alterations

Can be locally invasive and spread through the spinal cord
Tumor characteristics:

Usually well demarcated
Multiple areas of calcification, hemorrhage, and cysts
Tumor cells often form ependymal rosettes (perivascular pseudorosettes are the histologic hallmark of ependymomas).

Several molecular "profiles" have been identified based on specific combinations of genetic and epigenetic abnormalities within tumor cells:

Ependymomas can be classified into the following subgroups according to the profiles:

Posterior fossa ependymoma group A (PF-EPN-A)
Posterior fossa ependymoma group B (PF-EPN-B)
Supratentorial ependymoma with RELA fusion (ST-EPN-RELA)
Supratentorial ependymoma with YAP fusion (ST-EPN-YAP)

RELA fusion:

Oncogenic fusion between RELA and C11orf95
RELA is the principal effector of NF-κB signaling.

Subgroup classification is still emerging and requires further study to understand prognostic and therapeutic implications.
Clinical Presentation
The clinical presentation depends on the location of the ependymoma and the age of the patient. Most patients have symptoms for approximately 3–6 months prior to diagnosis.
Posterior fossa ependymoma:

Signs of increased intracranial pressure due to obstructive hydrocephalus:

Headache (frequently worse in the morning)
Nausea and potentially significant vomiting
Ataxia
Vertigo
Papilledema
Nystagmus

Cranial nerve palsies
Personality, mood, and cognitive changes

Supratentorial ependymomas:

Seizures
Focal neurologic deficit

Spinal cord ependymoma:

Motor and sensory deficits involving descending nerve tracts, ascending nerve tracts, and exiting peripheral nerves
Specific deficits depend on the level of the tumor
Diagnosis
Imaging
Imaging is obtained 1st as part of the diagnostic work-up, but histologic evaluation is required for diagnosis. Imaging findings may suggest an ependymoma and guide surgery.
MRI:

Imaging modality of choice for both the brain and spinal cord
Hypointense masses on T1-weighted MRI
Hyperintense masses on T2-weighted or proton density MRI
Gadolinium enhancement is usually prominent.

CT findings:

Hyperdense with homogenous enhancement
Cysts and calcifications are commonly seen.

General findings suggestive of ependymoma (distinguishable from other posterior fossa tumors):

Tumor arising from the 4th ventricle
Tumor extending down to the craniocervical junction
Pronounced extension through the foramina of Luschka
Restricted diffusion on diffusion-weighted images
Calcifications in the 4th ventricle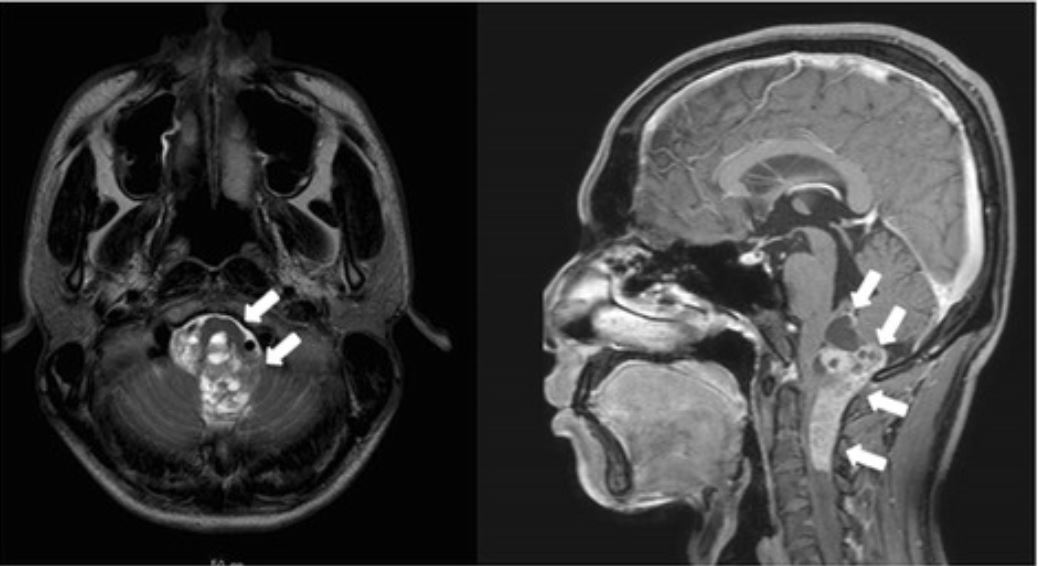 Histologic classification
Ependymoma is based on a histologic diagnosis; therefore, the gold standard for diagnosis is pathologic evaluation of a tissue specimen. Ependymomas are classified by histologic grades according to the WHO.
World Health Organization grade I:

Subependymoma:

Rare, benign tumors of the 4th or lateral ventricles in adults
Hypocellular tissue consisting of a coarse, glial matrix containing clusters of cells with uniform nuclei and microcysts

Myxopapillary ependymoma:

Mostly benign tumors arising in the conus medullaris and filum terminale of the spinal cord
Pseudopapillary structures with mucin-rich microcysts
Cuboidal cells surrounding a myxoid stroma

World Health Organization grade II: classic ependymoma:

May arise anywhere in the ventricular system or spinal canal
Potential variants include:

Papillary variant
Clear-cell variant
Tanycytic variant

Findings include:

Solid or papillary mass
Perivascular pseudorosettes: tumor cells appear as a gland surrounding the vasculature (diagnostic of ependymoma)
Cells with regular, round-to-oval nuclei and an abundance of granular chromatin
Dense fibrillary background

World Health Organization grade III: anaplastic ependymoma:

Abundant mitotic cells
Pseudopalisading necrosis

RELA fusion-positive ependymoma:

A new piece of the WHO classification
Can include grades II and III
Determined based on genetic testing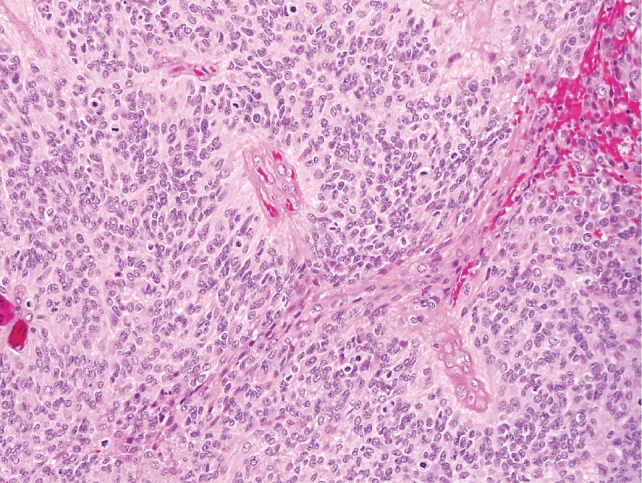 Other testing
CSF cytology:

Important in the work-up to evaluate for metastasis
Ideally done prior to surgery (debris from surgery can make interpretation difficult)
Often contraindicated at presentation due to obstructive hydrocephalus

EEG:

Not required for diagnosis
In patients with supratentorial lesions, diffuse slowing and/or epileptogenic spikes are noted in areas around the tumor.
Management and Prognosis
Management
Refer to specialized centers when possible.
Intracranial ependymoma:

Maximal safe resection
Adjuvant radiation therapy
Chemotherapy:

> 1 year of age: may be used post-radiation for some patients
< 1 year of age: used to delay radiation therapy (sparing adverse effects of radiation)

Spinal ependymoma:

Optimal management includes complete surgical resection. 
The role of adjuvant radiation therapy is unclear.
No proven role for chemotherapy

Corticosteroids: to reduce edema surrounding the tumor
Anticonvulsants: to treat seizures in patients with intracranial ependymoma
Prognosis
Survival rates:

Children:

10-year survival: up to 70% in patients with totally resected tumors
10-year survival: 30%–40% in patients with partially resected tumors

Adults:

5-year survival: 67%–85%
10-year survival: 50%–77%

Factors affecting survival:

Extent of resection (most important factor)
Histologic grade and molecular genetic subgroup
Location of the tumor
Children diagnosed at an older age have a better prognosis.
Karnofsky performance status (measures functional status) in adults

Long-term survivors of treatment have increased risk of:

Neurocognitive deficits
Focal neurologic deficits
Sensorineural hearing loss
Growth and endocrine abnormalities
Vasculopathy
2nd malignancy
Differential Diagnosis
Medulloblastoma: a tumor arising in the posterior fossa. Medulloblastoma is the most common malignant brain tumor in children. Patients present with symptoms of increased intracranial pressure and cerebellar signs worsening over time. Treatment is with a combination of surgery, radiation, and chemotherapy. Unlike ependymomas, medulloblastomas rarely have foraminal extension and primary tumors do not occur in the spinal cord.
Pilocytic astrocytoma: the 2nd most common brain tumor in children. Magnetic resonance imaging can help distinguish pilocytic astrocytoma from other tumors. A pilocytic astrocytoma is usually cystic with a mural module, or has central necrosis with a thick rim of enhancing tissue. In contrast, ependymomas often arise from the 4th ventricle and are usually accompanied by restricted diffusion on diffusion-weighted images.
Choroid plexus tumors: rare, primary CNS tumors arising from the choroid plexus within the ventricles. Choroid plexus tumors usually present in children with signs and symptoms of hydrocephalus. Histologically, choroid plexus tumors resemble adenocarcinomas and may be associated with Li-Fraumeni syndrome.
Oligodendroglioma: a CNS tumor arising from oligodendrocytes. Oligodendroglioma commonly develops in the cerebral hemisphere (usually the frontal lobe). Presentation may include focal neurological deficits, seizures, and personality changes. Diagnosis is by MRI and biopsy. Management involves surgical resection and may be accompanied by radiation and/or chemotherapy.
References
Capodano, A.M. (2001). Nervous system: Ependymomas. Atlas Genet Cytogenet Oncol Haematol. 5(3), 208–210.
DeAngelis, L.M., Wen, P.Y. (2018). Primary and metastatic tumors of the nervous system. In Jameson, J., et al. (Eds.), Harrison's Principles of Internal Medicine, 20e. McGraw-Hill. https://accessmedicine-mhmedical-com.aucmed.idm.oclc.org/content.aspx?bookid=2129&sectionid=192016511
Genetic and Rare Disease Information Center. (2021). Ependymoma. Retrieved April 19, 2021, from https://rarediseases.info.nih.gov/diseases/6353/ependymoma
Mayo Clinic. (2019). Embryonal tumors. Retrieved April 19, 2021, from https://www.mayoclinic.org/diseases-conditions/embryonal-tumor/
National Cancer Institute Center for Cancer Research. (2021). Choroid Plexus Tumors Diagnosis and Treatment. Retrieved April 19, 2021, from https://www.cancer.gov/rare-brain-spine-tumor/tumors/choroid-plexus-tumors
National Cancer Institute. (2020). Childhood Ependymoma Treatment (PDQ®)–Patient Version. Retrieved April 19, 2021, from https://www.cancer.gov/types/brain/patient/child-ependymoma-treatment-pdq
National Cancer Institute. (2021). Ependymoma Diagnosis and Treatment. Retrieved April 19, 2021, from https://www.cancer.gov/rare-brain-spine-tumor/tumors/ependymoma
Upadhyaya, S.A., Tinkle, C. (2020). Intracranial ependymoma and other ependymal tumors. UpToDate. Retrieved April 19, 2021, from https://www.uptodate.com/contents/intracranial-ependymoma-and-other-ependymal-tumors
Welch, W.C., Schiff, D., Gerszten, P.C. (2020). Spinal cord tumors. UpToDate. Retrieved April 19, 2021, from https://www.uptodate.com/contents/spinal-cord-tumors