Overview
Definition
A vascular ring is a congenital malformation in which the esophagus and trachea are encircled by an aberrant aorta.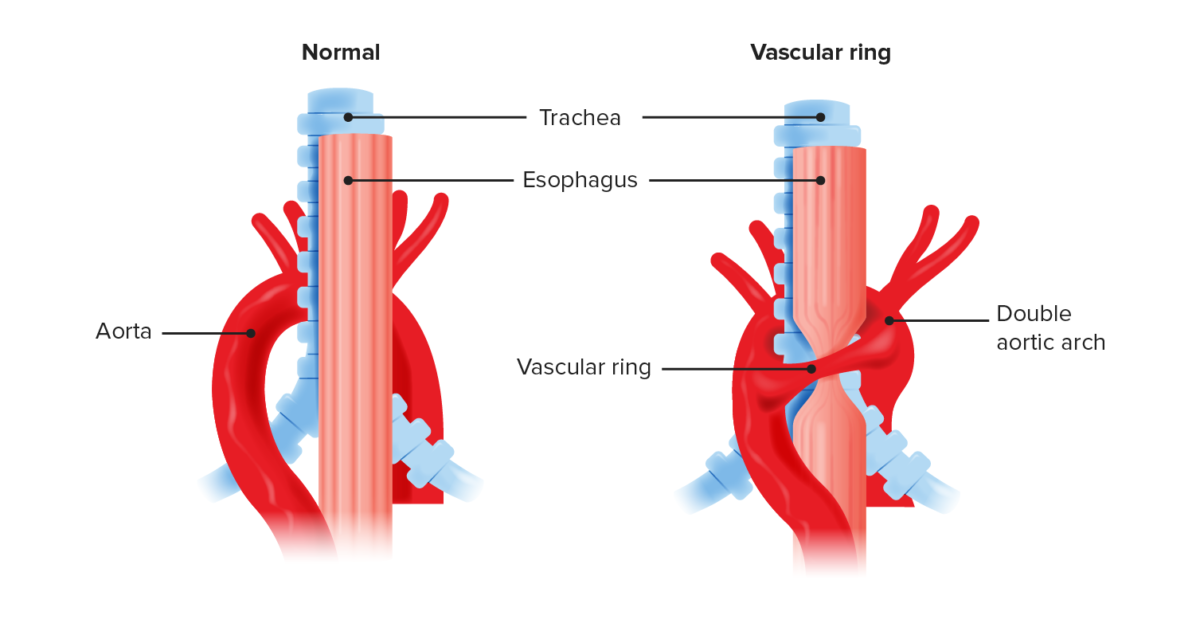 Embryology
4th–5th week of gestation: Mesenchymal cells migrate from the neural crest and paraxial mesoderm → proliferate and form 4 bulges located above heart and liver → branchial arches I–VI
Each branchial arch has its own artery originating in the aortic root and leading to 2 paired dorsal aortae, which merge caudally into the descending aorta.
1st and 2nd aortic arches:

Mostly degenerate
1st arch → maxillary artery
2nd arch → stapedial artery

3rd aortic arch:

Proximal sections → common carotid artery
Distal sections → internal carotid artery together with parts of dorsal aorta

4th aortic arch:

Left → defined aortic arch
Right → proximal section of right subclavian artery

5th aortic arch doesn't develop.
6th aortic arch = pulmonary arch

Left → ductus arteriosus 
Right → truncus pulmonalis and proximal part of pulmonary artery
By the time the 6th arch develops, the 1st and 2nd arches have already disappeared.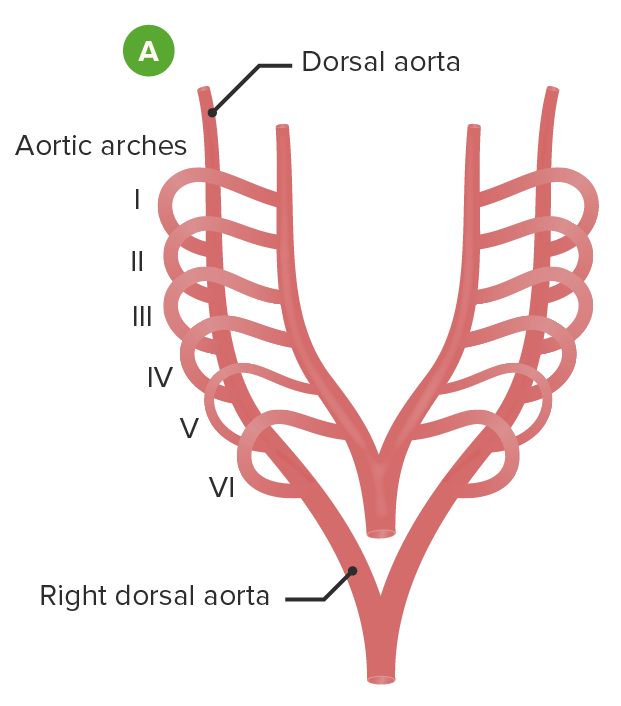 Anatomy
Although the clinical symptoms and treatment approach are the same, there are multiple ways in which the development of the aortic arch can give rise to a vascular ring. Each variant is unique in its anatomy and embryological origin.
Double aortic arch (DAA)

Failure of right-sided arch to regress while left-sided arch persists
Right-sided arch passes posteriorly to esophagus, where it joins left-sided aortic arch.
Left-sided aortic arch passes anterior to trachea.
Result: ring of blood vessels around trachea and esophagus

Right aortic arch with aberrant left subclavian artery and left-sided ductus/ligamentum arteriosus

Aortic arch is right-sided.
Ductus arteriosus (DA) arises from the base of the aberrant left subclavian artery.
DA connects to pulmonary artery by tracking anteriorly and to the left of the trachea and esophagus.
The right-sided aortic arch, the left subclavian artery, and the aberrant ductus arteriosus form the vascular ring around the esophagus and trachea.
Epidemiology
1%–3% of all congenital cardiac malformations
Male:female ratio, 2:1
Incidence of various forms:

55% attributable to DAA
35% attributable to right aortic arches, aberrant left subclavian artery, and left-sided ductus arteriosus
10% all other forms

10%–25% of cases are associated with underlying cardiac anomaly:

Transposition of great vessels (TGV)
Ventricular septal defect (VSD)
Patent ductus arteriosus (PDA)
Tetralogy of Fallot (TOF)
Coarctation of aorta (CoA)

Associated with:

Trisomy 21 (Down's syndrome)
DiGeorge syndrome
CHARGE syndrome (Coloboma of the eye, Heart defects, Atresia of the nasal choanae, Retardation of growth and/or development, Genital and/or urinary abnormalities, and Ear abnormalities and deafness)

Increased risk in infants conceived by in vitro fertilization (IVF)
Pathophysiology and Clinical Presentation
Pathophysiology
Vascular ring encircles trachea and esophagus.
Direct pressure of blood vessels on trachea and esophagus can be sufficient to cause symptoms.
Activities that increase cardiac demand (e.g., feeding, crying) cause engorgement of blood vessels and worsen symptoms.
Clinical presentation
The severity of symptoms depends on the degree of compression of the trachea/esophagus.
Severe compression: noisy breathing or apnea within first few weeks of life
Mild compression:

Persistent cough
Recurrent lung infection
Vomiting
Choking
Difficulty swallowing

May also be picked up incidentally when scanning for other associated cardiac anomalies
Diagnosis and Management
Physical examination
Examination may be normal, but usually in infants:
Nonpositional stridor (classic finding)
Inspiratory stridor
Bronchial breath sounds
Crackles
Respiratory distress
Failure to thrive
Imaging
Echocardiography:

1st-line imaging
Assesses nature of vascular ring and extent of compression
Associated cardiac anomaly

Computed tomography (CT) and magnetic resonance imaging (MRI): Best methods to delineate anatomy, location, and extent of compression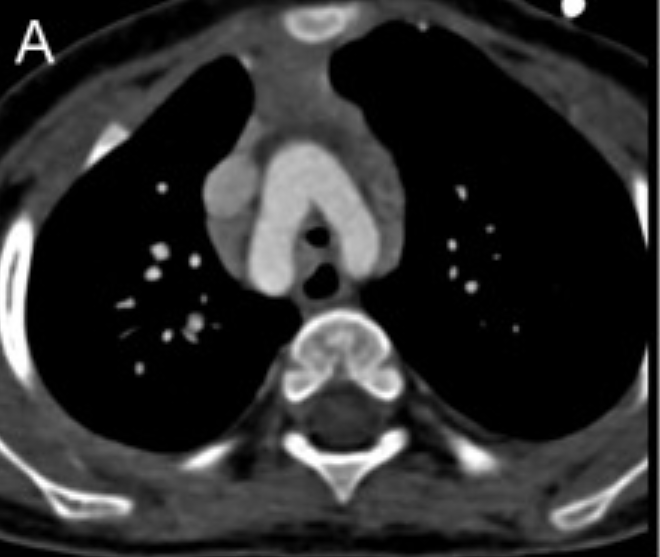 Chest X-ray:

Loss of aortic knob
Lateral/posterior indentation of trachea

Bronchoscopy: Pulsating mass at level of carina
Management
Definitive management is surgical therapy, which is indicated for:

Symptomatic patients
Concomitant heart defect

Surgery involves resection and division of vascular ring.
Reimplantation of key vessels is rarely necessary.
Excellent prognosis post surgery
Differential Diagnosis
Laryngomalacia/tracheomalacia: Newborns present with stridor very similar to that of DAA. Stridor is mainly inspiratory. Laryngoscopy confirms collapse of larynx.
Subglottic stenosis: Congenital forms result in narrowing of subglottic region of trachea, resulting in symptoms very similar to DAA. Laryngoscopy assesses narrowing.
Bronchiolitis: Infants present with lower respiratory symptoms (e.g., dyspnea, wheezing, and crackles). These infants usually have a history of upper respiratory tract infection and usually respond to supplemental oxygen and suctioning of secretions.
Gastroesophageal reflux disease (GERD): Acid reflux into esophagus in infancy and childhood may present with intermittent cough and wheezing. May be accompanied by lack of weight gain and increased irritability.
References
Steppan, J., & Maxwell, B. G. (2018). Congenital heart disease. In R. L. Hines MD, & Marschall, Katherine E., MD, LLD (Eds.), Stoelting's anesthesia and co-existing disease (pp. 129-149). Retrieved 31 January, 2021, from https://www.clinicalkey.es/#!/content/3-s2.0-B9780323401371000077.
Endean, E. D. (2019). Embryology and developmental anatomy. In Sidawy, Anton N., MD, MPH, & Perler, Bruce A., MD, MBA (Eds.), Rutherford's vascular surgery and endovascular therapy (pp. 1-29.e1). Retrieved 31 January, 2021, from https://www.clinicalkey.es/#!/content/3-s2.0-B9780323427913000025.
Kliegman, R. M., M.D., St Geme, Joseph W., MD, Blum, N. J., M.D., Shah, Samir S., M.D., M.S.C.E., Tasker, Robert C., M.B.B.S., M.D., & Wilson, Karen M., M.D., M.P.H. (2020). Other congenital heart and vascular malformations. In R. M. Kliegman MD, J. W. St Geme MD, N. J. Blum MD, Shah, Samir S., MD, MSCE, Tasker, Robert C., MBBS, MD & Wilson, Karen M., MD, MPH (Eds.), Nelson textbook of pediatrics (pp. 242-2424.e2). Retrieved 31 January, 2021, from https://www.clinicalkey.es/#!/content/3-s2.0-B9780323529501004594.
Wall, J., & Albanese, C. T. (2015). Pediatric surgery. In G. M. Doherty (Ed.), CURRENT diagnosis & treatment: Surgery, 14e. New York, NY: McGraw-Hill Education. Retrieved from https://accessmedicine.mhmedical.com/content.aspx?aid=1105497830.
Creager, M. A., & Loscalzo, J. (2018). Diseases of the aorta. In J. L. Jameson, A. S. Fauci, D. L. Kasper, S. L. Hauser, D. L. Longo & J. Loscalzo (Eds.), Harrison's principles of internal medicine, 20e. New York, NY: McGraw-Hill Education. Retrieved 31 January, 2021, from https://accessmedicine.mhmedical.com/content.aspx?aid=1155975344.
Bluher, A. E., M.D., & Darrow, David H., M.D., D.D.S. (2019). Stridor in the newborn. Pediatric Clinics of North America, 66(2), 475-488. http://dx.doi.org/10.1016/j.pcl.2018.12.013.
Koz, C., Yokusoglu, M., Uzun, M., & Tasar, M. (2008). Double aortic arch suspected upon transthoracic echocardiography and diagnosed upon computed tomography. Texas Heart Institute Journal, 35(1), 80–81.
Clapcich, A. J. (2018). Double aortic arch. In L. A. Fleisher MD, M. F. Roizen MD & Roizen, Jeffrey D., MD, Ph.D. (Eds.), Essence of anesthesia practice (pp. 145-146). Retrieved 31 January, 2021, from https://www.clinicalkey.es/#!/content/3-s2.0-B9780323394970001471.
Licari A, Manca E, Rispoli GA, Mannarino S, Pelizzo G, Marseglia GL. Congenital vascular rings: a clinical challenge for the pediatrician. Pediatr Pulmonol. 2015 May;50(5):511-24. Epub 2015 Jan 20. PMID: 25604054. https://doi.org/10.1002/ppul.23152.
Shah RK, Mora BN, Bacha E, Sena LM, Buonomo C, Del Nido P, Rahbar R. The presentation and management of vascular rings: an otolaryngology perspective. Int J Pediatr Otorhinolaryngol. 2007 Jan;71(1):57-62. Epub 2006 Oct 10. PMID: 17034866. https://doi.org/10.1016/j.ijporl.2006.08.025.