Epidemiology and Etiology
Epidemiology
Polycystic kidney disease (PKD) affects about 500,000 people in the United States. Autosomal recessive polycystic kidney disease (ARPKD) (formerly known as infantile PKD), is 1 of the 2 main types of PKD.
Prevalence: 1 per 20,000 live births
⅓ present before 1 year old
⅓ present between 1–20 years old
⅓ present after 20 years old
Etiology
ARPKD: autosomal recessive
Either a mutation of:

PKHD1 on chromosome 6p21 OR:

Encodes fibrocystin (large integral membrane protein) found in the cortical and medullary collecting ducts of the kidney and hepatic bile duct cells
Defect in fibrocystin → dysfunction of renal cilia

DZIP1L (less common):

Located on the 2nd locus for ARPKD
Presentation includes enlarged hyperechogenic kidneys and arterial hypertension
Clinical Presentation
General manifestations
Manifestations vary by age and affect the following:
Kidneys:

Cystic dilations of the collecting ducts
Microcysts < 2 mm in size
Impaired renal function

Hepatobiliary tract: intrahepatic bile duct dilatation and hepatic fibrosis
Antenatal and neonatal
Can be detected antenatally (by 24-weeks gestational age):

Enlarged kidneys
Renal cysts may be seen.
Oligohydramnios and no urine in the fetal bladder

Potter sequence, which is due to severe oligohydramnios and the compressive effect of enlarged kidneys:

Positional limb deformities
Craniofacial abnormalities
Pulmonary hypoplasia
Growth impairment
Feeding difficulties

Kidney manifestations:

Protruding abdomen due to bilaterally enlarged kidneys
Chronic renal failure or even end-stage renal disease (ESRD)
Hypertension
Hyponatremia

Respiratory distress: noted in 50% of patients due to pulmonary insufficiency and hypoplasia

Infancy and childhood
In the 1st 3 years, survivors of the neonatal period experience a temporary improvement of renal function, followed by a decline.
Kidney manifestations:

Protruding abdomen due to bilaterally enlarged kidneys
Polyuria and polydipsia (usually the 1st signs of renal insufficiency)
Hypertension
Metabolic acidosis
Recurrent urinary tract infections (UTIs)
Urinary abnormalities such as:

Proteinuria
Glucosuria
Hyperphosphaturia
Increased magnesium excretion in urine

Progression to CKD:

Cyst formation and fibrosis
Decreased renal function

Liver manifestations:

May be a prominent feature of ARPKD in patients presenting at an older age
Can present with hepatomegaly
Congenital hepatic fibrosis
Liver failure
Portal hypertension

Other findings: impaired growth and neurologic development, left ventricular hypertrophy
Diagnosis
Physical exam
Assess for Potter syndrome.
Assess for palpable kidneys.
Abdominal tenderness to palpation
Assess for pulmonary or liver manifestations of the disease.
Imaging studies
Ultrasonography of the abdomen:

Kidneys:

Enlarged, hyperechogenic kidneys bilaterally
Poor corticomedullary differentiation
Numerous tiny cysts and ductal dilatation

Liver:

Hepatomegaly
Hyperechogenic cysts
Dilatation of the main bile ducts and the peripheral intrahepatic ducts

MRI or CT for further characterization of the disease, or if inconclusive ultrasound findings:

MRI: renal enlargement with microcysts in a hyperintense radial pattern in the cortex and medulla
CT: not the initial choice due to radiation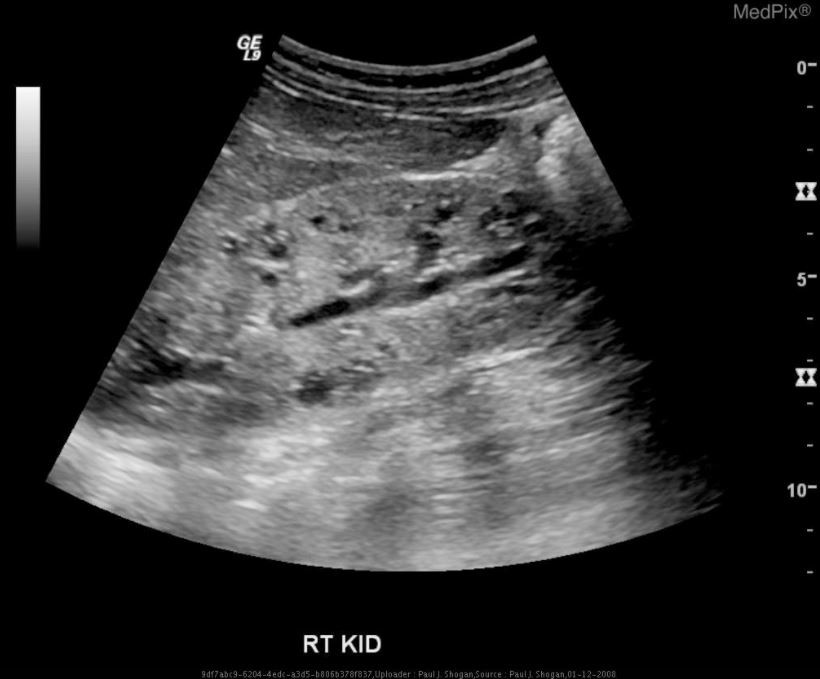 Genetic testing
Diagnosis is inconclusive after imaging.
Prenatal diagnosis
Genetic counseling (determine familial carriers of the mutated PKHD1 gene)
Management and Prognosis
Management approach
Antenatal management (if detected early):
Ultrasound monitoring every 2–3 weeks (check renal size and amniotic fluid volume)
Neonatal intensive care planning
Neonatal management:
Supportive respiratory care (if respiratory distress due to pulmonary hypoplasia)
Mechanical ventilation
Monitor/manage renal function and serum electrolytes
ACE inhibitor for hypertension
Fluid restriction for hyponatremia
Supplemental nasogastric feedings for feeding difficulties
Dialysis if ESRD
Nephrectomy if absolutely needed for survival
Infancy and childhood management:
Monitor kidney function.
Monitor liver status:

Check for signs of portal hypertension.
Yearly abdominal ultrasound

May require supplemental feedings for feeding intolerance and growth
ACE inhibitor or ARB for blood pressure control
Manage complications (e.g., UTI)
Kidney transplantation for ESRD
May need a liver transplant
Prognosis
Affected largely by the degree of renal and hepatic involvement (usually dependent on the age of presentation)
Worst prognosis (mortality rate of 30%): presentation as a neonate with severe renal disease and pulmonary insufficiency
Survival past the 1st month: > 80% chance of survival past 15 years old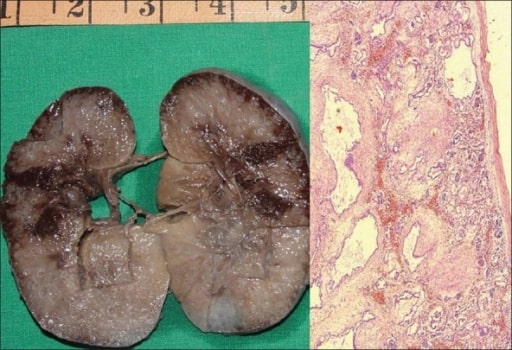 Comparison
The 2 main types of PKD are autosomal dominant polycystic kidney disease (ADPKD) and ARPKD.
Table: ADPKD vs. ARPKD
ADPKD
ARPKD
Inheritance
Autosomal dominant
Autosomal recessive
Genes involved
PKD1, PKD2
PKHD1
Associated proteins
Polycystin-1, polycystin-2
Fibrocystin
Age of presentation
Adulthood
Antenatal, neonatal, infant
Clinical features

Impaired renal function
Enlarged kidneys
Cerebral aneurysm
Hepatic and pancreatic cysts
Colon diverticulosis
Abdominal hernias

Impaired renal function
Enlarged kidneys
Intrahepatic bile duct dilatation and hepatic fibrosis
Pulmonary hypoplasia

Gross and pathologic morphology

Large kidneys, surface full of cysts, distorted renal architecture
Round cysts of varying size (microcysts and macrocysts)
Functioning nephrons between cysts

Large kidneys, smooth surface, preserved general shape of kidneys
Microcysts (usually < 2 mm), which are tubular (affecting the collecting ducts and tubules), radiating from the medulla to the cortex
Dilation of collecting ducts

Ultrasound findings
Multiple cysts (based on age):

< 40 years of age: ≥ 3
40–59 years of age: ≥ 2 each kidney
60 years and above: ≥ 4 each kidney

Enlarged, echogenic kidneys
Poor corticomedullary differentiation
Multiple tiny cysts
ADPKD: autosomal dominant polycystic kidney disease
ARPKD: autosomal recessive polycystic kidney disease
Differential Diagnosis
Multiple benign simple cysts: asymptomatic renal cysts found in children. The cysts increase in number with age. Patients without PKD generally do not have gross hematuria, flank pain, or renal insufficiency. Conservative management is recommended.
Acquired renal cystic disease: chronic kidney disease is frequently associated with the development of multiple small cysts bilaterally. The cysts are often small (< 0.5 cm) and patients have no family history. The kidneys have a smooth contour and are small to normal in size. Associated extrarenal manifestations are not noted.
Renal cysts and diabetes syndrome: associated with TCF2 gene mutation; characterized by maturity-onset diabetes of the young and renal cysts. Other findings include abnormal liver enzymes, elevated uric acid, and pancreatic malformations. Renal function varies from mild reduction to ESRD.
Nephronophthisis: autosomal-recessive disorder associated with dysfunction of the primary cilia, basal bodies, and centrosomes. The kidney appears echogenic with loss of corticomedullary differentiation on ultrasound. Renal size, however, is usually normal or slightly small. Hepatic fibrosis is also found.
Autosomal dominant tuberous sclerosis complex: multiple, bilateral kidney cysts. Other findings include renal angiomyolipomas, facial angiofibromas, hypomelanotic macules, and retinal nodular hamartomas. Diagnosis is based on clinical findings and genetic testing (TSC1 or TSC2 pathogenic mutation).
Multicystic dysplastic kidney: a severe form of cystic renal disease; the kidneys fill with cysts without renal tissue. Most cases are unilateral (boys more affected). Diagnosis is made with antenatal ultrasound. The majority of affected kidneys undergo involution, therefore observation and long-term follow-up are recommended.
References
Guler, S., Cimen, S., Hurton, S., et al. (2015). Diagnosis and Treatment Modalities of Symptomatic Polycystic Kidney Disease. In Li X (Ed.), Polycystic Kidney Disease [Internet]. https://www.ncbi.nlm.nih.gov/books/NBK373387/
Halvorson, C.R., Bremmer, M.S., Jacobs, S.C. (2010). Polycystic kidney disease: inheritance, pathophysiology, prognosis, and treatment. Int. J. Nephrol. Renovasc. Dis. 3:69–83.
Kruskal, J.B., Richie, J.P. (2021). Simple and complex renal cysts in adults. UpToDate. Retrieved Feb 25, 2021, from https://www.uptodate.com/contents/simple-and-complex-renal-cysts-in-adults
National Institute of Diabetes and Digestive and Kidney Diseases. (2017). Autosomal Recessive Polycystic Kidney Disease. Retrieved February 25, 2021, from https://www.niddk.nih.gov/health-information/kidney-disease/polycystic-kidney-disease/autosomal-recessive-pkd#treat
National Institute of Diabetes and Digestive and Kidney Diseases. (2017). What is Polycystic Kidney Disease? Retrieved February 25, 2021, from https://www.niddk.nih.gov/health-information/kidney-disease/polycystic-kidney-disease/what-is-pkd#symptoms
National Organization for Rare Disorders. (2020). Autosomal Recessive Polycystic Kidney Disease. Retrieved February 25, 2021, from https://rarediseases.org/rare-diseases/autosomal-recessive-polycystic-kidney-disease/#symptoms
Niaudet P. (2020). Autosomal recessive polycystic kidney disease in children. UpToDate. Retrieved Feb 25, 2021, from https://www.uptodate.com/contents/autosomal-recessive-polycystic-kidney-disease-in-children
Niaudet, P. (2020). Renal cystic diseases in children. UpToDate. Retrieved 16 Apr 2021 from https://www.uptodate.com/contents/renal-cystic-diseases-in-children
Patil A., Sweeney W.E. Jr., Avner E.D., et al. (2015). Childhood Polycystic Kidney Disease. Polycystic Kidney Disease. https://www.ncbi.nlm.nih.gov/books/NBK373381/
Srinath A., Shneider B.L. (2012). Congenital hepatic fibrosis and autosomal recessive polycystic kidney disease. J Pediatr Gastroenterol Nutr. 54, 580–7.
Zhou J, & Pollak M.R. (2018). Polycystic kidney disease and other inherited disorders of tubule growth and development. Jameson JL, et al. (Ed.), Harrison's Principles of Internal Medicine (20th ed.) https://accessmedicine-mhmedical-com.aucmed.idm.oclc.org/content.aspx?bookid=2129&sectionid=192281464