Epidemiology and Etiology
Epidemiology
Polycystic kidney disease (PKD) affects about 500,000 people in the United States. One of the 2 main types of PKD is autosomal dominant polycystic kidney disease (ADPKD).
Most commonly inherited kidney disease
Prevalence: 1 in 1,000 live births
Cause of CKD in 5% of annual dialysis initiation
Decline in renal function often noted by the 4th decade of life
Etiology
Autosomal dominant (positive family history)
Either a mutation of:

PKD1 (encodes polycystin-1) on chromosome 16 OR
PKD2 (encodes polycystin-2) on chromosome 4
Clinical Presentation
The age of symptom onset is variable, but typically in adulthood. Patients with PKD1 mutation present with symptoms earlier than patients with PKD2.
Renal manifestations
Hypertension
Hematuria
Proteinuria
Kidney function impairment
Flank or abdominal pain
Enlarged, palpable kidneys on physical exam (patients with PKD1 mutation have larger kidneys and more cysts than patients with PKD2)
Recurrent urinary tract infections (UTIs)
Nephrolithiasis
Extrarenal manifestations
Cerebral aneurysm:

4 times higher risk than the general population
Can rupture with subarachnoid hemorrhage or intracerebral hemorrhage (ICH)
The most serious risk factor associated with ADPKD

Benign, asymptomatic hepatic cysts:

Higher prevalence as age increases
Can be complicated by cyst infection or hemorrhage

Benign, asymptomatic pancreatic cysts
Seminal vesicle cysts
Cardiac valvular abnormalities:

Most commonly mild mitral valve prolapse or aortic regurgitation
Often asymptomatic with a mild murmur

Colonic diverticula
Abdominal wall and inguinal hernias
Diagnosis
Diagnosis is made with the combination of positive family history and the presence of multiple, bilateral renal cysts.
Physical exam
Assess for palpable kidneys.
Assess for syndromic features and extrarenal manifestations.
Imaging studies
Ultrasonography of abdomen to detect renal cysts (1st line)
CT or MRI:

If ultrasound findings inconclusive
Can detect cysts of smaller size
Determines total kidney volume (helps assess the risk of kidney disease progression)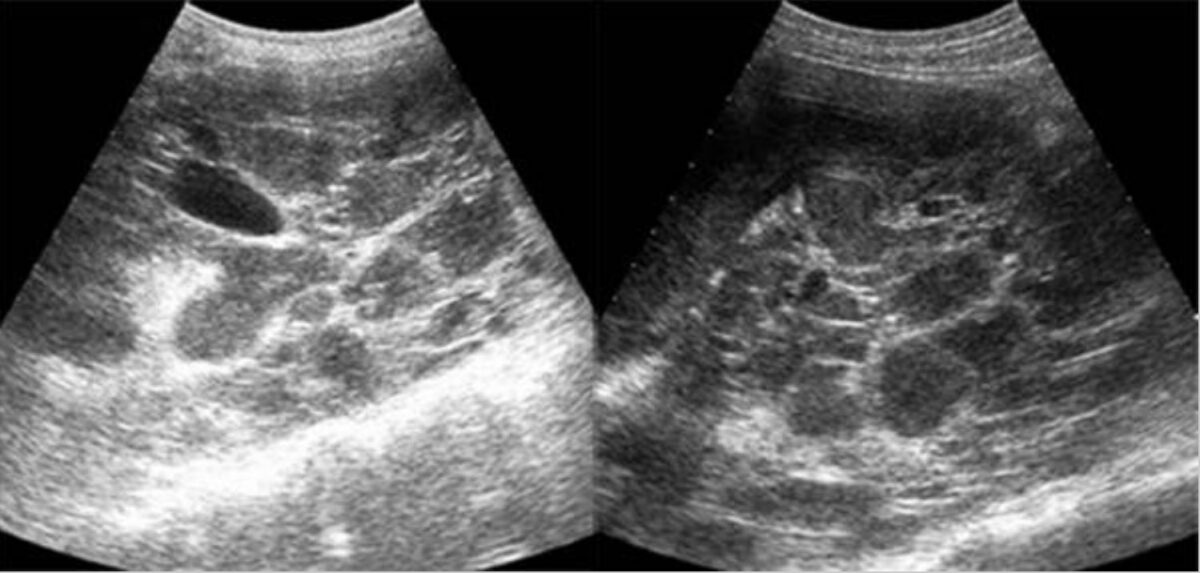 Genetic testing
If imaging tests uncertain
If atypical features:

Early, severe ADPKD
Renal failure without significantly enlarged kidneys
The disease is significantly discordant with family members.
Significant asymmetry of disease between each kidney
ADPKD without a family history

If information is needed for reproductive counseling
Management and Prognosis
Management approach
Goals:
To slow renal disease progression
To control blood pressure and lower cardiovascular risk
Treatment measures:
ACE inhibitors and ARBs for blood pressure control
Restrict dietary sodium.
Increase fluid intake.
Manage complications (e.g., UTIs, nephrolithiasis).
Tolvaptan for high-risk patients:

Blocks the positive effect of vasopressin on cyst production
Can decrease cyst growth
For end-stage renal disease (ESRD):
Hemodialysis or peritoneal dialysis
Kidney transplantation
Screening
Benefits of genetic counseling and screening for patients and family:

Information on diagnosis and prevention/treatment of complications
Family planning (risks of passing condition to offspring)
Possible kidney transplant donor among relatives

Screening for intracerebral aneurysms with presymptomatic imaging (MRA or CT angiography):

Family history of intracranial aneurysm
Plans to have major surgery
High-risk occupations (ruptured aneurysm could put other lives at risk, e.g., pilot)
Requires anticoagulation (increased risk of bleeding)
Prognosis
Varies from person to person
Generally a slow rate of disease progression
About ½ of patients ≥ 75 years of age require dialysis and/or kidney transplantation.
Most patients die from cardiac causes.
Particularly poor prognosis with a ruptured cerebral aneurysm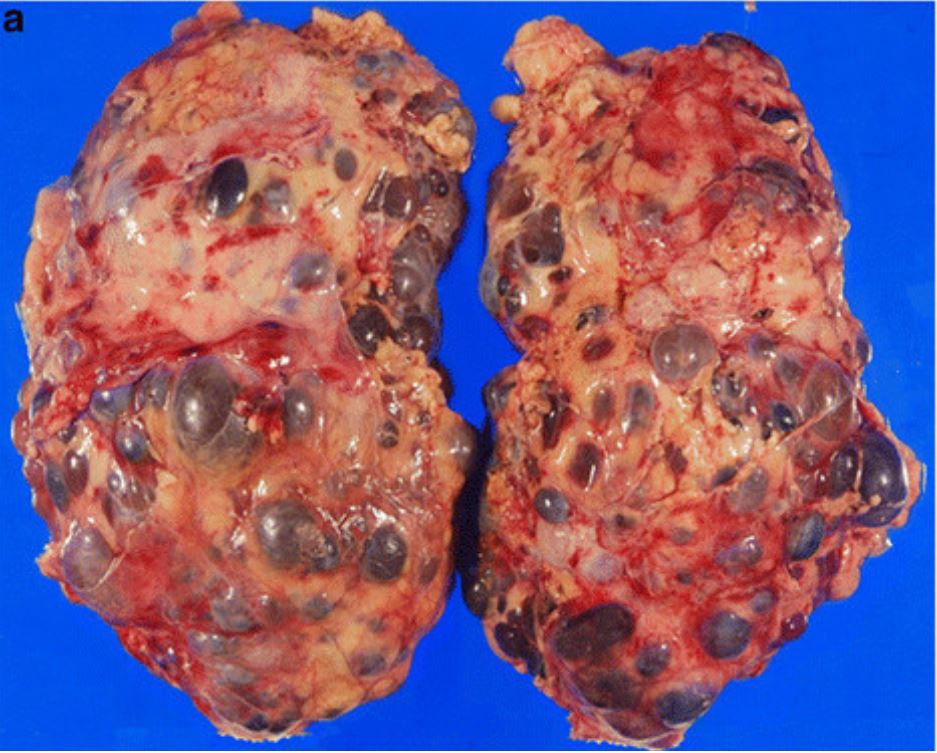 Comparison
The 2 main types of polycystic kidney disease are ADPKD and autosomal recessive polycystic kidney disease (ARPKD).
Table: ADPKD vs ARPKD
ADPKD
ARPKD
Inheritance
Autosomal dominant
Autosomal recessive
Genes involved
PKD1, PKD2
PKHD1
Associated proteins
Polycystin-1, polycystin-2
Fibrocystin
Age of presentation
Adulthood
Antenatal, neonatal, infant
Clinical features

Impaired renal function
Enlarged kidneys
Cerebral aneurysm
Hepatic and pancreatic cysts
Colon diverticulosis
Abdominal hernias

Impaired renal function
Enlarged kidneys
Intrahepatic bile duct dilatation and hepatic fibrosis
Pulmonary hypoplasia

Gross and pathologic morphology

Large kidneys, surface full of cysts, distorted renal architecture
Round cysts of varying size (microcysts and macrocysts)
Functioning nephrons between cysts

Large kidneys, smooth surface, preserved general shape of kidneys
Microcysts (usually < 2 mm), which are tubular (affecting the collecting ducts and tubules), radiate from the medulla to the cortex.
Dilation of collecting ducts

Ultrasound findings
Multiple cysts (based on age):

< 40 years of age: ≥ 3
40–59 years of age: ≥ 2 each kidney
≥ 60 years of age: ≥ 4 each kidney

Enlarged, echogenic kidneys
Poor corticomedullary differentiation
Multiple tiny cysts
ADPKD: autosomal dominant polycystic kidney disease
ARPKD: autosomal recessive polycystic kidney disease
Differential Diagnosis
Multiple benign simple cysts: Renal cysts are a common, asymptomatic, incidental finding in adults. The cysts increase in number with age. Differentiation from mild ADPKD may be difficult. Patients without ADPKD generally do not have a family history, gross hematuria, flank pain, or renal insufficiency.
Localized renal cystic disease: a localized, benign condition confused with PKD. Unlike PKD, the condition is a localized cystic disease and neither bilateral nor progressive. Patients have no family history of ADPKD.
Acquired renal cystic disease: chronic kidney disease is frequently associated with the development of multiple small cysts bilaterally. The cysts are often small (< 0.5 cm) and patients have no family history. The kidneys have a smooth contour and are small to normal in size. Associated extrarenal manifestations are not noted.
Medullary sponge kidney: malformation of the collecting ducts (tubular dilatation) limited to the medullary pyramids. The condition may mimic PKD on urographic studies. Patients can present with kidney stones, hematuria, and UTIs. Unlike PKD, the renal cortex is spared, which can be seen on CT or MRI.
Autosomal dominant tuberous sclerosis complex: multiple, bilateral kidney cysts. Other findings include renal angiomyolipomas, facial angiofibromas, hypomelanotic macules, and retinal nodular hamartomas. Diagnosis is based on clinical findings and genetic testing (TSC1 or TSC2 pathogenic mutation).
Autosomal dominant tubulointerstitial kidney disease: a rare genetic disorder characterized by a gradual decline in kidney function from the teenage years. The onset of ESRD is variable. Presentation includes early-onset gout, hyperuricemia, and, in some, renal cysts. Unlike PKD, cysts are at the corticomedullary junction and the kidneys are small to normal in size.
References
Bennett W.M., Torres V.E. (2020). Autosomal dominant polycystic kidney disease (ADPKD): Extrarenal manifestations. UpToDate. Retrieved Feb 25, 2021, from https://www.uptodate.com/contents/autosomal-dominant-polycystic-kidney-disease-adpkd-extrarenal-manifestations
Chapman AB, Rahbari-Oskoui FF, Bennett WM. (2020). Autosomal dominant polycystic kidney disease (ADPKD): Renal manifestations. UpToDate. Retrieved Feb 25, 2021, from https://www.uptodate.com/contents/autosomal-dominant-polycystic-kidney-disease-adpkd-renal-manifestations
Chapman A.B., Rahbari-Oskoui, F.F., Bennett, W.M. (2020). Autosomal dominant polycystic kidney disease (ADPKD): Treatment. UpToDate. Retrieved Feb 25, 2021, from https://www.uptodate.com/contents/autosomal-dominant-polycystic-kidney-disease-adpkd-treatment
Genetic and Rare Disease Information Center. (2020). Autosomal dominant polycystic kidney disease. Retrieved February 25, 2021, from https://rarediseases.info.nih.gov/diseases/10413/autosomal-dominant-polycystic-kidney-disease
Guler, S., Cimen, S., Hurton, S., et al. (2015). Diagnosis and Treatment Modalities of Symptomatic Polycystic Kidney Disease. In Li X (Ed.), Polycystic Kidney Disease [Internet]. Brisbane (AU): Codon Publications. https://www.ncbi.nlm.nih.gov/books/NBK373387/
Halvorson, C.R., Bremmer, M.S., Jacobs, S.C. (2010). Polycystic kidney disease: inheritance, pathophysiology, prognosis, and treatment. Int. J. Nephrol. Renovasc. Dis. 3:69–83.
Kruskal, J.B., Richie, J.P. (2021). Simple and complex renal cysts in adults. UpToDate. Retrieved Feb 25, 2021, from https://www.uptodate.com/contents/simple-and-complex-renal-cysts-in-adults
Merck Manual. (2019). Autosomal Dominant Polycystic Kidney Disease (ADPKD). https://rarediseases.info.nih.gov/diseases/10413/autosomal-dominant-polycystic-kidney-disease
National Institute of Diabetes and Digestive and Kidney Diseases. (2017). What is Polycystic Kidney Disease? https://www.niddk.nih.gov/health-information/kidney-disease/polycystic-kidney-disease/what-is-pkd#symptoms
Patil A., Sweeney W.E. Jr., Avner E.D., et al. (2015). Childhood Polycystic Kidney Disease. Polycystic Kidney Disease. https://www.ncbi.nlm.nih.gov/books/NBK373381/
Torres V.E., Bennett W.M. (2021). Autosomal dominant polycystic kidney disease (ADPKD) in adults: Epidemiology, clinical presentation, and diagnosis. UpToDate. Retrieved Feb 25, 2021, from https://www.uptodate.com/contents/autosomal-dominant-polycystic-kidney-disease-adpkd-in-adults-epidemiology-clinical-presentation-and-diagnosis
Zhou J, & Pollak M.R. (2018). Polycystic kidney disease and other inherited disorders of tubule growth and development. In Jameson LJ, et al. (Ed.), Harrison's Principles of Internal Medicine (20th ed.) https://accessmedicine-mhmedical-com.aucmed.idm.oclc.org/content.aspx?bookid=2129&sectionid=192281464