Overview
Definition
Prelabor rupture of membranes (PROM) is defined as the rupture of fetal membranes (the fused chorion and amnion) before the onset of labor (regular uterine contractions causing cervical change).
Epidemiology
Prelabor rupture of membranes complicates approximately 2%–3% of pregnancies.
Risk factors:
Genital tract infections (e.g., bacterial vaginosis)
PROM or preterm delivery in previous pregnancies
Uterine distension:

Polyhydramnios
Multiple gestation

Cervical incompetence
Trauma
Cigarette smoking
Table: Epidemiology of PROM
Pre-viable PROM
Preterm PROM (PPROM)
Term PROM
Gestational age
< 24 weeks
24–36 weeks
> 37 weeks
Frequency
< 1% of pregnancies

~ 3% of pregnancies overall
~ 30% of preterm pregnancies

~ 8% of pregnancies
PROM: prelabor rupture of membranes
Pathophysiology and Clinical Presentation
Anatomy
The fetal membranes create the amniotic sac to surround the fetus and protect it from infection.
Composed of 2 layers: 

Amnion: 

Innermost layer
Contains amniotic fluid and fetus

Chorion: 

Separates amnion from maternal decidua (innermost uterine layer)
Acts as a protective barrier

Early in pregnancy: 2 distinct layers with the chorionic cavity between
Later in pregnancy: Layers fuse to become a single amniochorion.
Amniotic fluid:

Produced primarily from fetal urine
Allows for:

Fetal movement → skeletal development
Fetal breathing → lung development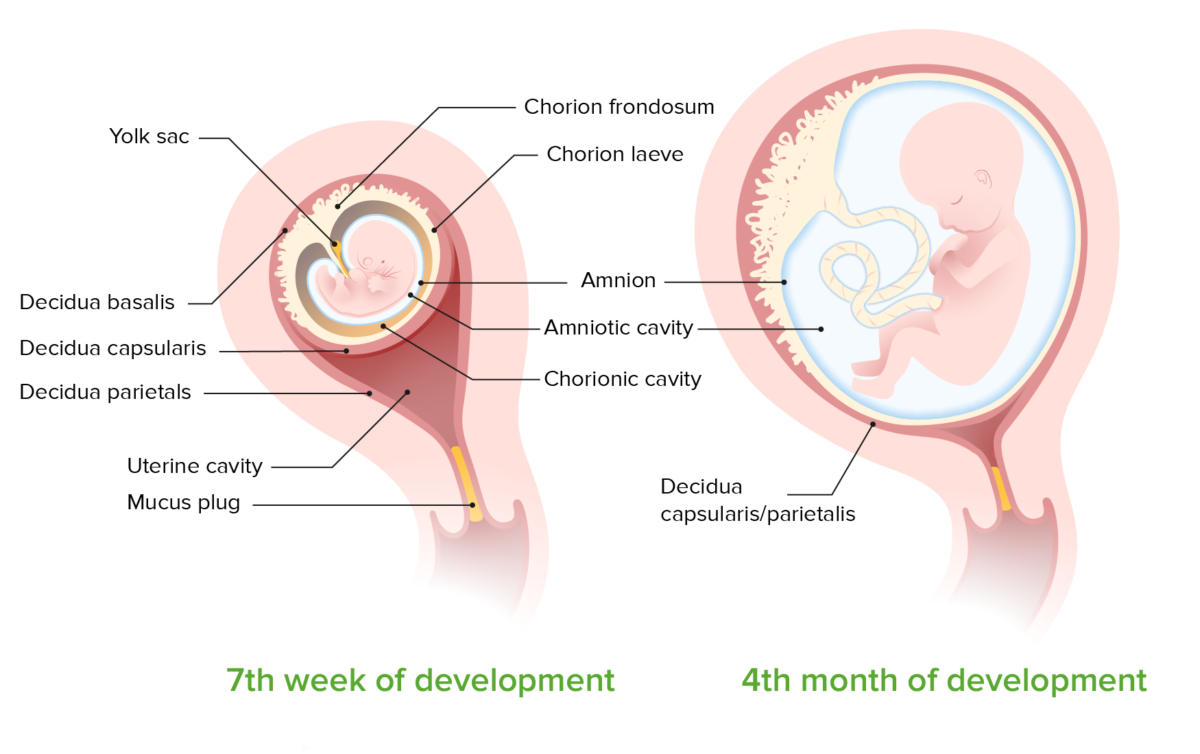 Pathophysiology
Poorly understood
Membrane strength comes from:

Collagen
Fibronectin
Laminin

Possible mechanism for PROM is the imbalance between matrix metalloprotease (MMP) and MMP inhibitors:

MMP degrades collagen.
MMP inhibitors maintain membrane integrity.

Potential pathologic events may disrupt membranes:

Infection
Inflammation
Mechanical stress
Bleeding
Clinical presentation
Sudden gush of fluid without labor contractions
Often copious, but also small amounts
Continuous or intermittent leakage
Color of fluid may be:

Clear
Straw colored
Greenish (meconium stained)
Blood tinged (concern for associated placental abruption)
Purulent (infected)
Diagnosis
Once labor is excluded, a sterile speculum exam and ultrasound should be performed to diagnose PROM.
Pooling:

Visualize the cervix on sterile speculum exam and ask the mother to bear down (Valsalva maneuver).
Positive test: visualization of fluid coming from the cervix (often significant)
Most accurate diagnostic test

Nitrazine test:

Collect sample of vaginal fluid on sterile speculum exam.
Positive test: pH paper turns blue in presence of basic amniotic fluid.
Low positive predictive value → also turns blue in presence of:

Semen
Bacterial vaginosis
Blood

Ferning:

Obtain swab of vaginal fluid → allow to dry on a glass slide
Positive result: Ferning pattern appears on a slide and is visible on microscopy.
Cervical mucus can leave a similar ferning pattern (false positive).

Ultrasound:

Suggestive of PROM: oligohydramnios (maximal vertical pocket of fluid < 2 cm)
Relatively low sensitivity and specificity:

PROM often exists without oligohydramnios.
Oligohydramnios often exists without PROM.

Exclude labor:

Assess contractions on tocometry.
Assess cervical dilation visually on sterile speculum exam (try to avoid digital exam which ↑ risk of intra-amniotic infection (IAI)).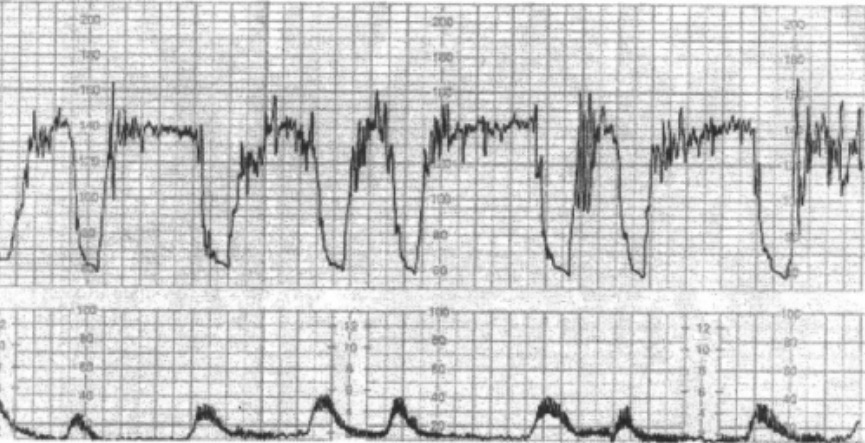 Management
Management is based on gestational age, group B streptococcus (GBS) status, signs of labor or contractions, and signs of IAI.
General management
Confirm fetal well-being:

Non-stress test (fetal monitoring with tocometry)
Assess amniotic fluid levels with ultrasound.

Deliver if:

> 34 weeks gestational age
IAI is present (regardless of gestational age).

Monitor for development of IAI; ↑ risk in PROM, ↑↑↑ risk in preterm prelabor rupture of membranes (PPROM):

Fever
Maternal leukocytosis > 15,000/L
Maternal tachycardia
Fetal tachycardia > 160/min for ≥ 10 minutes
Purulent amniotic fluid on exam
Fundal tenderness
Contractions/labor

Antibiotics for group B streptococcus (GBS):

IV penicillin or ampicillin in labor
If preterm and/or GBS status is unknown → collect a swab at presentation
Treat in labor if:

GBS positive
GBS unknown with risk factors

Risk factors for fetal GBS disease:

Preterm (< 37 weeks gestation)
Rupture of membranes (ROM) ≥ 18 hours
Fever ≥ 100.4°F (≥ 38°C)
Prior documented GBS colonization in urine
Prior infant with early-onset GBS disease
Management of PROM by gestational age
Fetal age > 34 weeks:
Induction of labor
Antibiotics:

For GBS prophylaxis only
Given if patient is:

GBS positive
Unknown with risk factors
Gestational age of 34–37 weeks (risk factor)
Fetal age 24–33 weeks:
Antibiotics:

Latency antibiotics:

Attempt to ↑ time to delivery by preventing IAI
Regimen: azithromycin + ampicillin/amoxicillin

GBS prophylaxis: Treat when delivery is imminent and GBS is positive or unknown.

Corticosteroids:

Betamethasone
Benefits:

↑ Fetal lung maturity
↓ Intraventricular hemorrhage (IVH)
↓ Necrotizing enterocolitis

Magnesium sulfate: for fetal neuroprotection against cerebral palsy
Tocolytics:

Given only for initial 48 hours (allows time for maximum benefit of steroids)
Prevents contractions if not yet started
Do not give if contractions are already present → likely due to infection → ↑ risk of morbidity

Delivery indications:

Achieve 34 weeks of gestation
IAI
Spontaneous labor
Fetal distress
Fetal age < 24 weeks:
Expectant management or induction of labor
No antibiotics, corticosteroids, tocolysis, or magnesium sulfate
↑↑ Risk of infection if pregnancy continues
Complications
Neonatal complications
Complications can be related to:
Infection:

Fetal infection
Sepsis
Neurodevelopmental impairment

Compromised blood flow:

Umbilical cord compression and/or prolapse
Placental abruption:

Occurs with rapid decompression of uterus
Obstetric emergency

Oligohydramnios (with early PPROM):

Pulmonary hypoplasia
Orthopedic and facial abnormalities

Preterm delivery:

Respiratory distress syndrome (most common)
IVH
Necrotizing enterocolitis
Retinopathy of prematurity
Cerebral palsy
Patent ductus arteriosus
Maternal complications
Infections:

IAI/chorioamnionitis
Postpartum endometritis
Sepsis

Postpartum hemorrhage (common after IAI)
Deep vein thrombosis (due to prolonged bed rest in PPROM)
Differential Diagnosis
Urinary incontinence: an involuntary loss of urine. Urinary incontinence is common towards the end of pregnancy due to increased pressure on the bladder from the fetus. Prelabor rupture of membranes (PROM) should always be ruled out 1st (pooling, nitrazine test, ferning, and ultrasound). Urinalysis should also be obtained to rule out urinary tract infection (UTI), which can increase the risk of urinary incontinence. Management in pregnancy is usually reassurance and observation since incontinence is typically minor.
Urinary tract infection: an infection of the urinary system most commonly caused by Enterobacteriaceae, especially Escherichia coli. Presentation typically includes suprapubic pain, dysuria, and urinary urgency. Diagnosis is made with urinalysis and culture. Pyelonephritis is more common in pregnancy and is diagnosed when flank pain and fever accompany the UTI. Management is with antibiotics.
Vaginal infection/vaginitis: inflammation of the vagina can resulting in discharge, itching, and discomfort. The most common causes include bacterial vaginosis (BV), candidiasis, and trichomoniasis. Sexually transmitted infections can also cause cervicitis with purulent discharge. Discharge from vaginitis (especially BV) can be confused with amniotic fluid. Diagnosis is made on microscopy with KOH and wet prep of vaginal discharge. Management is with antimicrobials.
Semen: If the patient presents to labor and delivery complaining of PROM, ask directly about recent sexual activity. Semen will cause nitrazine paper to turn blue (false positive), and sperm can be seen on microscopy. If PROM is confidently ruled out and history or exam suggest recent unprotected intercourse, the gush of fluid is commonly semen.
References
Scorza, W. E. (2020). Management of prelabor rupture of the fetal membranes at term. In Barss, V. A. (Ed.), UpToDate. Retrieved February 22, 2021, from https://www.uptodate.com/contents/management-of-prelabor-rupture-of-the-fetal-membranes-at-term
Duff, P. (2020). Preterm prelabor rupture of membranes: Clinical manifestations and diagnosis. In Barss, V. A. (Ed.), UpToDate. Retrieved February 22, 2021, from https://www.uptodate.com/contents/preterm-prelabor-rupture-of-membranes-clinical-manifestations-and-diagnosis
Duff, P. (2020). Preterm prelabor rupture of membranes: Management and outcomes. In Barss, V. A. (Ed.), UpToDate. Retrieved February 24, 2021, from https://www.uptodate.com/contents/preterm-prelabor-rupture-of-membranes-management-and-outcome
Baker, C. J. (2020). Neonatal group B streptococcal disease: Prevention. In Barss, V. A. (Ed.), UpToDate. Retrieved February 24, 2021, from https://www.uptodate.com/contents/neonatal-group-b-streptococcal-disease-prevention
American College of Obstetrics and Gynecology (2020). Practice Bulletin No. 217: Prelabor rupture of membranes. Retrieved February 22, 2021, from https://www.acog.org/clinical/clinical-guidance/practice-bulletin/articles/2020/03/prelabor-rupture-of-membranes
Cunningham, F. G., Leveno, K. J., et al. (2010). Williams Obstetrics (23rd ed. pp. 50‒54).
Dayal, S. (2020). Premature rupture of membranes. In Hong, P. (Ed.) StatPearls. Retrieved February 24, 2021, from https://www.statpearls.com/articlelibrary/viewarticle/27659/