Definition and Epidemiology
Definition
Also known as intraamniotic infection (IAI), chorioamnionitis is an infection, and resulting inflammation, of any combination of the fetal membranes (chorion and amnion), amniotic fluid, placenta, umbilical cord (funisitis), and/or the fetus.
Epidemiology
Chorioamnionitis is the most common cause of peripartum infection, with the following incidence rates:
Overall incidence: 3.9%
All term deliveries: 1%–5%

Term pre-labor rupture of membranes (PROM), any length: 7%
Term PROM > 24 hours: 40%

Preterm deliveries: 40%–70%
Extreme preterm deliveries (< 24 weeks gestation): up to 94%
Etiology
Intraamniotic infection and inflammation may be caused by the following mechanisms:
Ascending migration of cervicovaginal flora (primary mechanism)
Hematogenous spread to intervillous space, associated with maternal bacteremia
Direct infection after invasive procedures (e.g., amniocentesis)
Descending infection from the peritoneum via fallopian tubes (very rare)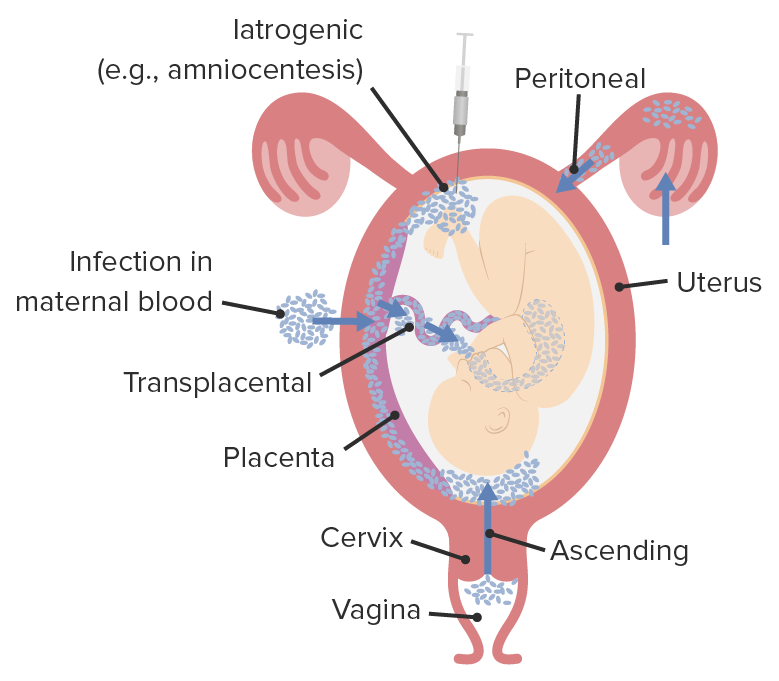 Risk factors:
Prolonged rupture of membranes (ROMs) > 18 hours

Most significant risk factor
In both term and preterm pregnancies

Prolonged labor
Preterm labor
Preterm PROMs (PPROMs)
Multiple digital examinations (especially after ROMs)
Use of internal uterine fetal monitors
Genital-tract pathogens present during labor:

Group B streptococcus colonization
STIs

Primiparous pregnancy
Meconium-stained fluid
Tobacco use
Alcohol use
Pathophysiology
By far, the most common cause of chorioamnionitis is the ascending migration of cervicovaginal flora.
Cervicovaginal flora introduced into the amniotic cavity → infection → maternal and fetal inflammation
Can lead to:
Maternal immune response: neutrophilic inflammation of membranes (chorion/amnion)
Fetal immune response: neutrophilic inflammation of the umbilical cord
Microbiology:

Polymicrobial
Includes both aerobes and anaerobes (especially in preterm gestation)
Most common organisms:

Genital mycoplasmas: Ureaplasma and Mycoplasma
Gardnerella vaginalis
Bacteroides species
Enteric gram-negative rods (e.g., Escherichia coli)
Group B Streptococcus
Listeria monocytogenes (hematogenous spread)

Host defense mechanisms:

Cervical mucus plug
Intact fetal membranes:

Barrier function
Antimicrobial activity
Modulate immune response

Vaginal peroxide-producing lactobacilli → impair virulence of pathogens
Clinical Presentation
The vast majority of presenting women will either be in labor, have ruptured membranes, or both.
Primary manifestations:
Fever
Uterine fundal tenderness
Purulent or foul-smelling fluid from the cervical os
Maternal tachycardia (> 100 bpm)
Fetal tachycardia (> 160 bpm)
Reduced fetal heart rate variability
Diagnosis
There are 3 categories of IAI:
Isolated maternal fever
Suspected IAI
Confirmed IAI
Isolated maternal fever
Fever (oral temperature):

> 39 °C (102.2 °F) once
38.0–38.9 °C (100.4–102.2 °F) on 2 occasions, 30 minutes apart

Rule out other potential causes of fever:

Urinalysis
Other testing based on associated signs and symptoms:

Blood cultures
Sputum testing
Influenza/COVID-19 testing

If no other source is found, expert opinion recommends considering patients with a fever > 39 °C (102.2 °F) as suspected IAI.
Suspected intraamniotic infection
Fever, and 1 of the following:
Fetal tachycardia: > 160 bpm for ≥ 10 minutes
Maternal leukocytosis: WBC > 15,000/mm3
Purulent cervical drainage on exam
Confirmed intraamniotic infection
Must meet criteria for "suspected IAI" and exhibit at least 1 of the following:
Positive amniotic-fluid test (obtained by amniocentesis):

Positive culture:

Gold standard
Takes days to obtain results → ↓ clinical utility

Positive Gram stain
↓ Glucose
↑ WBC

Histopathology (after delivery) showing inflammatory infiltrates in membranes
Management
The goal of management is to minimize the risks of maternal and fetal complications.
Antibiotics:

Standard regimen: ampicillin-gentamicin
If patient undergoes cesarean delivery, add anaerobic coverage:

Clindamycin
Azithromycin (single pre-op dose)

Antipyretics:

To prevent risk to the fetus associated with ↑ maternal temperature
Acetaminophen

Progress towards delivery:

Think of "delivery" like draining an abscess:

Removes infection from the mother
Removes baby from the infection

Augment labor if it is dysfunctional (common):

Oxytocin
IAI does not necessitate immediate delivery, but continued progress should be made.

In preterm patients:

IAI is an indication to initiate induction of labor (IOL).
Management is complex: based on gestational age and clinical scenario

Continuous fetal monitoring
Route of delivery:

Based on routine obstetric indications
Vaginal delivery preferred (↓ morbidity/mortality compared to cesarean)

Postpartum care:

Usually routine care
Monitor for wound infection
IAI typically resolves quickly after delivery.
Complications
Maternal complications
Dysfunctional labor (infected uterus does not contract well)
Operative delivery
Postpartum hemorrhage (infected uterus does not clamp down well)
Maternal sepsis
Postpartum endometritis
Adult respiratory distress syndrome
Neonatal complications
The earlier the gestational age at delivery, the higher the risk for neonatal complications.
Meningitis
Intraventricular hemorrhage (IVH)
Pneumonia
Bronchopulmonary dysplasia
Cerebral palsy
Sepsis
Premature birth (with many of its own associated complications):

Respiratory distress syndrome
Neurological abnormalities
Retinopathy of prematurity (ROP)
Necrotizing enterocolitis (NEC)

Death
Differential Diagnosis
Urinary tract infection (UTI)/pyelonephritis: a common condition in pregnancy with an increased risk of pyelonephritis. Symptoms of pyelonephritis include fever, dysuria, suprapubic or flank pain, costovertebral angle tenderness, nausea, and vomiting. Diagnosis is made based on bacteriuria in the setting of the aforementioned symptoms. Treatment is with antibiotics.
Upper respiratory tract infection (URI): a common condition, especially in winter. Symptoms include nasal congestion, rhinorrhea, sore throat, cough, and fever. Patients should be tested for influenza and COVID-19. A chest X-ray is usually required to confirm the diagnosis of pneumonia, although the X-ray can often be delayed until after delivery, except in more severe cases.
Acute appendicitis: presents with severe abdominal pain, fever, nausea, and vomiting. The diagnosis may be confirmed with an ultrasound or CT scan (CT scan exposes the fetus to significant radiation and should be used extremely judiciously). Appendicitis rarely presents intrapartum, whereas IAI is rare outside of labor or when membranes are still intact. Management is surgical.
Epidural-associated fever: Evidence points to a frequent and significant association between a rise in maternal temperature and neuraxial anesthesia that typically occurs quickly. There are no reliable tests to identify neuraxial anesthesia as the cause of a fever; therefore, close observation and/or presumptive treatment for IAI may be appropriate.
Placental abruption: occurs when the placenta begins to separate prematurely, compromising fetal blood flow and oxygenation. Placental abruption typically presents with uterine cramping or pain and vaginal bleeding. Fever is usually not present. Lack of fever, the presence of bleeding, and characteristic findings on fetal monitoring make the diagnosis and help distinguish abruption from IAI. Placental abruption is an obstetrical emergency that requires prompt management, including urgent delivery in most cases.