Overview
Definition
Adenomyosis is the presence of ectopic endometrial glands and stroma located within the myometrium: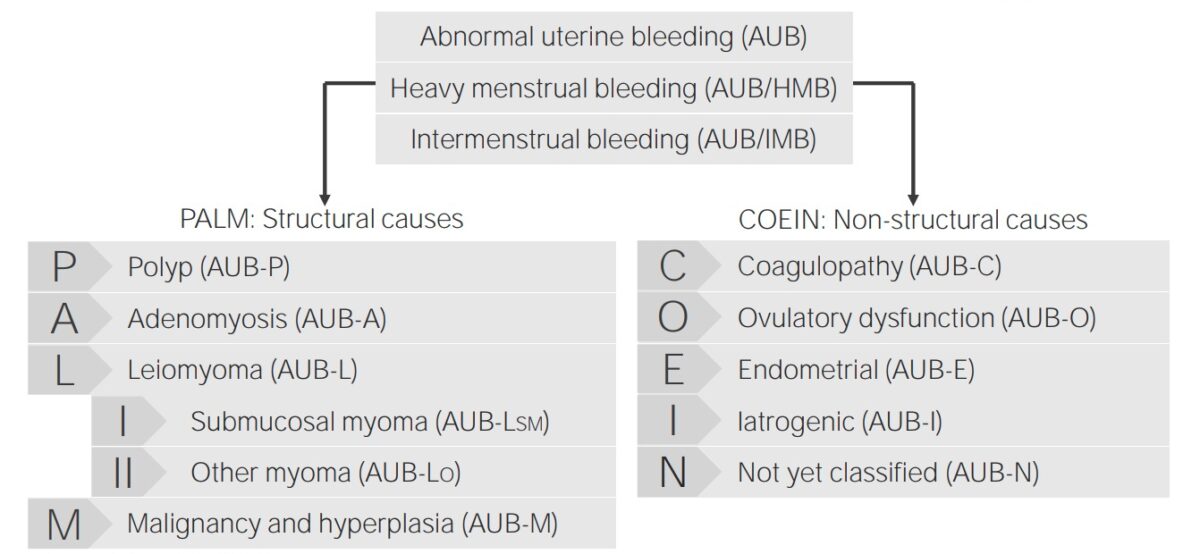 Epidemiology
Etiology
The exact etiology is unknown.
Risk factors
Pathophysiology
Inappropriate endometrial tissue proliferation within the myometrium can lead to heavy menstrual bleeding (HMB) and dysmenorrhea.
Pathophysiology of HMB
↑ Estrogen production within adenomyosis implants
↑ Total endometrial surface area
↑ Vascularization within the uterus
Abnormal uterine contractions
Pathophysiology of dysmenorrhea
Endometrial tissue is responsible for prostaglandin production → ↑ prostaglandins → trigger menstrual contractions
Bleeding and swelling within the myometrium during menses as the ectopic endometrial tissue sheds
Overexpression of inflammatory mediators within implants
Clinical Presentation
Symptoms
Dysmenorrhea
Abnormal uterine bleeding/heavy menstrual bleeding (AUB/HMB)
Chronic pelvic pain

Pain

Pain has accompanied humans since they first existed, first lamented as the curse of existence and later understood as an adaptive mechanism that ensures survival. Pain is the most common symptomatic complaint and the main reason why people seek medical care.

Physiology of Pain
Dyspareunia
May be asymptomatic (up to 33% of women)
Physical exam
Physical exam may reveal a uterus that is:
Symmetrically enlarged
Tender
Globular
Boggy
Mobile (as opposed to fixed, which may occur with endometriosis)
Diagnosis
The diagnosis relies on history, exam, and imaging. Laboratory evaluation is not helpful.
Pelvic/transvaginal ultrasound
Considered the preferred imaging modality
The following findings are suggestive of adenomyosis:

Enlarged uterus
Myometrial cysts
Asymmetrical thickening of the myometrium (typically at the fundus or posterior wall)
↑ Myometrial heterogeneity
Loss of a clear endomyometrial border
Thickening of the junctional zone
Linear striations radiating out from the endometrium
Doppler assessment shows ↑ vascularity in the myometrium.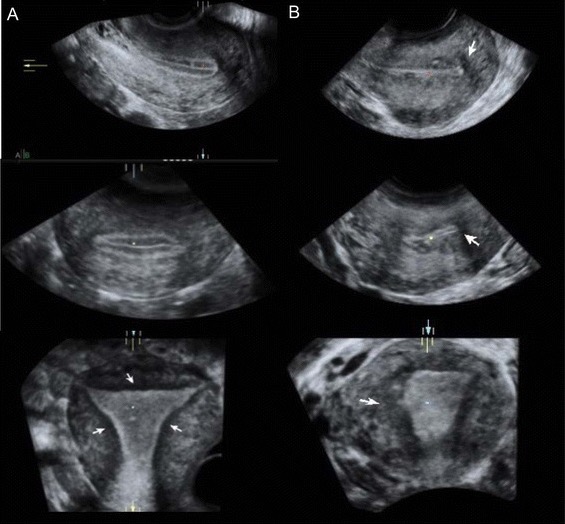 Pelvic MRI
Slightly more sensitive and specific than pelvic ultrasound
Rarely required
Indications:

When an accurate diagnosis will change management
Assist in surgical planning when uterus-sparing surgery is planned

Findings: same as those seen on ultrasound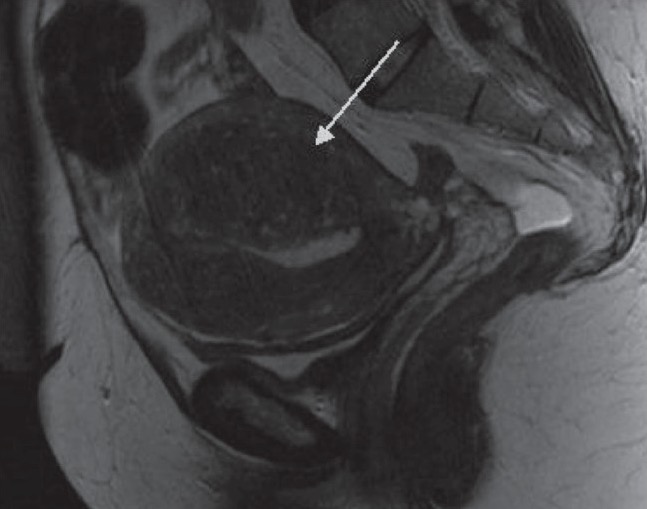 Management and Complications
Management
Management is directed primarily by the patient's desire for future fertility.
Non-hormonal medical therapies:

NSAIDs: ↓ prostaglandin production → ↓ dysmenorrhea

Hormonal therapies: ↓ estrogenic effects

Levonorgestrel intrauterine devices (IUDs): preferred medical treatment
Oral contraceptives (all are progestin dominant)
Gonadotropin-releasing hormone (GnRH) analogs:

Both agonists and antagonists fully suppress the hypothalamic-pituitary-ovarian axis by disrupting the GnRH pulse.
Options: leuprolide, elagolix

Danazol (an androgen, rarely used due to androgenic side effects)
Aromatase inhibitors

Surgical options: All require completion of child-bearing.

Hysterectomy

Definitive treatment
Best option once childbearing is complete
Histology specimens will confirm the diagnosis.

Endometrial ablation
Uterine artery embolization
Complications
Correlates with a ↑ risk of infertility

Infertility

Infertility is the inability to conceive in the context of regular intercourse. The most common causes of infertility in women are related to ovulatory dysfunction or tubal obstruction, whereas, in men, abnormal sperm is a common cause.

Infertility (a direct association has not been established)
↑ Risk of pregnancy

Pregnancy

Pregnancy is the time period between fertilization of an oocyte and delivery of a fetus approximately 9 months later. The 1st sign of pregnancy is typically a missed menstrual period, after which, pregnancy should be confirmed clinically based on a positive β-hCG test (typically a qualitative urine test) and pelvic ultrasound.

Pregnancy: Diagnosis, Maternal Physiology, and Routine Care complications:

Miscarriage
Preterm birth

Preterm birth

Preterm labor refers to regular uterine contractions leading to cervical change prior to 37 weeks of gestation; preterm birth refers to birth prior to 37 weeks of gestation. Preterm birth may be spontaneous due to preterm labor, preterm prelabor rupture of membranes (PPROM), or cervical insufficiency.

Preterm Labor and Birth