Overview
Epidemiology
Complement component 3 (C3) deficiency is part of the larger category of complement deficiencies:
Complement deficiencies are rare: They make up 5% of all immune deficiencies.
Prevalence varies by geographic location.
No gender or ethnic propensity reported.
Etiology
Hereditary C3 deficiency:

Encoded on chromosome 19 by the C3 gene
17 mutations in C3 gene prevent C3 protein from forming: commonly affects fragment C3b
Autosomal recessive inheritance

Acquired C3 deficiency:

Increased consumption of C3 during infection:

C3 overactivation by immune complexes
Seen in lepromatous leprosy, bacterial endocarditis, malaria, infectious mononucleosis, dengue hemorrhagic fever, and acute hepatitis B

Consumption of C3 due to medical conditions:

Lupus
Membranoproliferative glomerulonephritis
Pathophysiology
Complement cascade (3 pathways converging in common pathway):

Classical pathway (C1qrs, C2, C4)
Alternative pathway (C3, factor B, properdin)
Lectin pathway (mannan-binding lectin (MBL))

C3 deficiency results in malfunction of complement cascade:

Decreased levels of opsonin C3b → impaired opsonization of pathogens (especially bacteria)
Leads to reduced clearance of immune complexes
Increased risk of pyogenic bacterial infections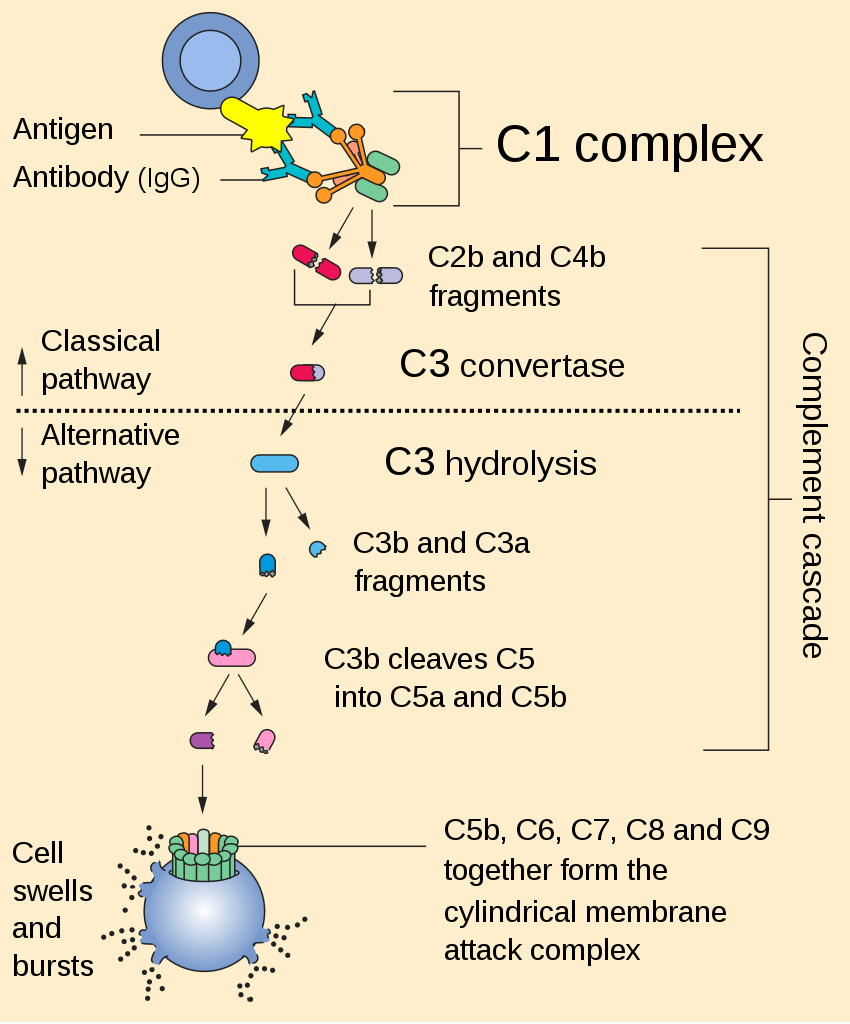 Diagnosis
Clinical presentation
Recurrent bacterial infections during childhood, especially encapsulated organisms:

Upper respiratory tract infections
Pneumonia
Meningitis

Generalized infections and sepsis can occur similar to Bruton agammaglobulinemia: infections with Staphylococcus, Pneumococcus, or Haemophilus influenzae
Also associated with autoimmune diseases:

Systemic lupus erythematosus
Type III hypersensitivity reactions
25% of patients develop glomerulonephritis.
Laboratory testing
Clinical testing directed by pattern of infection:
Bacterial types
Location of infection
Management
Management of patients with C3 deficiency centers on prevention of illness.
Prevention of infection
Promotion of hygiene and frequent hand washing
Monitor closely for early signs of illness.
Vaccination: meningococcal, pneumococcal, and H. influenzae vaccines are critical.
Prophylactic antibiotic:

Chronic prophylaxis is controversial.
May be indicated in select individuals based on severity, frequency, and kind of infection
Treatment of infection
Antibiotic therapy directed by bacteria isolated
Complement infusion: indicated with acute illness
References
Grumach AS, Kirschfink M. Are complement deficiencies really rare? Overview on prevalence, clinical importance and modern diagnostic approach. Mol Immunol. 2014 Oct. 61(2):110-117
Figueroa JE, Densen P. Infectious diseases associated with complement deficiencies. Clin Microbiol Rev. 1991 Jul;4(3):359-95. doi: 10.1128/cmr.4.3.359. PMID: 1889047; PMCID: PMC358203.
Botto M, Kirschfink M, Macor P, Pickering MC, Würzner R, Tedesco F. Complement in human diseases: Lessons from complement deficiencies. Mol Immunol. 2009 Sep;46(14):2774-83. doi: 10.1016/j.molimm.2009.04.029. Epub 2009 May 28. PMID: 19481265.