Overview
Epidemiology
Global incidence of 1.6–2 million cases per year
More common in young adults (< 30 years of age)
Men > women
Etiology
Erythema multiforme (EM) is a cell-mediated immune reaction (type IV reaction) directed against the antigens of the offending agent, which deposit in the skin.
Classification
Etiologies
Examples
Infectious causes (most common)
Bacterial

Mycoplasma pneumonia
Rickettsia

Viral

Herpes simplex virus (HSV) types 1 and 2

Most common cause
Approximately 50% of cases

Infectious mononucleosis

Fungal
Histoplasmosis
Noninfectious causes
Drugs

Penicillins
Sulfonamide
Anticonvulsant drugs
Nonsteroidal anti-inflammatory drugs (NSAIDs)
Barbiturates

Malignancy
Miscellaneous

Sarcoidosis
Systemic lupus erythematosus
Polyarteritis nodosa
Classification
Erythema multiforme is classified based on the presence of mucosal lesions and systemic symptoms into EM minor and major.
| | Cutaneous lesions | Mucosal involvement | Systemic symptoms |
| --- | --- | --- | --- |
| EM minor | ✔ | | |
| EM major | ✔ | ✔ | ✔ |
Clinical Presentation
Erythema multiforme usually resolves spontaneously within 1 month, with no long-term sequelae. Rarely, EM may recur, up to 6 times/year for 10 years (usually associated with HSV infection).
Cutaneous lesions
Begin as erythematous macules that develop over 3–5 days into papules → target lesions with 3 different zones

Central zone: dark and erythematous
Middle zone: pale surrounding ring
Peripheral zone: erythematous outer ring with well-defined margins

Symmetrical, acral distribution (i.e., hands, feet, and face)
Centripetal spread (distal to proximal)
Rounded, < 3 cm in diameter
Pruritus or burning sensation can be present.
Mucosal lesions
Bullous → painful erosions/ulcers
3 locations:

Oral mucosa (most common)
Ocular mucosa
Genital mucosa
Systemic symptoms
Fever
Malaise
Myalgia
Arthralgia/arthritis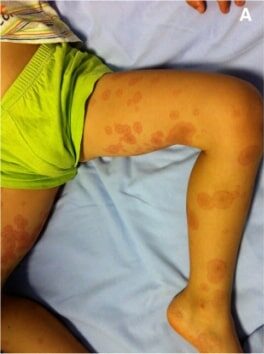 Diagnosis and Management
Diagnosis
Usually diagnosed clinically
Serologic testing to identify potential causes: M. pneumoniae in patients with respiratory symptoms, HSV in patients with recurrent EM
In uncertain cases, skin biopsy may show:

Vacuolated degeneration of basal cells
Scattered keratinocyte necrosis
Inflammation and edema
Management
Erythema multiforme is often self-limiting and does not require treatment.
Management is directed toward the causative agent and alleviation of symptoms.

Elimination of the causative agent (e.g., drug, allergen)
Symptomatic therapy: topical corticosteroid/oral antihistamines for pruritus and anesthetic mouthwash for painful oral lesions

Specific treatment

Location dependent:

Ocular lesions: referral to an ophthalmologist
Severe oral lesions: admission for pain management and hydration

Recurrent EM: continuous acyclovir for 6 months (suppressive therapy)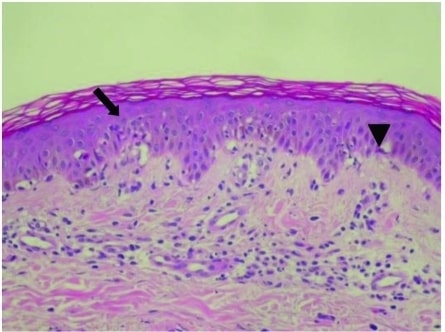 Differential Diagnosis
Urticaria: a self-limiting disease consisting of superficial, erythematous, pruritic lesions resulting from mast cell activation and histamine release in the dermis. Lesions may last < 24 hours up to > 6 weeks. Commonly caused by viral infections or by allergic reactions to drugs or food, other infections, stress, cold/heat, and autoimmune disorders. Treatment, besides addressing the underlying condition, includes antihistamines and steroids.
Bullous pemphigoid: an immune-mediated condition characterized by the destruction of extracellular adhesive proteins (e.g., hemidesmosomes) by immunoglobulin G autoantibodies. Patients present with urticaria and eczematous papules during the prodromal stage. After that, cutaneous, tense bullae develop. This may last months to years, and treatment is focused on supportive, symptomatic care with steroids and antihistamines.
Stevens-Johnson syndrome (SJS): a life-threatening immune-mediated hypersensitivity reaction that involves the mucous membranes and skin (< 10% of body surface area). Patients generally have a history of taking certain medications (e.g., sulfa drugs) or recent infection. Clinical presentation involves macular skin lesions with 2 zones of color change, vesicles, bullae, and systemic symptoms (e.g., fever). Treatment comprises supportive skin and eye care and symptom control.
Toxic epidermal necrolysis (TEN): a life-threatening immune-mediated hypersensitivity disease process that is an extension of SJS. Toxic epidermal necrolysis is an immune-mediated hypersensitivity reaction with mucocutaneous involvement (> 30% of body surface area). Mortality rate depends on severity in both SJS and TEN, at approximately 10% for SJS and up to 50% for TEN. Both conditions require admission to a burn unit for skin care.