Overview
Definition
Metachromatic leukodystrophy (MLD) is an autosomal recessive white matter disease caused by a deficiency in arylsulfatase A resulting in accumulation of cerebroside sulfate. This accumulation leads to the destruction of myelin and causes neurologic deficits.
Classification
Based on age at symptom onset:
Late infantile form
Juvenile form
Adult form
Epidemiology
Rare, autosomal recessive inherited condition
Incidence: 1 in 40,000 live births in the United States
No racial or sexual predilection
Most common form of inherited leukodystrophy
Etiology
Caused by deficiency in gene for arylsulfatase A (ARSA): 

Gene located on chromosome 22 (22q13.31qter).
Function of ARSA: hydrolyzes sulfated glycosphingolipids

Pseudodeficiency: partial loss of enzyme activity; no clinical consequences
MLD can also be caused by deficiency in sphingolipid activator protein B (SAP-B) deficiency. SAP-B acts with ARSA to hydrolyze sulfated glycosphingolipids.
Pathophysiology
Deficiency in ARSA activity → excessive white matter storage of sulfated glycosphingolipids
Accumulate in oligodendrocytes, macrophages, and other subtypes of neurons
Results in demyelination and neurodegeneration
Clinical Presentation
Late infantile form
Most common (50% of cases)
Age at presentation: < 30 months
Symptoms:

Initial developmental milestones are met and then progressively lost.
Regression of motor skills
Seizures
Hypotonia
Extensor plantar posturing
Optic atrophy

Patients die at < 5 years of life if untreated.
Juvenile form
Age at presentation: 3 to < 16 years
Symptoms:

Initial developmental milestones are met and then progressively lost.
Intellectual regression
Behavioral and personality changes
Peripheral neuropathy
Patients presenting at later ages often have seizures

Death usually occurs < 2 decades after symptom onset.
Adult form
Similar to juvenile form but more protracted course
Age at presentation: > 20 years
Slow progression
Symptoms:

Dementia
Seizures
Diminished reflexes
Optic atrophy
Diagnosis
Consider diagnostic testing in patients expressing typical clinical features.
Diagnosis is confirmed with biochemical, urine, and genetic analysis:

Decreased or absent ARSA activity in leukocytes or cultured skin fibroblasts
Increased urinary sulfatide secretion (Patients with pseudodeficiency have normal secretion.)
Genetic analysis for common mutations

Brain MRI is diagnostic adjunct and may show:

Hyperintensity in periventricular white matter
Hyperintensity in subcortical supratentorial white matter

Electroneurographic recordings show decreased nerve conduction velocities.
Other results consistent with MLD but not required for diagnosis:

Increased CSF protein
Metachromatic deposits in sural nerve
Metachromatic granules in urinary sediment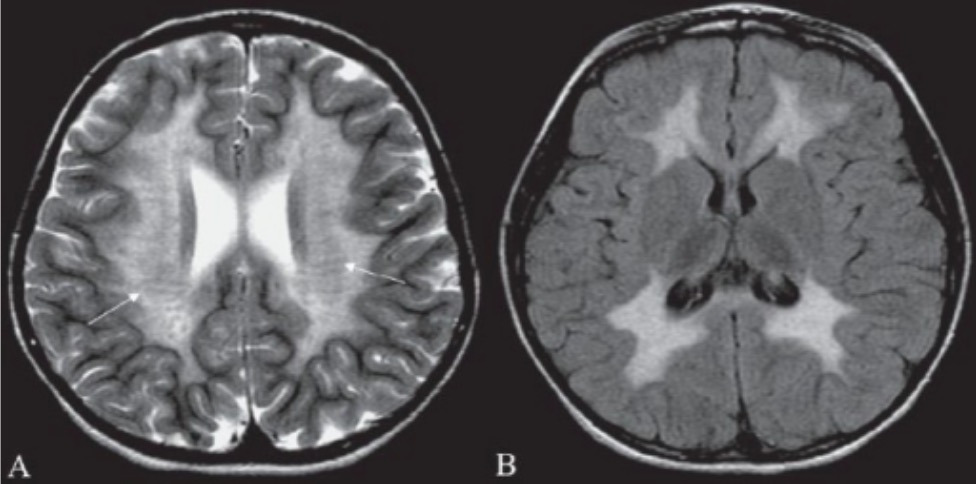 Management
No curative therapy for MLD is widely available. Umbilical cord blood transplantation for children with presymptomatic late-infantile MLD or minimally symptomatic juvenile MLD can slow disease progression.
Supportive therapy is preferred for patients with symptoms and for all patients with juvenile and late-onset forms MLD:
Seizure prophylaxis with antiepileptics (e.g., levetiracetam)
Treatment for spasticity (e.g., with baclofen)
Mood/behavioral issues should be addressed with behavioral therapy and medication (e.g., antidepressants).
Clinical trials of recombinant human arylsulfatase A (rhARSA) enzyme demonstrated its safety in children with late-infantile MLD.
Differential Diagnosis
Krabbe disease: autosomal recessive lysosomal storage disease caused by deficiency in beta-galactosidase (GALC). Krabbe disease can present during all stages of life. All patients present with peripheral motor-sensory neuropathy. Common symptoms also include irritability, hypertonia, hyperesthesia, hypotonia, and abnormal deep tendon reflexes. Diagnosis is confirmed through GALC enzyme activity.
X-linked adrenoleukodystrophy: X-linked disorder of peroxisomes caused by mutations in ATP-binding cassette, subfamily D, member 1 gene (ABCD1) that results in accumulation of very-long-chain fatty acids in most tissues of the body. Patients present with adrenal insufficiency, decreased cognition, behavioral issues, vision and hearing impairment, and dysarthria. Brain MRI and genetic testing is diagnostic.
Canavan disease: progressive neurodegenerative autosomal recessive leukodystrophy seen primarily in Ashkenazi Jewish populations. Canavan disease is caused by aspartoacylase deficiency. Symptoms include spasticity, ataxia, seizures, hypotonia, and optic atrophy. Diagnosis is confirmed by discovering elevated levels of N-acetyl aspartate (NAA) in urine and abnormal diffuse white matter disease on MRI.
References
Biffi, A., Lucchini, G., Rovelli, A., et al. (2008). Metachromatic leukodystrophy: an overview of current and prospective treatments. Bone Marrow Transplant 42:2–6.
Hohenschutz, C., Eich, P., Friedl, W., Waheed, A., Conzelmann, E., Propping, P. (1989). Pseudodeficiency of arylsulfatase A. Hum Genet 82:45–48.
U.S. National Library of Medicine. Metachromatic leukodystrophy. MedlinePlus. Retrieved April 27, 2021, from https://medlineplus.gov/genetics/condition/metachromatic-leukodystrophy/
Friede, R. L. (1975). Metachromatic leukodystrophy (sulfatase A deficiency) and multiple sulfatase deficiency. In: Developmental Neuropathology. Vienna: Springer.