Bowen Disease
Squamous cell carcinoma (SCC) in situ affecting any area of the body:

Represents a thin skin cancer that is localized to the epidermis
3%–5% of cases progress to invasive SCC.

Annual incidence among white individuals is 14.9 cases per 100,000.
Risk factors:

Sun exposure
Immunosuppression
Fair complexion
Smoking
Arsenic exposure
HPV infection (type 16 is the most common)

Clinical presentation:

Erythematous, scaly, well-demarcated patch/plaque
+/- Ulcerations
+/- Crusting
Sun-exposed areas (e.g., face, neck, and forearms)
Can affect genital region (e.g., penile shaft)
Grows slowly but can present as invasive SCC
Usually asymptomatic

Diagnosis:

Skin biopsy: gold standard test
Pathology:

Shows full-thickness atypia without basement membrane invasion
Large hyperchromatic nuclei with numerous mitoses

Treatment:

Local excision
Topical chemotherapy creams:
Erythroplasia of Queyrat
SCC in situ (Bowen disease) of the glans penis
Incidence is < 1 per 100,000 males.
Risk factors:

Lack of circumcision
Chronic irritation (e.g., urine)
HPV infection: specifically high-risk HPV subtypes 16 and 18
Smoking
Immunosuppression

Clinical presentation:

Red, well-defined velvety plaque over the glans or foreskin
+/- Ulcerations
+/- Bleeding
+/- Pruritus

Diagnosis: skin biopsy (similar to Bowen disease)
Treatment:

Local excision
Topical chemotherapy creams: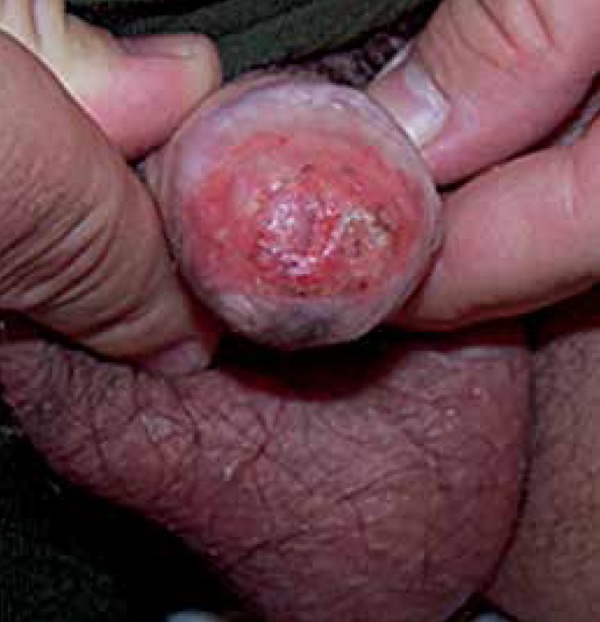 Differential Diagnosis
Cutaneous squamous cell carcinoma (cSCC): the 2nd most common skin malignancy, caused by malignant proliferation of atypical keratinocytes. This condition usually affects sun-exposed areas of fair-skinned patients. The cancer presents as a firm, erythematous, keratotic plaque or papule. Histopathologic examination provides the diagnosis. Surgical excision is the mainstay of treatment.
Penile cancer: malignant lesions of the penis arise from the squamous epithelium of the glans, prepuce, or penile shaft. The most common histologic subtype is SCC. Both Bowen disease and erythroplasia of Queyrat are considered thin, noninvasive skin cancers, but these conditions can progress to invasive SCC. Uncircumcised men are at highest risk, along with those with HPV infections. Diagnosis is a combination of clinical findings and tissue biopsy. Treatment approach depends on cancer stage and can include local topical therapy and multimodal surgical/radiation/chemotherapy.
Bowenoid papulosis: a sexually transmitted condition induced by HPV infection, which facilitates keratinocyte neoplastic transformation. On skin biopsy, Bowenoid papulosis manifests as low-grade dysplasia. Presenting features include genital papules of a red to brown color that are often asymptomatic. Most cases resolve spontaneously. Lesions should be followed up due to the risk of transformation to invasive SCC. Cryosurgery, excision, or topical therapy may be used for persistent bowenoid papulosis.
References
Bolognia, JL, Schaffer, JV, Cerroni, L. (2018). Actinic Keratosis, Basal Cell Carcinoma, and Squamous Cell Carcinoma. Dermatology, 4e. Edinburgh Elsevier.
Curti, BD, Leachman, S, Urba, WJ. (2018). Cancer of the skin. In Jameson, J, et al. (Eds.). Harrison's Principles of Internal Medicine, 20e. McGraw-Hill.
Porten, SP, Presti, Jr., J.C. (2020). Genital tumors. In McAninch, JW, Lue, TF (Eds.). Smith & Tanagho's General Urology, 19e. McGraw-Hill.