Overview
Definition
Low-grade squamous cell carcinoma (SCC) in situ of the genitalia (although extragenital lesions have been reported)
Induced by human HPV infection:

Oncogenic genotypes (e.g., HPV 16, 18, and 31)
Sexually transmitted condition

Overall course of disease:

Generally regresses spontaneously
In rare cases, may transform into invasive SCC (< 1 %)
Epidemiology
The condition most often affects individuals in their 3rd to 5th decade of life (mean age: 31 years).
Both sexes are affected, with slight male predominance.
No racial predilection
Risk factors
HPV infection (HPV 16 is the most common associated agent)
Immunocompromised status
Smoking
Clinical Presentation
Table: Clinical presentation
Number and morphology
Multiple papules
Color
Red-brown to violaceous
Surface

Smooth/flat
Papillomatous/verrucous

Size
< 1 cm
Distribution

Discrete lesions (most common)
Annular
Linear

Location

♂

Penile shaft (most common site)
Foreskin
Glans
Scrotum
Perianal skin

♀ (usually bilateral)

Labia majora
Labia minora
Clitoris
Vagina
Inguinal folds
Perianal skin

Symptoms

Usually asymptomatic
Pruritus
Pain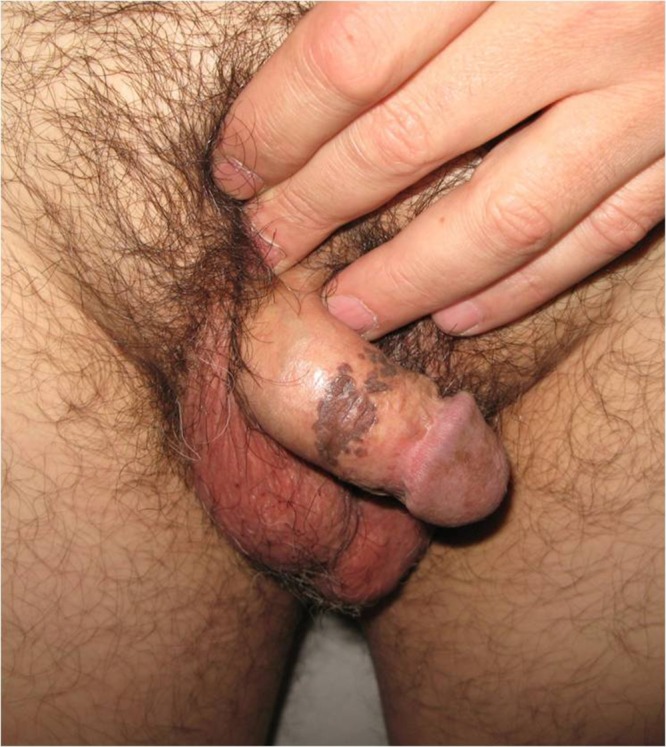 Diagnosis and Management
Diagnosis
Skin biopsy:

Focal epidermal hyperplasia
Partial-/full-thickness epidermal dysplasia

HPV subtyping
Evaluation of other sites: oral, genital, and anal areas
Sexual-partner evaluation
Management
Conservative, with close follow-up
Most cases regress in an average of 8 months.
Persistent or cosmetically bothersome lesions can be treated with locally ablative therapies (e.g., cryotherapy, excision, or fluorouracil).
Prevention: HPV vaccination
Recurrence is common regardless of the treatment method.
Differential Diagnosis
Squamous cell carcinoma (SCC): the 2nd most common skin cancer and usually presents as a firm, erythematous, keratotic plaque or papule. Diagnosis should be suspected on a clinical basis, and histopathologic examination confirms the diagnosis, with pathognomonic features such as keratin pearls.
Genital warts (HPV): common sexually transmitted condition induced by HPV infection. Lesions present as exophytic cauliflower-like growths that can be seen on the penis, vulva, vagina, or cervix.
Bowen disease: synonymous with SCC in situ of the skin and presents as a scaly, red, well-demarcated papule or plaque. Biopsy is necessary to confirm the diagnosis and rule out invasive carcinoma. Then the skin cancer should be definitively treated with excision or topical chemotherapy.
References
Bolognia, JL, Schaffer, JV, Cerroni, L. (2018). Anogenital Disease. Dermatology, 4e. Edinburgh Elsevier.
Lim, JL, Asgari, M. (2021). Cutaneous squamous cell carcinoma (cSCC): Clinical features and diagnosis. UpToDate. Retrieved April 20, 2021, from https://www.uptodate.com/contents/cutaneous-squamous-cell-carcinoma-cscc-clinical-features-and-diagnosis