Overview
Epidemiology
Overall, penile malignancies are rare.
Highest incidence: age group 50–70 years
In the United States:

Estimated annual incidence of approximately 2000 new cases
Average incidence: 1 in 100,000 men per year

In highly industrial countries (United States, Europe, Canada), annual incidence rates are lower.
Prevalence rates are 5–10 times higher in nonindustrialized countries.
Risk factors
Uncircumcised males:

Greatest risk contributing to malignant penile lesions
22-fold increased risk versus circumcised males
Maximal risk reduction of penile cancer with circumcision performed in the neonatal period

History of HPV or HIV infection:

8-fold increase of penile lesions
Up to 50% of penile cancers are associated with HPV serotypes 16 (most common), 6, and 18.
Particularly increased risk of basaloid and warty penile carcinomas

HIV
Lower socioeconomic status
Poor genital hygiene (accumulation of smegma)
Smoking
Psoralens and ultraviolet A photochemotherapy
Chronic inflammatory conditions:
Pathophysiology
Anatomy
Most cancers of the penis arise from the squamous epithelium of the epidermis and dermis.
Two distinct fascial layers arise beneath the penile shaft skin:

Superficial dartos fascia
Deep Bucks fascia

Within Bucks fascia are the two cavernosal bodies dorsally and the solitary spongiosum ventrally.
Lymphatic drainage of the penis is mainly via the inguinal lymph nodes in the groin:

No pattern of laterality for drainage, with much crossover
Superficial and deep lymphatics, either above or below the fascia lata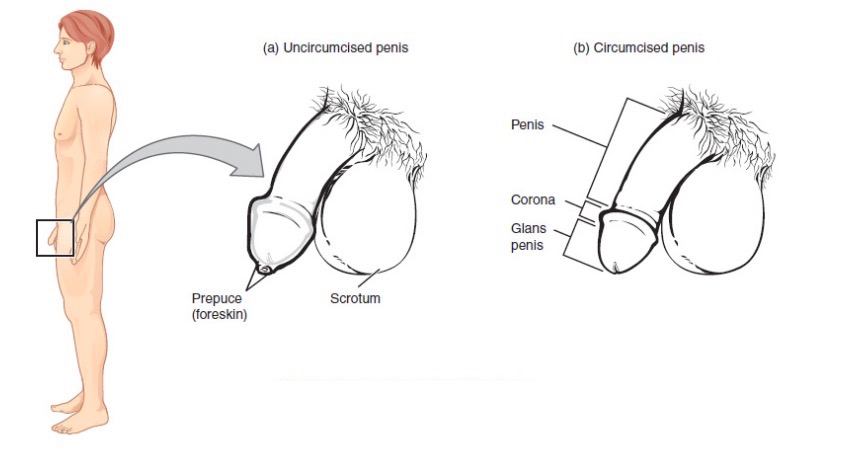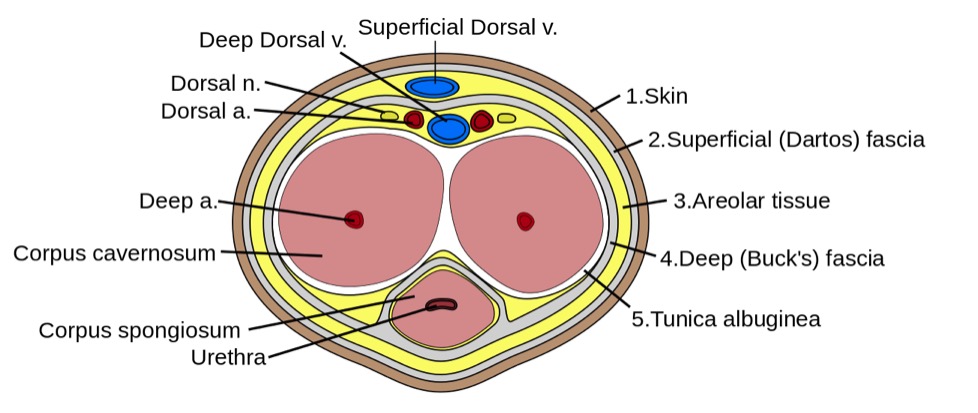 Pathogenesis and pathology
Cancer growth:

Small lesions initially, often noted on the glans or prepuce
HPV-mediated penile carcinomas:

Oncoproteins E6 and E7 produced by HPV infections can interfere with tumor suppressor gene function.
Alterations of the RB1 and p53 genetic pathways and cell-cycle regulators p21 and p16 occur.

Carcinoma in situ (CIS) or penile intraepithelial neoplasia:

Bowen disease presents as lesions on the penile shaft.
Erythroplasia of Queyrat presents with lesions on the glans.

Squamous cell carcinoma (SCC):

Common variant:

Comprises up to ⅔ of SCC cases
Typically invades the corpus spongiosum and grade II histology
Inguinal node metastases are present in 25%–40% of cases.

Papillary carcinoma: 2%–15% of cases

Usually low grade or well differentiated but superficially invasive
Microscopic evidence of hyperkeratosis and papillomatosis
Not linked to HPV infection
Not often associated with vascular or perineural invasion

Warty (condylomatous): 7%–10% of cases

Cauliflower-like lesions
Prominent fibrovascular core with papillomatous formations
Does not commonly reach vascular and neural structures
Linked to HPV infection
Inguinal node metastasis in 17%–25% of cases

Basaloid carcinoma: 4%–10% of cases

Ulcerated irregular masses related to HPV
Histologically present as uniform and small hyperchromatic cells with central necrosis.
Usually deeply invasive into the corpus cavernosum or spongiosum

Verrucous carcinoma: 3%–7% of cases

Usually low grade and exophytic
Histologically straight papillae lined by extremely well-differentiated neoplastic cells
Hyperkeratotic surface with interpapillary keratin

Sarcomatoid (spindle cell) carcinoma: 1%–6% of cases

Most aggressive variant
Poorly differentiated, ulcerated, or rounded polypoid masses
Usually with vascular and perineural invasion

Basal cell carcinoma: low risk of metastasis
Sarcoma (including Kaposi's sarcoma, which is associated with HHV-8
Melanoma: most aggressive skin cancer
Metastasis to the penis is rare.
Clinical Presentation and Diagnosis
Presentation
Initially presents as a skin abnormality or palpable lesion on the penis:

Majority arise from the glans penis, at the coronal sulcus or on the prepuce.
May be painful, but usually painless

Lesions can vary in size and characteristics:

Ulcerated lesions
Infiltrative with progressive growth

Inguinal adenopathy presents in about 30%–60% of cases.
Distant metastasis:

Usually means late disease presentation
Affects adjacent genitourinary organs or distant organs
Present in about 1%–10% of cases
Physical exam
Generalized constitutional exam (assess for overall performance status)
Focused genitourinary exam:

Penile exam:

Determine circumcision status.
Characterize size, depth, location, and features of lesion.
Assess for discharge, erythema, and swelling.

Inguinal exam:

Assess for inguinal lymphadenopathy.
Number of palpable inguinal nodes
Fixed or mobile nodes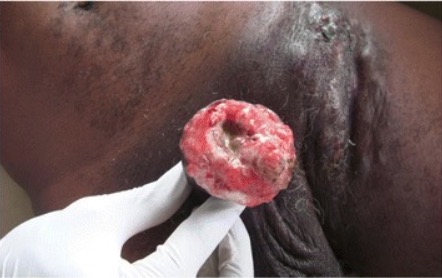 Diagnostics
Tissue biopsy to confirm:

Punch-type
Incisional
Excisional

Imaging:

Options:
Functions:

Assesses primary tumor stage and surgical approach
Identifies invasion into the corpora cavernosa or spongiosa
Determines regional lymph node involvement
Imaging of other sites in case of metastasis

Staging of inguinal lymph nodes:

Fine-needle aspiration:

Performed under local anesthesia with 23-gauge needle
Samples clinically palpable nodes

Dynamic sentinel node biopsy:

Involves injection of radioactive tracer dye
Examines drainage of inguinal lymph nodes
Allows for lymphatic mapping and sentinel node biopsy

Superficial inguinal lymph node dissection:

Provides direct information regarding suspicious nodes
Performed by experienced pelvic surgeons
Higher overall complication rates
Staging
Table: Tumor, Node, Metastasis (TNM) Staging System for penile cancer (American Joint Committee on Cancer)
T: tumor
Primary tumor (T)
Description
Tx
Primary tumor cannot be assessed.
T0
No evidence of tumor
Tis
Carcinoma in situ
T1

Glans: Tumor invades lamina propria.
Foreskin: Tumor invades dermis, lamina propria, or dartos fascia.
Shaft: Tumor invades connective tissue between epidermis and corpora.

T1a
Tumor without lymphovascular invasion or perineural invasion and not high grade
T1b
Tumor with lymphovascular invasion and/or perineural invasion or tumor is high grade
T2
Tumor invades corpus spongiosum with or without urethral invasion.
T3
Tumor invades corpora cavernosum with or without urethral invasion.
T4
Tumor invades adjacent structures.
Table: Tumor, Node, Metastasis (TNM) Staging System for penile cancer (American Joint Committee on Cancer)
N: node

| Regional lymph nodes (N) | Description |
| --- | --- |
| cNx | Regional lymph nodes cannot be assessed. |
| cN0 | No palpable or visibly enlarged inguinal lymph nodes |
| cN1 | Palpable mobile unilateral inguinal lymph node |
| cN2 | ≥ 2 palpable mobile unilateral inguinal nodes or bilateral inguinal lymph nodes |
| cN3 | Palpable fixed inguinal nodal mass or pelvic lymphadenopathy unilateral or bilateral |
Table: Tumor, Node, Metastasis (TNM) Staging System for penile cancer (American Joint Committee on Cancer)
M: metastasis

| Distant metastasis (M) | Description |
| --- | --- |
| M0 | No distant metastasis |
| M1 | Distant metastasis |
Management
Management options
Table: Development of the tracheobronchial tree and lungs and clinical relevance
Treatment strategy for cancerous lesions
Explanation
Penis-preserving interventions

Local excision with reconstruction
Glansectomy
Laser therapy
Radiotherapy
Brachytherapy

Partial/total amputation
Partial excision decision has to be exercised with great caution in selected patients with locally invasive tumors.
Surveillance for lymph node metastasis
Low-risk patient with no vascular invasion
Early lymphadenectomy
For high-risk patients or with vascular invasion
Treatment approach
Carcinoma in situ or Tis–T1:
Topical therapy:

Fluorouracil cream indicated for CIS
Imiquimod cream for CIS

Laser ablation:

CO2 laser commonly used
For local ablation of superficial lesions
Usually successful for CIS

Total glans resurfacing:

Removes the skin and lamina propria layers of the glans penis
Followed by skin graft placement
Effective method for CIS

Mohs micrographic surgery:

Layer-by-layer excision of penile lesion
Requires multiple procedures and coordination

Radiation therapy:

Via external-beam or interstitial brachytherapy
Requires multiple sessions and high doses of radiation
Significant side effects: urethral mucositis, edema, secondary infection risks
Bulky T2–T4 tumors:
Limited excisions for distal, smaller T2 tumors
Penile amputation:

Determined by extent and location of primary tumor
Partial amputation for distal invasive tumors
Total amputation for extensively invasive tumors

Chemotherapy ± radiation therapy also used to shrink tumor or for large lymph nodes
Lymph nodes:
Nonpalpable:

Low risk (up to T1): surveillance for lymph node metastasis
High risk: confirm with node biopsy and if positive, proceed with lymphadenectomy

Palpable lymph nodes: inguinal lymphadenectomy
Differential Diagnosis
Angiokeratomas: uncommon benign, violaceous papules with an overlying scale: Angiokeratomas usually appear on the glans penis, but they can also be found on the scrotum. In most cases, the lesions are asymptomatic and do not require treatment.
Lichen planus (penis): characterized by violaceous papules on the glans: Lichen planus is rarely symptomatic, although some patients may experience pruritus. Treatment will be for symptomatic control if needed.
Condylomata acuminata: soft papillomatous growths that are highly associated with HPV infection: Most condylomata acuminata are benign and associated with low-risk HPV types 6 and 11. Treatment involves removal of lesions with laser treatment, topical agents, or surgical excision.
Genital psoriasis: erythematous plaques with well-defined margins in genital area: These lesions are often asymptomatic but can be pruritic. The presence of other psoriatic plaques on other parts of the body distinguishes this condition from penile cancer.