Overview
Definition
Arrhythmogenic right ventricular cardiomyopathy is a genetic disease of the heart muscle characterized by the fibrofatty replacement of the right ventricular myocardium.
Epidemiology
The prevalence is 1:2000 to 1:5000.
In 11% of cases: sudden cardiac death (SCD)
Mean age at presentation is 30 years.
Men-to-women predominance is almost 3:1.
Presentation is most common between ages 10 and 50.
35% of patients with arrhythmogenic right ventricular cardiomyopathy have a family history, although it may not be known at the time of presentation.
Etiology
Most cases of arrhythmogenic right ventricular cardiomyopathy are inherited:

Autosomal dominant form = most common pattern of inheritance
Autosomal recessive disease = associated with palmoplantar keratosis and woolly hair

Acquired disease can result from viral myocarditis.
Genetics: mutations in the genes encoding desmosomal proteins

Plakoglobin
Desmoplakin
Plakophilin-2
Desmoglein-2
Desmocollin-2
Pathophysiology
Abnormal desmosomes cause the disruption of the intercellular junctions → myocyte detachment → apoptosis
Strenuous exercise can precipitate myocyte detachment and death.
Myocardial injury → inflammation → fibrofatty replacement of the damaged myocardium → development of the ventricular arrhythmias
Clinical Presentation and Diagnosis
The clinical presentation of arrhythmogenic right ventricular cardiomyopathy is variable and may remain silent for decades, making it difficult to recognize.
Clinical presentation
Up to 40% of patients are asymptomatic.
Symptomatic patients present with:

Palpitations

Most common symptom
Usually due to frequent ventricular premature beats

Arrhythmias

Ventricular arrhythmias range from premature ventricular contractions to sustained ventricular tachycardia
The most common arrhythmia is ventricular tachycardia that originates in the right ventricle (RV) with a left bundle branch block (BBB L) pattern

Syncope
Atypical chest pain
Dyspnea
RV heart failure in 6%
Sudden cardiac death: can be the 1st clinical manifestation
Lower extremity swelling
Left ventricular involvement: can lead to biventricular heart failure
Palmoplantar keratosis
Woolly hair
Diagnosis
The details of the 2017 Report of the American College of Cardiology/American Heart Association Task Force and the Heart Rhythm Society (ACC/AHA/HRS) are beyond the scope here. The report defines global or regional dysfunction and structural alterations with detailed echocardiographic measurements of the RV outflow tract.
The task force defines major and minor criteria for the "definitive diagnosis" of arrhythmogenic right ventricular cardiomyopathy.

Criteria such as regional RV akinesia, dyskinesia, or aneurysm
Criteria for arrhythmia:

Ventricular tachycardia of RV outflow configuration and BBB L morphology
> 500 ventricular extrasystoles per 24 hours

Also "borderline" and "possible" diagnosis of arrhythmogenic right ventricular cardiomyopathy

All patients with suspected arrhythmogenic right ventricular cardiomyopathy:

Family history

1st- or 2nd-degree relatives with arrhythmogenic right ventricular cardiomyopathy
Confirmed genetic mutation in the patient

ECG

12-lead
Ambulatory ECG monitoring

Echocardiogram
Cardiac MRI

Select patients:

Electrophysiology testing
Exercise ECG
Genetic testing if definite or borderline ACC/AHA/ task force diagnostic criteria are met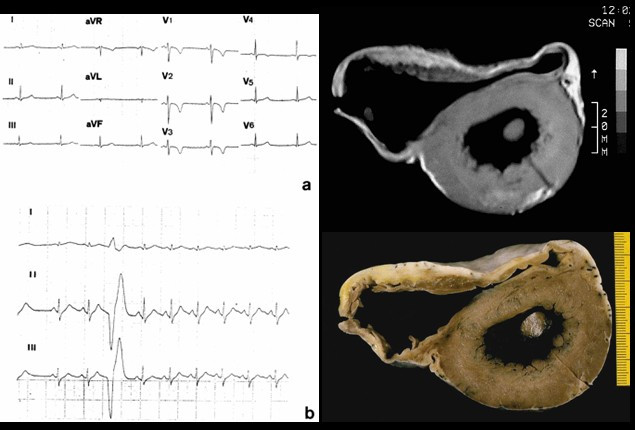 Management
The main goal in the management of arrhythmogenic right ventricular cardiomyopathy is to prevent life-threatening arrhythmias. Slowing the progression of the disease is also a priority.
Lifestyle modifications:

Restriction from competitive sports
Can participate in low-intensity recreational activities:
Recommendations also apply to family members with a negative phenotype.

Prevention of arrhythmias:

Implantable cardioverter-defibrillator (ICD) indications:

Primary prevention of SCD in high-risk patients
Secondary prevention of SCD in patients with previous episodes of ventricular arrhythmia
High-risk patients that require an ICD: unexplained syncope, male sex, ventricular tachycardia during electrophysiologic study testing, severe RV dilation, involvement of the left ventricle, prior cardiac arrest, or onset of disease before age 5
May need adjunctive medication therapy in patients with symptomatic arrhythmias

Medications for management of arrhythmias:

Beta-blockers should be initiated in all patients.
Sotalol = the most effective medication in ventricular tachycardia
Amiodarone alone or in combination with beta-blockers
Not as effective as an ICD
Also used in patients who are not candidates for an ICD

Ablation

Radiofrequency ablation (RFA) is not considered to be the primary step in management.
Indicated in patients with an ICD and persistent episodes of ventricular tachycardia or those who are not candidates for an ICD
Combined medication therapy may be needed in hemodynamically stable patients without an ICD.

Prevention of disease progression:

Limiting activity is essential.
Medical therapy for heart failure:

ACE inhibitors
Mineralocorticoid receptor antagonist (e.g., spironolactone)
Diuretics

Cardiac transplantation for patients with:

Duration of AVRC longer than 15 years
Heart failure despite optimal medical therapy
Progressive ventricular arrhythmias

Anticoagulation therapy in patients with:

Intracavitary thrombus
Atrial flutter
Atrial fibrillation
History of thromboembolic disease

Prognosis: Left ventricular involvement carries a worse prognosis.
Differential Diagnosis
Brugada syndrome: a rare inherited cardiac arrhythmia characterized by ST-segment elevation in the right precordial leads and right bundle branch block (BBB R). Patients can be asymptomatic or present with palpitations, dizziness, and syncope. A 12-lead ECG is required for the diagnosis. Management includes insertion of an ICD.
Idiopathic right ventricular tachycardia: an arrhythmia arising from the right ventricular outflow tract in the absence of the underlying structural heart disease. Patients have normal ECG findings (not found in patients with arrhythmogenic right ventricular cardiomyopathy after about 6 years) and are diagnosed on electrophysiologic studies. Idiopathic right ventricular tachycardia has a better prognosis than arrhythmogenic right ventricular cardiomyopathy and can be treated with ablation.
Myocarditis or cardiac sarcoidosis: inflammatory conditions of the myocardium. Myocarditis can be viral and present with fever, chest pain, dyspnea, fatigue, and myalgia. Cardiac sarcoidosis presents with palpitations, dyspnea, fatigue, and possibly syncope. A distinguishing feature of these inflammatory conditions is the presence of conduction disease, which is not often seen with arrhythmogenic right ventricular cardiomyopathy. Diagnosis relies on clinical findings, laboratory evaluation, and cardiac imaging. Management is mainly supportive but includes treatment of the underlying cause.
Uhl anomaly: differs from arrhythmogenic right ventricular cardiomyopathy in that there is no familial component, and it usually presents in childhood with heart failure. Clinically, Uhl anomaly produces a dilated cardiomyopathy due to the pathophysiology of a "paper-thin" RV wall with areas of partial or complete absence of myocardial tissue. Uhl anomaly is diagnosed on echocardiogram or MRI, and there are few treatment options available except palliative care or heart transplant.