Anatomy Courses and Classes in Your Pocket
Lecturio is your all-in-one platform to achieve mastery of anatomy concepts and ace your anatomy exams.
Take the online anatomy class taught by
Pickering from UOL and Canby from DMU
In this course, you will learn everything you need to know on the subject of anatomy, beginning with the basics all the way through advanced topics. Over the course of several lectures, you will increase your knowledge of the human trunk, limbs and more. Our knowledge-based structure combines high quality illustrations, animation and other media to help you learn and retain the information needed to become a master of human anatomy.
Share this anatomy course: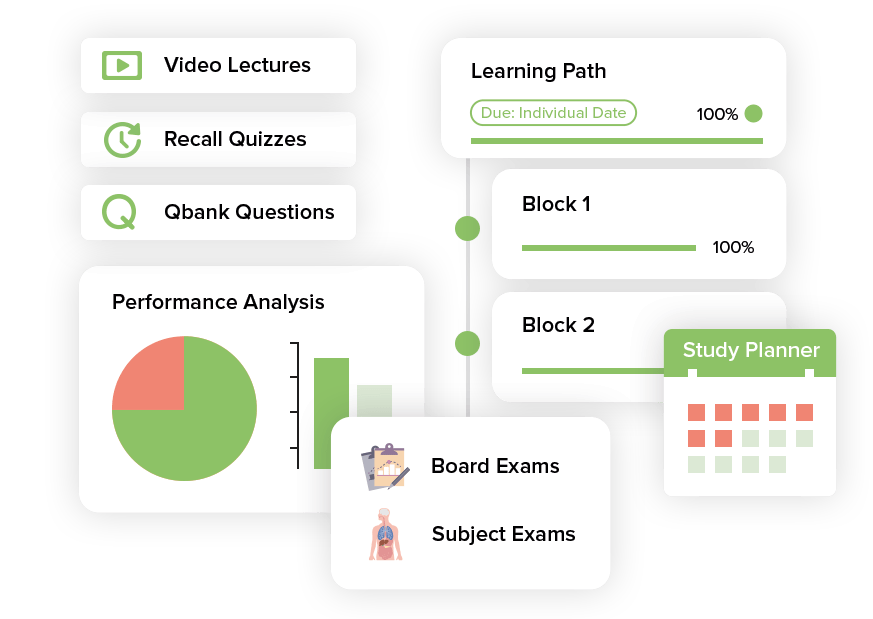 Your personal anatomy learning path will lead you to a high anatomy score.
When it comes to anatomy, it can be hard to know where to begin. Our customized learning paths offer the most intelligent combination of video lectures, quizzes, and clinical cases to help you learn, retain, and grow your knowledge. Add your learning path to your Study Planner and you'll know just how much time you need to spend each day to prepare for your next anatomy exam.
Close your heavy textbooks and learn at your own pace
And that's not all. With Lecturio you can apply your anatomy knowledge by answering clinical case questions that will help you retain everything you learned using quizzes and concept pages.
470+ Anatomy
Video Lessons
High-yield video lessons offer integrated 3D anatomy models and multilingual subtitles.
1200+ Anatomy Exam
Practice
Questions
Our simulated-exam interface is designed to help you familiarize yourself with actual anatomy test situations.
80+ Anatomy
Concept Pages
Developed by US-trained physicians, our comprehensive Concept Pages help you master new concepts and reinforce existing knowledge on challenging anatomy topics.
1280+
Questions for Better Recall
Our adaptive learning algorithm uses smart-spaced repetition quizzes to help you retain anatomy information in the long term.
Lecturio's expert-made study schedules combine all relevant anatomy materials organized block-by-block to help you prepare for your exams.
Immerse yourself in interactive 3D models of the human body to gain deep insight into organs, bones, muscles, and more.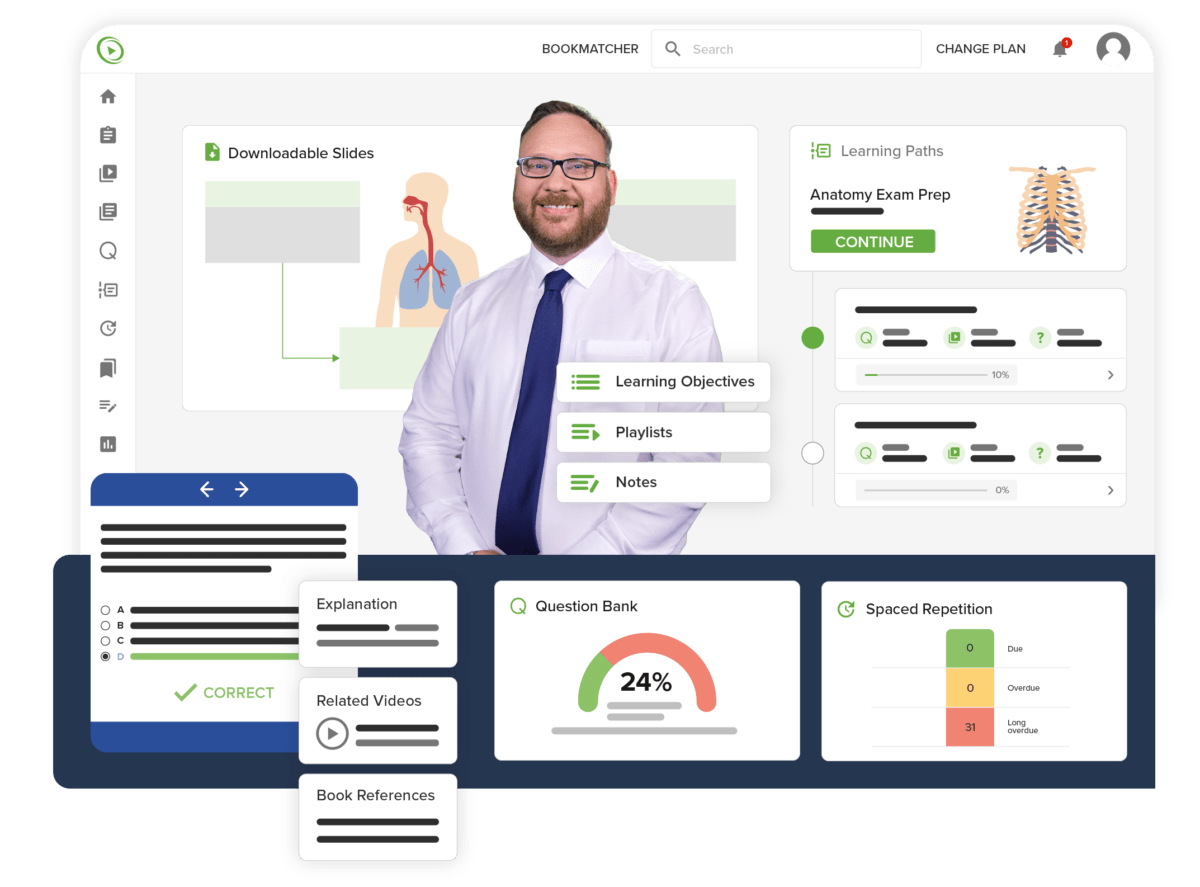 "Dr. Pickering is simply outstanding. He speaks in such a clear and objective way it makes learning anatomy easy. It's been a pleasure watching his lectures on anatomy. Simply fantastic. I'd recommend Lecturio to anyone interested in gaining enough knowledge to master anatomy in med school."
Lecturio's Anatomy Course covers all relevant topics
Head and Neck Anatomy
59 videos / 144 questions
Autonomic Nervous System (ANS)
4 videos / 14 questions
Meninges
4 videos / 12 questions
Limbic System
3 videos / 10 questions
Cerebral Cortex
7 videos / 23 questions
Diencephalon
5 videos / 16 questions
Visual Pathways
4 videos / 14 questions
Basal Ganglia
4 videos / 11 questions
Cerebellum
3 videos / 10 questions
Auditory System and Vestibular System
10 videos / 32 questions
12 Cranial Nerves and Their Functions
14 videos / 30 questions
Brain Stem
12 videos / 25 questions
Spinal Cord
9 videos / 28 questions
Ventricular System
3 videos / 11 questions
Dural Venous Sinuses
3 videos / 10 questions
Thoracic Viscera
25 videos / 93 questions
Abdomen
84 videos / 214 questions
Abdominal Wall
45 videos / 170 questions
Head and Neck Anatomy
54 videos / 119 questions
Upper Limb Anatomy
51 videos / 158 questions
Lower Limb Anatomy
67 videos / 144 questions
The
best educators

teach you everything you
need to know about anatomy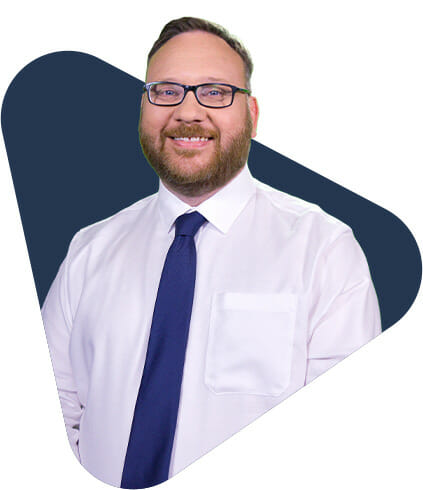 Dr. James Pickering studies and publishes research within the areas of anatomy education, digital education, and curriculum design and evaluation. In honor of his contributions, he earned the University of Leeds Teaching Award. In 2014, he was named The Most Innovative Teacher and Learning Technologist.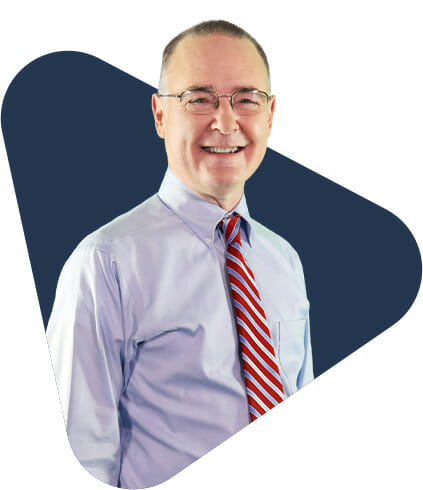 Des Moines University, Iowa, USA
Dr. Craig Canby is a Professor of Anatomy and the Associate Dean for Academic Curriculum and Medical Programs at the College of Osteopathic Medicine at Des Moines University, Iowa, USA. He obtained his PhD in Anatomy at the University of Iowa. For his achievements in teaching and research, he has received various awards including the DPT Class of 2008 Teaching Excellence Award and the prestigious Hancher-Finkbine Medallion.
Lecturio Medical Premium –
All-In-One From Day One
Choose the plan that works for you
AUD,CAD,EUR,GBP,USD,INR,MXN,LUSD
AUD,CAD,EUR,GBP,USD,INR,MXN,LUSD
44.99,44.99,34.99,34.99,34.99,1999,499,24.99
1
AUD,CAD,EUR,GBP,USD,INR,MXN,LUSD
134.97,134.97,104.97,104.97,104.97,5997,1497,74.97
charged every 3 months
AUD,CAD,EUR,GBP,USD,INR,MXN,LUSD
AUD,CAD,EUR,GBP,USD,INR,MXN,LUSD
29.99,29.99,24.99,24.99,24.99,1299,349,17.99
1
AUD,CAD,EUR,GBP,USD,INR,MXN,LUSD
359.88,359.88,299.88,299.88,299.88,15588,4188,215.88
charged every 12 months
AUD,CAD,EUR,GBP,USD,INR,MXN,LUSD
AUD,CAD,EUR,GBP,USD,INR,MXN,LUSD
24.99,24.99,19.99,19.99,19.99,999,259,13.99
1
AUD,CAD,EUR,GBP,USD,INR,MXN,LUSD
599.76,599.76,479.76,479.76,479.76,23976,6216,335.76
charged every 12 months
Explore the tailor-made curriculum for Pre-med students, MDs, DOs, PAs, NPs,
and other medical students