All-in-One Online Emergency Medicine Course
Ace your emergency medicine exams with a customizable learning platform built by clinicians and medical educators.
Start the online emergency medicine course with
Dr. Julianna Jung and Dr. Sharon Bord, Johns Hopkins University
Understanding emergency medicine is vital for pursuing a medical career. This course gives you an in-depth overview of the multitude of different emergencies that can occur, from cardiovascular emergencies and shock, to trauma, neurologic, and environmental emergencies. It uses clinical example cases to give clear guidance on the steps needed to stabilize critical patients and manage emergency conditions.
Share this emergency medicine course: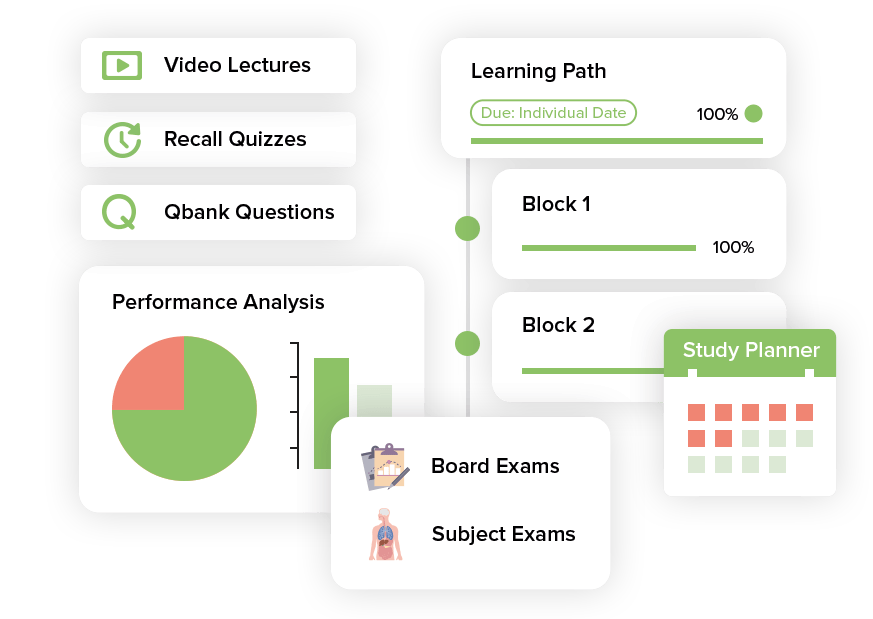 Your complete emergency medicine learning path will help you ace your next emergency medicine exam
Studying emergency medicine can be challenging. Lecturio's comprehensive Learning Paths offer the most intelligent combination of video lectures, quizzes, and clinical cases to help you learn, retain, and grow your knowledge. Add our Learning Path to your Study Planner and you'll know just how much time you need to spend each day to prepare for your next emergency medicine exam.
Close your textbooks and learn at your own pace
And that's not all. With Lecturio, you can apply your emergency medicine knowledge by answering clinical case questions that will help you retain everything you learned using quizzes
and Concept Pages.
200 Emergency Medicine

Video Lessons
High-yield lectures with downloadable materials and multi-lingual subtitles
60+ Emergency Medicine

Concept Pages
Developed by US-trained physicians, our comprehensive Concept Pages help you master new concepts and reinforce existing knowledge on challenging emergency medicine topics.
580 Emergency Medicine

Quiz Questions
Our adaptive learning algorithm uses smart Spaced-Repetition quizzes to help you retain emergency medicine information over the long term.
Emergency Medicine

Learning Path
Lecturio's expert-made study schedules combine all relevant emergency medicine materials, organized block by block, to help you prepare for your exams.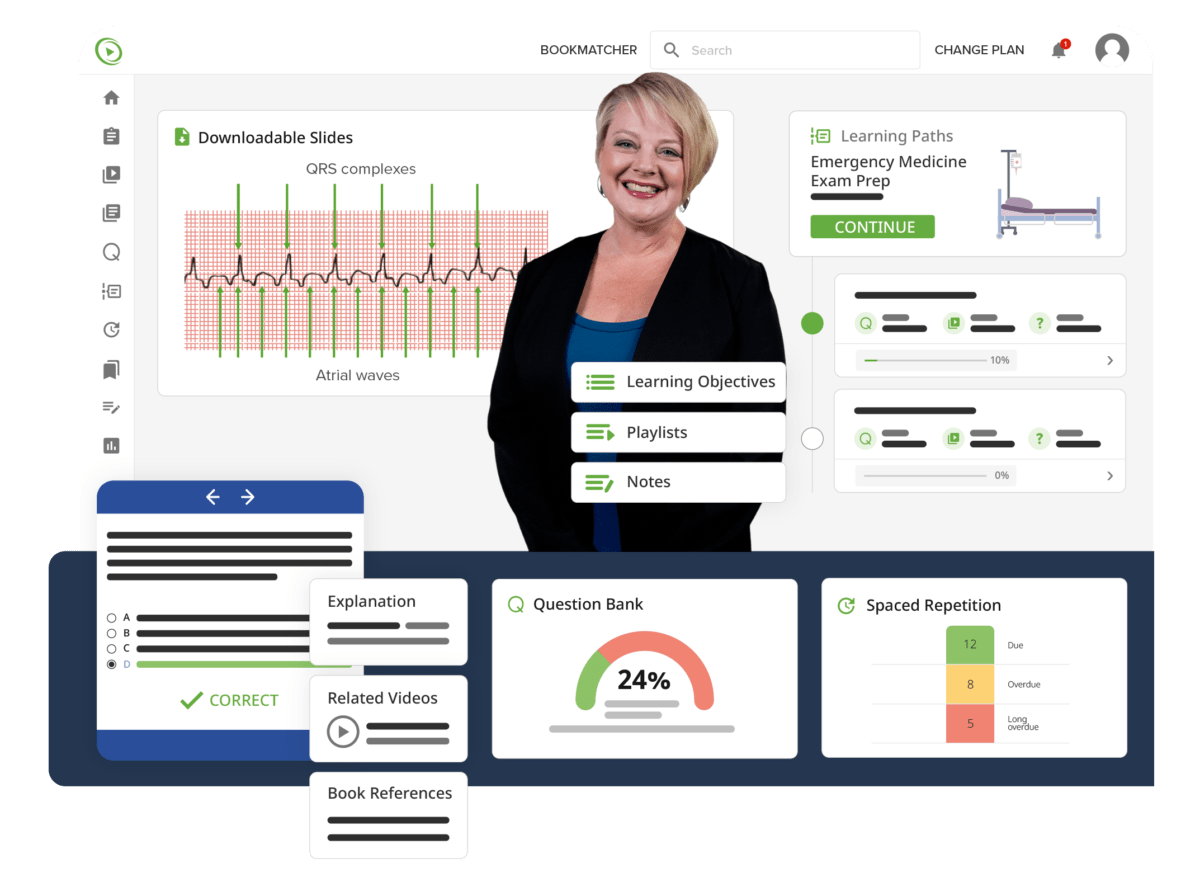 "An efficiently synthetized course that outlines the most important points for reference. Short, concise, and very well explained. Love the slides too. Thank you!"
Lecturio's Emergency Medicine Course covers all relevant topics
The
best educators

teach you everything you
need to know about emergency medicine
Dr. Julianna Jung is an Assistant Professor of Emergency Medicine at the Johns Hopkins University School of Medicine, USA. She obtained her MD at Johns Hopkins in 1999. Since 2006, she has been the Director of Medical Student Education in the Emergency Medicine Department, and she was appointed the Associate Director of the Johns Hopkins Medicine Simulation Center in 2011. Dr. Jung directs several major educational initiatives for medical students at Johns Hopkins, and her work has been recognized with several teaching awards, including the prestigious George J. Stuart Award.
Dr. Sharon Bord is an Assistant Professor in the Department of Emergency Medicine at the Johns Hopkins University School of Medicine, Maryland, USA. She obtained her MD at the George Washington University School of Medicine and Health Sciences in 2004 and then completed residency training at Boston Medical Center. She focuses on both undergraduate and graduate medical education, and is a member of the Teaching College, a group of faculty members in the Department of Emergency Medicine dedicated to educational endeavors for residents and medical students.
Join Lecturio
Medical Premium

Today at 50% Off
Lecturio Medical Premium –
All-In-One From Day One
Choose the plan that works for you
AUD,CAD,EUR,GBP,USD,INR,MXN,LUSD
AUD,CAD,EUR,GBP,USD,INR,MXN,LUSD
44.99,44.99,34.99,34.99,34.99,1999,499,24.99
1
AUD,CAD,EUR,GBP,USD,INR,MXN,LUSD
134.97,134.97,104.97,104.97,104.97,5997,1497,74.97
charged every 3 months
Full Video Library access
Full Qbank access
Full Concept Page Library access
Exam-focused Learning Paths
AUD,CAD,EUR,GBP,USD,INR,MXN,LUSD
AUD,CAD,EUR,GBP,USD,INR,MXN,LUSD
29.99,29.99,24.99,24.99,24.99,1299,349,17.99
1
AUD,CAD,EUR,GBP,USD,INR,MXN,LUSD
359.88,359.88,299.88,299.88,299.88,15588,4188,215.88
charged every 12 months
SAVE
AUD,CAD,EUR,GBP,USD,INR,MXN,LUSD
33,33,28,28,28,35,10,28
%
Full Video Library access
Full Qbank access
Full Concept Page Library access
Exam-focused Learning Paths
10-day money-back guarantee
AUD,CAD,EUR,GBP,USD,INR,MXN,LUSD
AUD,CAD,EUR,GBP,USD,INR,MXN,LUSD
24.99,24.99,19.99,19.99,19.99,999,259,13.99
1
AUD,CAD,EUR,GBP,USD,INR,MXN,LUSD
599.76,599.76,479.76,479.76,479.76,23976,6216,335.76
charged every 24 months
SAVE
AUD,CAD,EUR,GBP,USD,INR,MXN,LUSD
44,44,42,42,42,50,28,44
%
Full Video Library access
Full Qbank access
Full Concept Page Library access
Exam-focused Learning Paths
10-day money-back guarantee
1
AUD,CAD,EUR,GBP,USD,INR,MXN,LUSD
44.99,44.99,34.99,34.99,34.99,1666.33,499.00,24.99
AUD,CAD,EUR,GBP,USD,INR,MXN,LUSD
AUD,CAD,EUR,GBP,USD,INR,MXN,LUSD
22.49,22.49,17.49,17.49,17.49,833,249,12.49
1
AUD,CAD,EUR,GBP,USD,INR,MXN,LUSD
67.48,67.48,52.48,52.48,52.48,2499.50,748.50,37.48
charged every 3 months
Full Video Library access
Full Qbank access
Full Concept Page Library access
Exam-focused Learning Paths
1
AUD,CAD,EUR,GBP,USD,INR,MXN,LUSD
29.99,29.99,24.99,24.99,24.99,1299.00,349.00,17.99
AUD,CAD,EUR,GBP,USD,INR,MXN,LUSD
AUD,CAD,EUR,GBP,USD,INR,MXN,LUSD
14.99,14.99,12.49,12.49,12.49,649,174,8.99
1
AUD,CAD,EUR,GBP,USD,INR,MXN,LUSD
179.94,179.94,149.94,149.94,149.94,7794.00,2094.00,107.94
charged every 12 months
Full Video Library access
Full Qbank access
Full Concept Page Library access
Exam-focused Learning Paths
10-day money-back guarantee
1
AUD,CAD,EUR,GBP,USD,INR,MXN,LUSD
24.99,24.99,19.99,19.99,19.99,999.00,259.00,13.99
AUD,CAD,EUR,GBP,USD,INR,MXN,LUSD
AUD,CAD,EUR,GBP,USD,INR,MXN,LUSD
12.49,12.49,9.99,9.99,9.99,499,129,6.99
1
AUD,CAD,EUR,GBP,USD,INR,MXN,LUSD
299.88,299.88,239.88,239.88,239.88,11988.00,3108.00,167.88
charged every 24 months
Full Video Library access
Full Qbank access
Full Concept Page Library access
Exam-focused Learning Paths
10-day money-back guarantee
Explore the tailor-made curriculum for Pre-med students, MDs, DOs, PAs, NPs,
and other medical students