Classification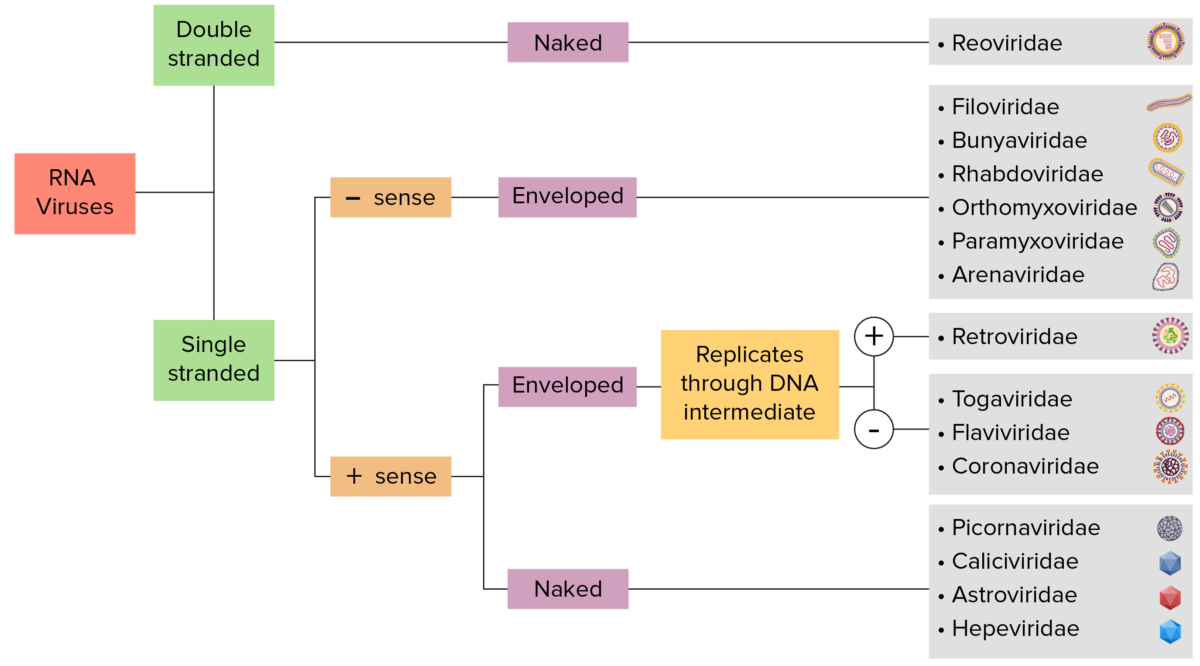 General Characteristics and Epidemiology
General features of equine encephalitis virus (EEV)
Family: Togaviridae
Genus: Alphavirus
Genome:

Positive-sense, ssRNA
11–12 kb in size

Properties:

Enveloped
Lipid bilayer envelope has viral-encoded glycoproteins E1 and E2.
Small icosahedral capsid

Clinically relevant viruses and geographic distribution:

Eastern equine encephalitis virus (EEEV) complex:

Eastern equine encephalitis (EEE) virus: North America (Atlantic and Gulf coasts) and the Caribbean
Madariaga virus: South and Central America

Western equine encephalitis virus (WEEV): North and South America
Venezuelan equine encephalitis virus (VEEV): Central and South America
Epidemiology
In the United States:

EEEV is the most common of the 3 viruses.
Infections are rare and sporadic.
Peak incidence: August and September

Flooding increases breeding of mosquitoes → ↑ risk of infection
Both humans and horses can be infected and develop encephalitis.
Pathophysiology
Vector and transmission
Mosquitoes: primary arthropod vector
Virus has different reservoirs or amplifying hosts: domestic and wild birds, mammals
Transmission:

The virus is maintained by birds and mosquitoes (Culiseta melanura with EEEV infection) in a mosquito-bird-mosquito cycle.
Viral transmission between vertebrates is facilitated by bridge vectors (other mosquitoes or blood-feeding arthropods).
Species of mosquitoes that serve as bridge vectors:

Coquillettidia species
Aedes species
Culex species

Humans are infected by the human-biting bridge vectors.

While humans can develop illness, they are considered dead-end hosts.
Viremia in humans is generally insufficient to infect feeding mosquitoes/vectors.

The virus can also be used as a bioterrorism agent (via aerosol transmission).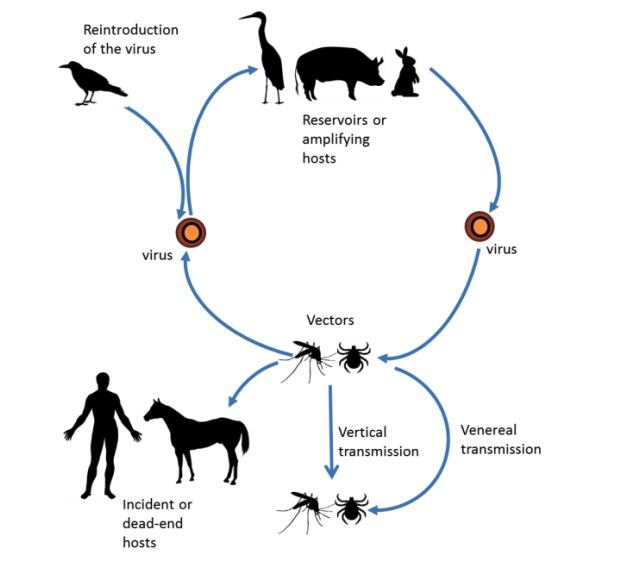 Pathogenic features and viral infection
Infected female mosquito bites human → virus enters the bloodstream → entry into host cells (myeloid or lymphoid cells) via endocytosis
Envelope E1 and E2 viral proteins:

Aid in virus attachment and penetration
E1 can bring about hemagglutination by fusing to membrane lipids

Viral replication:

Occurs in the cytoplasm (viremic phase)
Positive-sense genomic RNA serves as the mRNA.

Virions mature by budding from plasma membranes → infect other cells
Neuroinvasion:

The virus crosses the blood-brain barrier and multiplies in the CNS.
Leads to neuronal necrosis/neuronophagia and meningeal irritation
Invasion depends on:

Level of viremia
Virulence of strain
Host immune response

Age-dependent risk for CNS infection, which is increased in:

Infants/young children
Elderly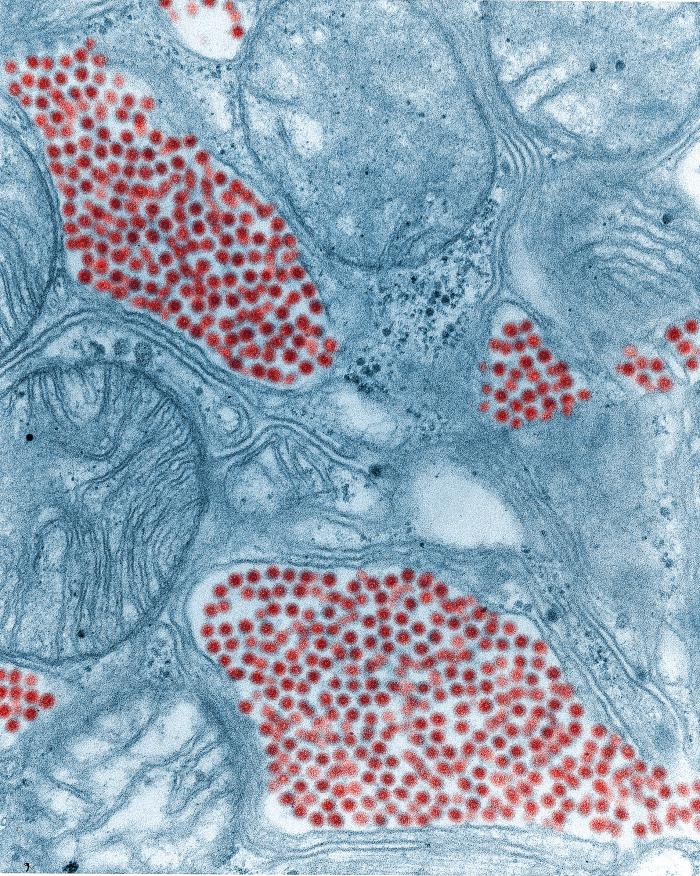 Diseases
Minor illness
1st phase (from mosquito bite to viral replication in non-neural tissue)
Incubation period: 4–10 days following a mosquito bite
7–10 day prodrome:

Fever
Headache
Nausea/vomiting

Most cases are subclinical or only produce low-grade fever.
Patients with minor viral illness (and no CNS involvement) recover within 1–2 weeks.
Major illness
2nd phase: viral multiplication in the brain
Encephalitis or inflammation/swelling of the brain parenchyma affects 2% and 6% of infected adults and children, respectively.

Signs and symptoms include: 

Headache
High fever
Muscle pain
Photophobia
Altered mental status
Seizures and cranial nerve palsies in 50% of patients
May manifest as bulging fontanelle in infants

Mortality rate can reach 20%–30% depending on the EEV type and host factors.
Survivors have severe neurologic sequelae that can include: 

Intellectual impairment
Epilepsy
Paralysis
Deafness
Blindness
Diagnosis and Management
Diagnostic approach:

Clinical findings consistent with encephalitis
Laboratory findings:

Leukocytosis
Hyponatremia
CSF analysis: pleocytosis, ↑ protein concentration

Determination of virus:

Virus-specific IgM:

<

4-fold rise in specific antibodies
Viral antigen or genomic sequences (using PCR assays) in CSF, blood, or tissue

Imaging: MRI is more sensitive in showing abnormalities (focal lesions in basal ganglia, brainstem, and thalami).

Treatment: supportive (no specific treatment)
Prevention:

Mosquito control
Avoidance of mosquito bites (protective clothing, mosquito repellants)
References
Crosby, B., Crespo, M.E. (2020). Venezuelan Equine Encephalitis. StatPearls [Internet]. Treasure Island (FL): StatPearls Publishing, from https://www.ncbi.nlm.nih.gov/books/NBK559332/
Perng, G., Chen, W. (2013). Arboviral Encephalitis, Encephalitis, Sergey Tkachev, IntechOpen. https://www.intechopen.com/books/encephalitis/arboviral-encephalitis
Peterson, L. (2021). Arthropod-borne encephalitides. UpToDate. Retrieved Apr 24, 2021, from https://www.uptodate.com/contents/arthropod-borne-encephalitides
Riedel, S., Hobden, J.A., Miller, S., Morse, S.A., Mietzner, T.A., Detrick, B., Mitchell, T.G., Sakanari, J.A., Hotez, P, Mejia, R. (2019). Arthropod-borne and rodent-borne viral diseases. Jawetz, Melnick & Adelberg's Medical Microbiology, 28e. McGraw-Hill.
Ryan, K.J. (Ed.), (2017). Arthropod-borne and other zoonotic viruses. Sherris Medical Microbiology, 7e. McGraw-Hill.
Simon, L.V., Coffey, R., Fischer, M.A. (2020). Western Equine Encephalitis. StatPearls [Internet]. Treasure Island (FL): StatPearls Publishing, from https://www.ncbi.nlm.nih.gov/books/NBK470228/