Epidemiology and Etiology
Epidemiology
Glucose-6-phosphate dehydrogenase (G6PD) deficiency is the most common genetic enzyme disorder in humans.
Found in malarial endemic regions (as it offers relative resistance to Plasmodium falciparum infection): Mediterranean countries, Africa, the Middle East
Presents exclusively in males as it is X-linked recessive
Females can be silent carriers.
Etiology
Mutation in the coding region of the G6PD gene
A single nucleotide base change (single missense point mutation) that results in a single amino acid substitution in the enzyme
Almost 200 different mutations are known.
The mutation decreases the half-life of the enzyme.
G6PD deficiency results in a defect of the pentose phosphate shunt during glycolysis.
Inheritance is X-linked recessive (band Xq28).
Pathophysiology
G6PD is the rate-limiting enzyme in the pentose phosphate pathway.
G6PD enzyme is responsible for:

Oxidation of glucose-6-phosphate
Reduction of nicotinamide adenine dinucleotide phosphate (NADP+) to NADPH

NADPH maintains glutathione in its reduced form.
Reduced glutathione is needed to neutralize oxidative metabolites.
In RBCs, this is the only pathway that produces NADPH.
Thus, a lack of G6PD results in a deficiency in NADPH and increased oxidative damage.
Oxidative stressors can denature hemoglobin and cause intravascular hemolysis.
Extravascular hemolysis would be due to splenic clearance of the deformed RBCs.
Table: Common oxidative stressors
Drugs
Foods
Other

Sulfas (trimethoprim/sulfamethoxazole [TMP/SMX])
Quinolones
Nitrofurantoin
Aspirin/nonsteroidal anti-inflammatory drugs (NSAIDs)
Methylene blue

Fava beans
Blue food coloring

Any infection (most common)
Naphthalene (mothballs)
Diabetic ketoacidosis
Clinical Presentation
History of a trigger for the oxidative stress
Episodic signs and symptoms of intravascular hemolytic anemia:

Pallor
Shortness of breath
Fatigue
Tachycardia
Flow murmur (best heard at upper sternal borders)
Jaundice
Hemoglobinuria (cola-colored urine), hematuria
Neonates (males): prolonged pathological jaundice/icterus
Diagnosis
Glucose-6-phosphate dehydrogenase deficiency is suspected in cases of episodic hemolytic symptoms. Diagnostic testing should include the following:
CBC

↓ Hb
↑ Reticulocytes
↑ Lactate dehydrogenase (LDH)
↓ Haptoglobin
↑ Bilirubin

Peripheral blood smear

Heinz bodies (visible with supravital stains such as new methylene blue or crystal violet, but not with routine Romanowsky dyes; rarely performed today)
Bite cells, indicating RBC membrane damage

Beutler test

Done 2–3 weeks after an acute episode (which eliminates the oldest, most G6PD-deficient cells, so a period of time is allowed to pass to evaluate baseline levels)
Quantifies NADPH/G6PD levels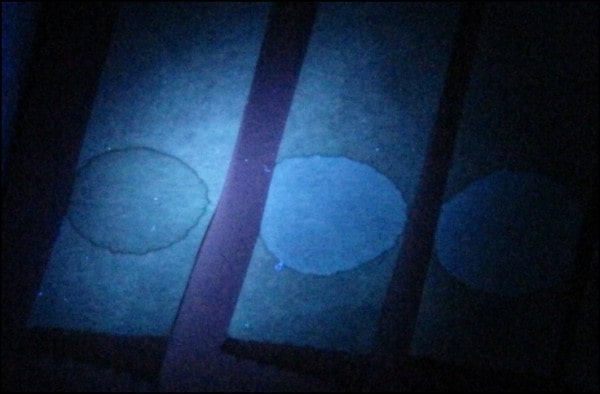 Management
Prevention: avoid oxidative stressors (infections, drugs, consumption of fava beans)
During hemolysis:

If Hb < 9 with hemolysis: blood transfusion
Neonatal jaundice: phototherapy or exchange transfusion

Splenectomy should be considered in rare cases of chronic hemolytic anemia.
Differential Diagnosis
Inherited hemolytic anemias:

Other enzyme deficiencies (e.g., pyruvate kinase)
Hemoglobinopathies (e.g., sickle cell disease, thalassemia)
Membrane/cytoskeletal defects of RBC (e.g., hereditary spherocytosis)

Acquired hemolytic anemias: may have an immune or non-immune etiology
References
Luzzatto L. Glucose 6-phosphate deficiency. (2018). In Jameson JL, et al. (Ed.), Harrison's Principles of Internal Medicine (20th ed. Vol 1, pp 714-717). New York, NY: McGraw-Hill.
Glader, B. (2019). Genetics and pathophysiology of glucose-6-phosphate dehydrogenase (G6PD) deficiency. UpToDate. Retrieved September 1, 2020, from https://www.uptodate.com/contents/genetics-and-pathophysiology-of-glucose-6-phosphate-dehydrogenase-g6pd-deficiency?sectionName=Classification%20of%20G6PD%20variants&topicRef=7111&anchor=H5&source=see_link#H22470651
Glader, B. (2020). Diagnosis and management of glucose-6-phosphate dehydrogenase (G6PD) deficiency. UpToDate. Retrieved September 2, 2020, from https://www.uptodate.com/contents/diagnosis-and-management-of-glucose-6-phosphate-dehydrogenase-g6pd-deficiency