Overview
Cancer therapy development
Traditional chemotherapy affects both cancer cells and normal cells.
A growing number of new anticancer agents (targeted therapy) are now used in addition to the traditional antineoplastic drugs.

Development is based on findings that molecular changes in cells drive progression to malignancy.
Drugs are able to block the oncogenic pathway(s) with fewer cytotoxic effects on normal cells.
Targeted cancer therapy
Interfere with specific molecules that target particular pathways, affecting the growth and proliferation of cancer cells
There are different ways of disrupting pathways; these include prevention of receptor binding and intracellular binding and inhibition of kinases.
Most of the available therapies are:

Small molecules:

Compounds (that can enter cells) with intracellular targets (e.g., kinases)
Inhibition of kinases prevent further activation of different pathways (as seen in protein kinase inhibitors)
Most drug names of protein kinase inhibitors end with the syllable "-ib."

Monoclonal antibodies:

Used for targets outside of or on the surface of the cells (e.g., growth factor receptors or receptor ligands)
Monoclonal antibody drug names end with the syllable "-mab."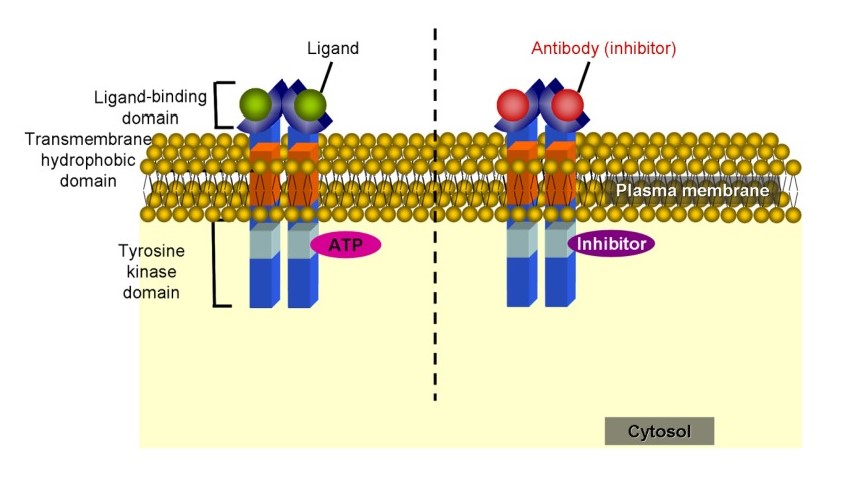 Protein Kinase Inhibitors
Protein kinases
There are > 500 different protein kinases in the human genome:

The protein kinases function by adding a phosphate group to protein substrates: serine, threonine, or tyrosine.
After phosphorylation, the protein undergoes conformational change ("turns the protein on").
Phosphatases (which remove phosphate) reverse the action of kinases.

Particular signal transduction cascades follow (e.g., BCR-ABL with tyrosine as a protein substrate, RAF with serine/threonine); modulating activities include:

Cell proliferation
Gene expression
Metabolism
Membrane transport
Apoptosis

However, when kinases are constitutively expressed → oncogenesis, such as that seen in the RAS-RAF-MEK-ERK pathway:

Signaling pathway involved in cell proliferation and differentiation
Activated in many cancers
Regulating signaling affects cancer growth.

Protein kinase inhibitors:

Block the action of protein kinase enzymes, which are often overexpressed in cancer.
Inhibiting protein kinases is a mechanism also used in drugs to treat inflammatory conditions.
BCR-ABL kinase inhibitors
Philadelphia chromosome translocation t(9;22) → BCR-ABL1 fusion gene

Fusion leads to constitutive activation of BCR-ABL → uncontrolled cell division → ↑ granulocytic production
Seen in CML

Related agents:
Table: BCR-ABL kinase inhibitors
Imatinib
Dasatinib
Nilotinib
Pharmacodynamics

Inhibit BCR-ABL tyrosine kinase (causing apoptosis of BCR-ABL positive cell lines)
Inhibit c-KIT, PDGFR
Imatinib: also inhibits stem-cell factor

Pharmacokinetics

Oral
Hepatic metabolism
Excretion: mostly in feces

Indications

CML
Imatinib, dasatinib: ALL (Ph+)
Imatinib:

Systemic mastocytosis
CML
GIST
Dermatofibrosarcoma protuberans
CEL
MDS/MPD

Adverse effects

Myelosuppression
TLS
Hemorrhage
Cardiovascular events (heart failure)
Edema
Dermatologic reactions (e.g., SJS, EM)
GI irritation
Nephrotoxicity
Hepatotoxicity

Myelosuppression
TLS
Hemorrhage
Cardiovascular events
Edema
Dermatologic reactions
Prolonged QT
Pulmonary hypertension

Myelosuppression
TLS
Hemorrhage
Cardiovascular events
Edema
Prolonged QT
Electrolyte imbalance
Hepatotoxicity

Contraindications

Hypersensitivity to the drug
Nilotinib, dasatinib:
CEL: chronic eosinophilic leukemia
EM: erythema multiforme
GIST: GI stromal tumors
MDS/MPD: myelodysplastic/myeloproliferative diseases
PDGF: platelet-derived growth factor
Ph+: Philadelphia chromosome–positive
SJS: Stevens-Johnson syndrome
TLS: tumor lysis syndrome
BRAF kinase inhibitors
BRAF:

Protein in the RAF family of serine/threonine kinases
Has an important role in mediating signals from RAS to MEK, leading to proliferation
Mutations → persistent intracellular signaling → malignancy

Seen in 60% of melanomas and 15% of colorectal cancers
Lead to increased tumor survival and mobility

Related agents (block the activity of mutated BRAF):
Table: BRAF kinase inhibitors
Vemurafenib
Dabrafenib*
Pharmacodynamics
Inhibit kinase activity of mutated BRAF (including V600 mutation)
Pharmacokinetics

Oral
Half-life: 57 hours (vemurafenib), 8 hours (parent drug: dabrafenib)
Excretion: feces

Indications

Melanoma
Erdheim-Chester disease

Melanoma
NSCLC
Thyroid cancer

Adverse effects

Cardiovascular: prolonged QT, hypertension
Cutaneous malignancy
Uveitis
Dermatologic reactions
Hepatotoxicity
Nephrotoxicity
Pancreatitis
Fibroproliferative disorders
Radiation sensitization

Cardiovascular: cardiomyopathy, prolonged QT
Cutaneous malignancy
Uveitis
Dermatologic reactions
Febrile reactions
Hemorrhage
↑ Glucose
VTE

Contraindications
Hypersensitivity to the drug
*Combination with trametinib produces greater inhibitory activity.
NSCLC: non–small cell lung cancer
VTE: venous thromboembolism
MEK inhibitors
Mitogen-activated extracellular kinases (MEKs) are serine-threonine kinases participating in the mitogen-activated protein kinase (MAPK) pathway.
MAPK is activated in melanomas.
Agents:

Trametinib (1st approved)
Cobimetinib
Binimetinib
Selumetinib
Table: MEK inhibitors
Trametinib
Cobimetinib
Pharmacodynamics
Inhibits MEK activation and kinase activity
Pharmacokinetics

Oral
Primarily deacetylation
Not a substrate of CYP enzymes
Half-life: 4–5 days
Excretion: feces

Oral
Hepatic metabolism
Half-life: 44 hours
Excretion: feces

Indications

Melanoma
NSCLC
Anaplastic thyroid cancer

Melanoma
Adverse effects

Myelosuppression
Hepatotoxicity
Cardiovascular events (heart failure, ↓ LVEF)
Dermatologic reactions
Hemorrhage
Cutaneous cancers
Febrile reactions
↑ Glucose
Colitis, GI perforation
Ocular: retinal detachment
VTE

Myelosuppression
Hepatotoxicity
Cardiovascular events (heart failure, ↓ LVEF)
Dermatologic reactions
Hemorrhage
Cutaneous cancers
Ocular: retinal detachment, retinopathy

Contraindications
Hypersensitivity to the drug
LVEF: left ventricular ejection fraction
NSCLC: non–small cell lung cancer
VTE: venous thromboembolism

JAK inhibitors
Janus-associated kinases (JAKs) are mediators of signals among cells, cytokines, and growth factors in hematopoiesis and immune response.

Receptor interacts with a cytokine or growth factor → activate JAKs → tyrosine phosphorylation → activate signal transducer and activators of transcription (STATs)
STATs translocate to the nucleus → transcription of effector genes → effects include proliferation, differentiation, migration, apoptosis, and cell survival

Related agents:

Ruxolitinib (1st in class)
Agents with noncancer indications:

Baricitinib
Tofacitinib (approved for inflammatory conditions such as ulcerative colitis and rheumatoid arthritis)
Table: JAK inhibitors
Ruxolitinib
Barcitinib
Pharmacodynamics
Inhibit JAKs
Pharmacokinetics

Oral
Half-life: 3–6 hours (ruxolitinib), 12 hours (baricitinib)
Hepatic metabolism
Excretion: mostly urine

Indications

Polycythemia vera
Myelofibrosis
Graft-versus-host disease (acute)

Rheumatoid arthritis
Off-label: COVID-19 hospitalization (requiring oxygen)

Adverse effects

Myelosuppression
Serious infections
↑ Hepatic enzymes
Cutaneous cancers
↑ Lipid

Myelosuppression
Serious infections (including TB)
↑ Hepatic enzymes
Cutaneous cancers
↑ Lipid
Thrombosis
GI perforation

Contraindications
Hypersensitivity to the drug
JAK: Janus-associated kinases
COVID-19: coronavirus disease 2019
Cyclin-dependent kinase (CDK) inhibitors
CDKs are serine/threonine protein kinases that mediate signaling in the cell cycle progression (G0/G1 to S phase) and thus affect cell proliferation.
The complex of cyclin D and CDK → phosphorylate the retinoblastoma gene protein (RB1) → processes lead to induction of S-phase genes.
Inappropriate cell cycle progression → tumorigenesis
Class of drugs identified by the syllable "-ciclib"
Related agents:

Palbociclib
Abemaciclib
Ribociclib
Table: CDK inhibitors
Palbociclib
Abemaciclib
Pharmacodynamics
CDK inhibitor; prevents progression through the cell cycle, leading to arrest at the G1 phase
Pharmacokinetics

Oral
Half-life: approximately 30 hours (palbociclib), approximately 18 hours (abemaciclib)
Hepatic metabolism
Excretion: feces

Indications
Advanced breast cancer
Adverse effects

Myelosuppression
Pulmonary toxicity
↑ Hepatic enzymes

Myelosuppression
Pulmonary toxicity
↑ Hepatic enzymes
Thromboembolism
Diarrhea

Contraindications
Hypersensitivity to the drug
Bruton tyrosine kinase (BTK) inhibitors
The BTKs are important for the survival, proliferation, chemotaxis, and adhesion of B cells.
Inhibiting BTK is a mechanism used in treating B-cell malignancies.
Related agents:

Ibrutinib (1st generation)
Acalabrutinib (2nd generation, with higher selectivity for BTK)
Table: BTK inhibitors
Ibrutinib
Acalabrutinib
Pharmacodynamics
Inhibit BTK, leading to reduced B-cell proliferation and tumor growth
Pharmacokinetics

Oral
Half-life: 4–6 hours (ibrutinib), 1 hour (acalabrutinib)
Hepatic metabolism
Excretion: feces

Indications

Graft-versus-host disease (chronic)
CLL/SLL
Mantle cell lymphoma
Marginal cell lymphoma
Waldenström macroglobulinemia

CLL/SLL
Mantle cell lymphoma

Adverse effects

Myelosuppression
Cardiovascular effects (arrhythmias, hypertension)
Hemorrhage
Serious infections
Secondary malignancies
Renal toxicity
TLS

Myelosuppression
Cardiovascular effects (arrhythmias)
Hemorrhage
Serious infections
Secondary malignancies
↑ Hepatic enzymes

Contraindications
Hypersensitivity to the drug
SLL: small lymphocytic lymphoma
TLS: tumor lysis syndrome
Anaplastic lymphoma kinase (ALK) inhibitors
Anaplastic lymphoma kinase is a tyrosine kinase that is noted to be aberrantly expressed in certain tumors, such as non–small cell lung cancer (NSCLC).
The gene ALK is able to form fusion genes that become oncogenic drivers.

ALK-NPM fusion gene → anaplastic large cell lymphoma (ALCL)
EML4-ALK fusion gene → found in some NSCLCs

Related agents:

Crizotinib
Alectinib
Ceritinib
Table: ALK inhibitors
Crizotinib
Alectinib
Ceritinib
Pharmacodynamics
Inhibit ALK, preventing proliferation and survival of ALK-positive tumors
Pharmacokinetics

Oral
Half-life: 42 hours
Hepatic metabolism
Excretion: feces

Oral
Half-life: approximately 33 hours
Hepatic metabolism
Excretion: feces

Oral
Half-life: 41 hours
Hepatic metabolism
Excretion: feces

Indications

NSCLC (ALK-positive), metastatic
Anaplastic large cell lymphoma (ALK-positive)

Adverse effects

Cardiovascular toxicity (bradycardia, prolonged QT)
Diarrhea, nausea and vomiting
Hepatotoxicity
Pulmonary toxicity

Contraindications
Hypersensitivity to the drug
Growth Factor Receptor Inhibitors
Epidermal growth factor receptor (EGFR) agents
EGFR:

Part of the ErbB family of growth factor receptors, with an important role in growth and differentiation of epithelial cells
Overexpressed in some cancers
Ligand binds to the EGFR extracellular domain → intracellular signaling (intracellular domain with tyrosine kinase) by cross-phosphorylation leading to:

Cellular growth
Angiogenesis
Invasion and metastasis

Monoclonal antibody inhibitors of EGFR:

Recognize the extracellular domain of EGFR, leading to:

Blocking of ligand binding
Recruitment of immune cells, producing an immune response

Include:

Protein tyrosine kinase inhibitors (TKIs) of EGFR:

Enter the tumor cells, inhibiting EGFR tyrosine kinase
Include:

Gefitinib
2nd-generation inhibitor: erlotinib, afatinib
3rd-generation inhibitor: osimertinib (for NSCLC previously treated with earlier generation of drugs and with T790M mutation)
Table: Monoclonal antibodies binding EGFR
Cetuximab
Panitumumab
Pharmacodynamics

Monoclonal antibodies that bind the EGFR extracellular domain
Subsequently block the ligand-dependent activation of receptor kinases
Mutations in KRAS (part of the EGFR signaling cascade): ↓ effect of cetuximab

Pharmacokinetics
Indications

Metastatic colorectal cancer (KRAS wild type or without mutation)
Cetuximab: head and neck, squamous cell cancer

Adverse effects

Rash (acneiform)
Pruritus
Headache
Diarrhea
↓ Mg
Interstitial lung disease
Cardiopulmonary arrest

Contraindications
Hypersensitivity to drug or its components
Table: Protein tyrosine kinase inhibitors of EGFR
Afatinib
Erlotinib
Gefitinib
Pharmacodynamics
Inhibitor of EGFR tyrosine kinase
Pharmacokinetics

Oral (↓ absorption with fatty meals)
Half-life: 37 hours
Minimal enzymatic metabolism
Excretion: feces

Oral (↑ absorption with food)
Half-life: 36 hours
Hepatic metabolism
Excretion: feces

Oral
Half-life: 48 hours
Hepatic metabolism
Excretion: feces

Indications
NSCLC (with mutations)

NSCLC (with mutations)
Pancreatic cancer (advanced)

NSCLC (with EGFR mutations)
Adverse effects

Skin rash
Anorexia, diarrhea
Left ventricular dysfunction
Interstitial lung disease
Hepatotoxicity
Nephrotoxicity
Erlotinib: ↑ warfarin anticoagulant activity

Contraindications
Hypersensitivity to the drug or its components
EGFR: epidermal growth factor receptor
NSCLC: non–small cell lung cancer

Vascular endothelial growth factor receptor (VEGFR) agents
Angiogenic growth factor
Important for tumors, which need intact vascular structures for growth.
Different ways and agents to inhibit VEGFR signaling:

Direct inhibitors of VEGFR tyrosine kinase or VEGF TKIs:

Sorafenib (multikinase inhibitor)
Pazopanib (multikinase inhibitor)
Sunitinib

Monoclonal antibodies targeting the VEGF ligand:
Vascular endothelial growth factor (VEGF) trap or a soluble receptor made of extracellular domains of VEGFR (binding the VEGF ligand, thus ↓ signaling): Ziv-aflibercept
Table: Agents inhibiting VEGFR by different mechanisms
Bevacizumab
Ziv-aflibercept
Sorafenib
Pharmacodynamics
Monoclonal antibody targeting VEGF ligand
Recombinant fusion protein acting as a decoy receptor
Inhibit VEGFR tyrosine kinases (and also PDGF)
Pharmacokinetics

IV (for cancer)
Half-life: 20 days in adults

IV
Half-life: approximately 6 days

Oral
Half-life: 1–2 days
Hepatic metabolism

Indications

Advanced cervical cancer
Metastatic CRC
Metastatic HCC
Recurrent GBM
NSCLC
Ovarian, fallopian tube, peritoneal cancer
RCC

Metastatic CRC

Advanced HCC
Advanced RCC

Adverse effects

Myelosuppression
Hypertension
Heart failure
Hemorrhage
GI perforations
↑ Arterial thromboembolic events (e.g., TIA, stroke)
Wound healing complications
Proteinuria
Bevacizumab: ↑ cardiotoxicity of anthracyclines

Contraindications

Hypersensitivity to the drug
Untreated CNS metastasis

None listed

Hypersensitivity to the drug
Avoid use with carboplatin and paclitaxel (for lung cancer) as sorafenib ↑ their toxic effects
CRC: colorectal cancer
GBM: glioblastoma
HCC: hepatocellular carcinoma
NSCLC: non small cell lung cancer
PDGF: platelet-derived growth factor
RCC: renal cell carcinoma
TIA: transient ischemic attack
VEGFR: vascular endothelial growth factor receptor
Human epidermal growth factor receptor 2 (HER2) agents
HER2: also called Neu or ErbB2
Overexpression → intracellular tyrosine kinase activation → oncogenic signaling
Overexpressed HER2: seen in up to 30% of breast cancers
Monoclonal antibodies against HER2/Neu:
TKI: lapatinib
Table: Agents inhibiting HER2
Trastuzumab
Pertuzumab
Lapatinib
Pharmacodynamics
Monoclonal antibody binding HER2 (extracellular domain)
Dual kinase inhibitor (inhibits EGFR and HER2)
Pharmacokinetics

IV
Half-life: approximately 5.8 days

Oral
Hepatic metabolism
Half-life: approximately 24 hours
Excretion: feces

Indications

Breast cancer
Gastric cancer

Breast cancer
Breast cancer
Adverse effects

Cardiotoxicity: cardiomyopathy
Pulmonary toxicity
Renal toxicity
Dermatologic reactions
Birth defects

Cardiotoxicity
Diarrhea
Birth defects

Cardiotoxicity
Hepatotoxicity
Pulmonary toxicity
Myelosuppression (with capecitabine)
Diarrhea
Dermatologic reactions

Contraindications
Hypersensitivity to the drug
Platelet-derived growth factor receptor (PDGFR) agents
Platelet-derived growth factors (PDGFs) bind receptor and activate the receptor protein kinases.

Important in the survival and proliferation of mesenchymal cells
Cancer growth facilitated by dysfunctional signaling and role in angiogenesis

TKIs (agents with PDGFR activity):

BCR-ABL kinase inhibitors: imatinib, dasatinib, nilotinib
VEGFR kinase inhibitors: sunitinib, sorafenib

Monoclonal antibody targeting PDGFR: olaratumab

Pharmacodynamics: binds PDGFRɑ, blocking activation of receptor and signaling
Pharmacokinetics: IV, with half-life of approximately 11 days
Indication: soft tissue sarcoma
Adverse effects:

Neutropenia, thrombocytopenia
Nausea, vomiting, diarrhea
Infusion-related reactions
Embryo/fetal harm

Contraindication: hypersensitivity to the drug
PARP Inhibitors
Poly(ADP-ribose) polymerase (PARP)
A product of DNA damage repair genes
Catalyzes the transfer of ADP-ribose to target proteins (process called PARylation)
Roles:

Important in base excision repair and nucleotide excision repair
Also involved in transcription and cell cycle regulation

Inhibiting PARP → ↓ repair capability → tumor cell apoptosis and ↑ sensitivity of cells to other chemotherapeutic agents (e.g., alkylating drugs)
Inhibitors of PARP
Olaparib
Rucaparib
Niraparib
Table: PARP inhibitors
Olaparib
Rucaparib
Niraparib
Pharmacodynamics
PARP enzyme inhibitor
Pharmacokinetics

Oral
Metabolized by CYP3A
Half-life: approximately 15 hours
Excretion: urine and feces

Oral
Hepatic metabolism (CYP2D6, CYP3A, CYP1A2)
Half-life: 26 hours
Excretion: urine and feces

Oral
Crosses blood–brain barrier
Metabolism: CYP3A4
Half-life: 36 hours
Excretion: feces and urine

Indications

Advanced ovarian cancer
Metastatic breast cancer
Metastatic pancreatic cancer
Metastatic prostate cancer

Advanced ovarian cancer
Metastatic, castration-resistant prostate cancer

Ovarian, fallopian tube or primary peritoneal cancer
Common adverse effects

Myelosuppression
Vomiting
Secondary malignancy

Adverse effects

Pulmonary toxicity
Thromboembolic events

Cardiovascular effects (hypertension)
Posterior reversible encephalopathy syndrome

Contraindications
Hypersensitivity to the drug
None listed
Hypersensitivity to the drug
Other Targeted Therapy, Immunotherapy, and Miscellaneous Agents
BCL2 inhibitors
The BCL2 protein family is involved in governing programmed cell death (apoptosis).

Antiapoptotic proteins have BH1 and BH2 domains.
Proapoptotic proteins have BH3 domain.

When antiapoptotic proteins are promoted, there is increased cell survival, as seen in cancers such as CLL, in which BCL2 is overexpressed.
Related agent: venetoclax

1st in class
BH3 mimetic
Targets BCL2 interaction → ↓ inhibitory effect on proapoptotic proteins → apoptosis of cancer cells
Indications:
CD20 inhibitors
CD20 is a cell surface antigen in B cells and is found in 90% of B-cell neoplasms.
Monoclonal antibodies bind CD20 and initiate B-cell lysis via complement-dependent cytotoxicity (CDC) and antibody-dependent cell-mediated cytotoxicity (ADCC).
Related agents:

Rituximab
Ofatumumab
Obinutuzumab

Indications:
Hedgehog pathway inhibitors
Hedgehog pathway is involved in cell growth and differentiation.
Mutations in the components of the pathway are associated with basal cell carcinoma (uncontrolled proliferation of basal cells in the skin).
Inhibitory agents generally bind a protein component and inhibit the Hedgehog signal transduction.
Related agents:

Vismodegib
Sonidegib
Glasdegib

Indication: basal cell carcinoma
Adverse effects: birth defects, dermatologic toxicity
Immune checkpoint inhibitors
Immune checkpoints are normally present to prevent the immune system (e.g., T cells) from harming normal cells.
With checkpoints present, tumor cells evade immunosurveillance.
These drugs allow proliferation and activation of effector T cells by inhibiting immune checkpoints:

Programmed cell death 1 (PD-1) activity
Cytotoxic T-lymphocyte antigen 4 (CTLA4)

Related agents:

Anti-CTLA4 antibody:
Anti–PD-1 antibody: nivolumab

Indications:

Colorectal cancer
Hepatocellular carcinoma (HCC)
Malignant pleural mesothelioma
Melanoma
NSCLC
Renal cell carcinoma
Nivolumab is also used for urothelial carcinoma, Hodgkin lymphoma, and gastric cancer.

Adverse effects: immune-related effects (e.g., nephritis, pneumonitis)
mTOR inhibitors
The mTOR signaling pathway is involved in regulating cell growth, metabolism, and immune cell differentiation.

The pathway is abnormally activated in some tumors.
Agents inhibit mTOR serine/threonine kinase activity.
Inhibition leads to the halting of the cell cycle, decreasing proliferation.
Agents also have antiangiogenic effects.

Related agents (rapamycin analogs (rapalogs)) and indications:

Everolimus:

Renal cell carcinoma
Prevention of transplant rejection
Tuberous sclerosis complex associated partial-onset seizures, renal angiomyolipoma, and subependymal giant cell astrocytoma
Neuroendocrine tumors
Breast cancer

Temsirolimus: renal cell carcinoma
Sirolimus:

Lymphangioleiomyomatosis
Prevention of transplant rejection

Adverse effects:

Serious infections
Pulmonary toxicity
Angioedema
↑ Lipid
Secondary malignancy
Proteasome inhibitors
Proteasomes are complexes that break down proteins into peptides.

Generally affect different signaling pathways
An important effect leading to antineoplastic activity involves nuclear factor kappa B (NF-κB) (bound to IκB).
Under cellular stress, NF-κB enters the nucleus to activate genes needed for in cell survival
Proteasomes degrade IκB to release NF-κB.
With inhibition of proteasomes, there is increased apoptosis and decreased survival of cancer cells.

Related agents:

Bortezomib
Carfilzomib
Ixazomib

Indications:

Multiple myeloma
Bortezomib is also used for mantle cell lymphoma.

Adverse effects:

Cardiotoxicity
Myelosuppression
Hepatotoxicity
Neuropathy
Thrombotic microangiopathy
Tumor lysis syndrome (TLS)
Thalidomide and lenalidomide
Thalidomide was originally withdrawn owing to teratogenicity and dysmelia.
Found to have immunomodulating activity (↓ tumor necrosis factor ɑ, ↑ natural killer cells and interleukin-2) and antiangiogenic effects
Related agents and indications:

Thalidomide:

Multiple myeloma
Erythema nodosum leprosum

Lenalidomide:

Follicular lymphoma
Mantle cell lymphoma
Marginal zone lymphoma
Multiple myeloma
Myelodysplastic syndrome
L-asparaginase
Leukemic cells require exogenous asparagine for growth.
L-asparaginase, an enzyme, depletes serum asparagine (deamidation of asparagine to aspartic acid and ammonia).
Indication: ALL
Adverse effects:

Hepatotoxicity
Hemorrhage
↑ Glucose
↑ Lipid
Comparison of Nontraditional Agents
Table: Nontraditional antineoplastic agents
Drugs
Activity
Protein kinase inhibitors:

BCR-ABL inhibitors
BRAF inhibitors
MEK inhibitors
JAK inhibitors
CDK inhibitors
BTK inhibitors
ALK inhibitors

Inhibit action of protein kinase enzymes
Growth factor receptor inhibitors:

EGFR agents
VEGFR agents
HER2/Neu agents
PDGFR agents

Monoclonal antibodies bind the extracellular domain, blocking the ligand.
Small molecules inhibit kinase activity.

PARP inhibitors
↓ DNA repair capability
BCL2 inhibitors
Promote apoptosis of cancer cells (which are dependent on this pathway)
CD20 inhibitors
Bind cell surface antigen and initiate B-cell lysis
Hedgehog pathway inhibitors
Bind protein component and inhibit the Hedgehog signal transduction, ↓ proliferation of cells (in basal cell carcinoma)
Immune checkpoint inhibitors
Inhibit immune checkpoints (CTLA4, PD-1), allowing activation and proliferation of T cells
mTOR inhibitors
Inhibit mTOR kinase activity, leading to reduced protein synthesis, cell proliferation and angiogenesis
Proteasome inhibitors
Block proteasome activity, disrupting signaling and increasing cellular apoptosis
Asparaginase
Depletes asparagine, thus reducing source of leukemic cells
Thalidomide

Immunomodulator
Antiangiogenesis