Ketone Bodies and Their Function
3 major types of ketones are produced in the liver:

Acetoacetate
Acetone: a product of the spontaneous decarboxylation of acetoacetate or the action of acetoacetate decarboxylase
β-Hydroxybutyrate: the most abundant ketone body derived from acetoacetate by D-β-hydroxybutyrate dehydrogenase

Other ketones are synthesized from the metabolism of triglycerides (i.e., β-ketopentanoate, β-hydroxypentanoate).
Ketone bodies are produced during periods of caloric restriction.
Released by the liver after glycogen consumption
Ketones have a characteristic fruity smell.
Functions:

Source of energy for the heart, brain, and muscle:

Cannot be used as a source of energy by the liver because of the lack of thiophorase
Acetoacetate produces 2 GTP and 22 ATP

Brain is dependent on ketone bodies as its sole energy resource during periods of fasting because the blood-brain barrier is not permeable to fatty acids.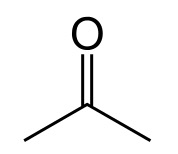 Ketogenesis
Location: mitochondria of liver cells
Timing: Ketogenesis occurs in a state of caloric restriction during hypoglycemia.
Regulation:

Insulin (primary regulation) inhibits ketogenesis.
Activation of adenosine monophosphate-activated protein kinase promotes ketogenesis.
Inhibition by ethanol
During starvation, acetyl-coenzyme A (CoA) is used in ketogenesis because intermediates in the citric acid cycle are not readily available.

Synthesis:

Thiolase catalyzes the combination of 2 acetyl-CoA molecules → acetoacetyl-CoA
Rate-determining enzyme: HMG-CoA synthase converts acetoacetyl-CoA → β-hydroxy-β-methylglutaryl-CoA (HMG-CoA)
HMG-CoA lyase breaks HMG-CoA → 1st ketone body: acetoacetate
Acetoacetate can form other ketone bodies:

D-β-hydroxybutyrate (β-hydroxybutyric acid) via the action of β-hydroxybutyrate dehydrogenase
Acetone via nonenzymatic decarboxylation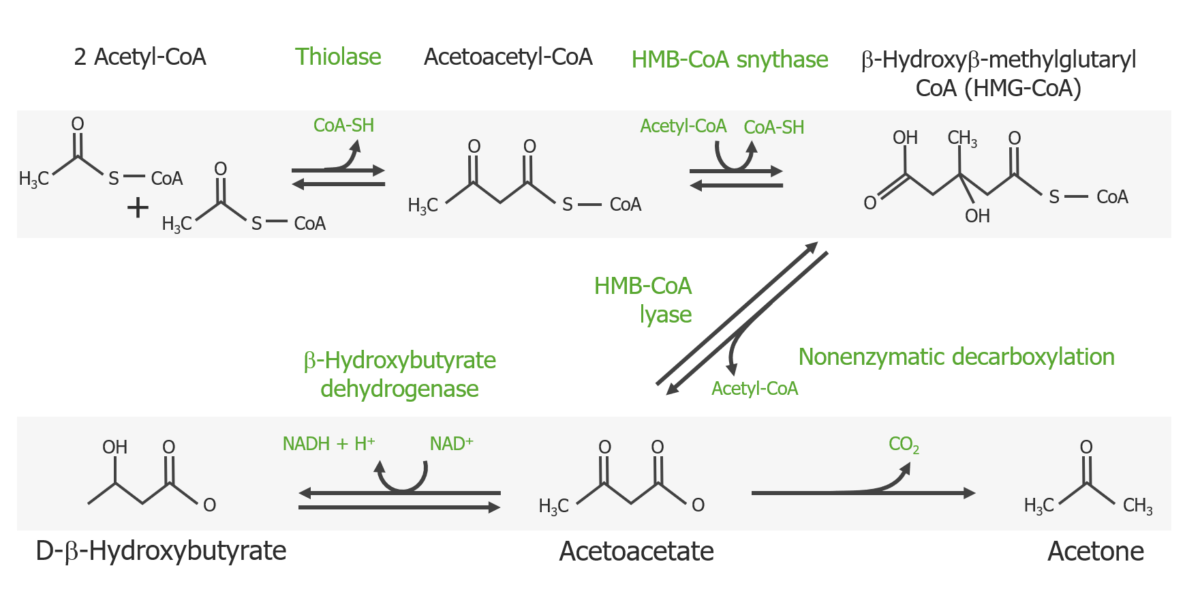 Transport and Utilization
Ketone bodies are delivered to cells as an energy source during fasting states.
Acetoacetate and β-hydroxybutyrate are water-soluble ketone bodies that can travel freely through blood:

Acetoacetate may spontaneously decarboxylate into acetone.
Acetoacetate may be converted into 3-hydroxybutyrate by the action of β-hydroxybutyrate dehydrogenase.

Acetone is not a productive molecule and is expelled through the lungs.
Other ketone bodies may be excreted in the urine before they reach target tissues to become energetically useful.
Acetoacetyl-CoA is hydrolyzed by thiolase into 2 acetyl-CoA molecules, which are taken up in the citric acid cycle.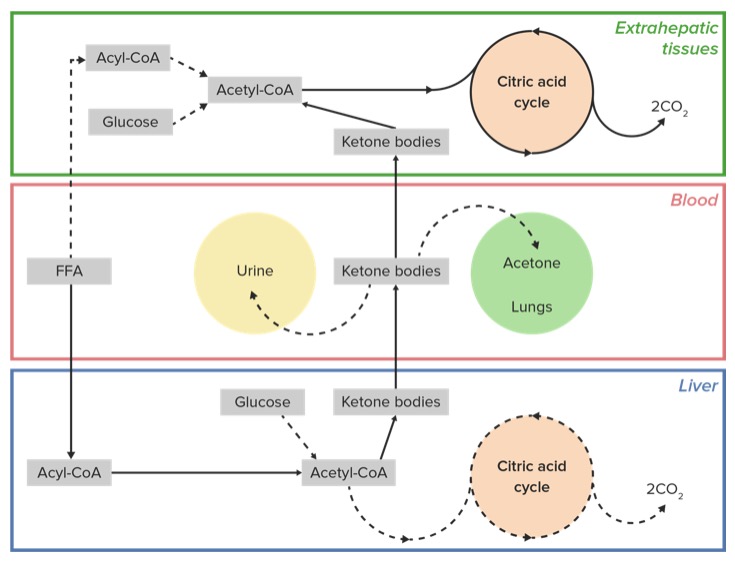 Clinical Relevance
Diabetes mellitus: the absence of insulin can increase the β-oxidation of fatty acids due to the influence of glucagon. This phenomenon drastically increases the production of ketone bodies, producing a state of ketosis. Diabetic ketoacidosis (DKA) occurs when there is a prolonged accumulation of ketoacids and other endogenously produced acids in the bloodstream, further leading to anion-gap metabolic acidosis. Diabetic ketoacidosis may lead to confusion, Kussmaul respirations, and cerebral edema.
Ketosis: a condition seen in cases of prolonged fasting, starvation, and malnutrition (extremely low-carbohydrate diets), wherein glucose reserves are used up and ketogenesis increases dramatically.
HMG-CoA: an intermediate in cholesterol synthesis. The enzyme HMG-CoA synthase forms HMG-CoA from acetyl-CoA and acetoacetyl-CoA and is also an intermediate in ketogenesis. The enzyme HMG-CoA lyase hydrolyzes HMG-CoA into acetyl CoA and acetoacetate. Statins are a group of drugs that block the enzyme HMG-CoA reductase, which catalyzes cholesterol synthesis in the liver. Statins are most commonly used in the management of cardiovascular diseases.
References
Botham, K.M., Mayes, P.A. (2018). Oxidation of fatty acids: Ketogenesis. In V.W. Rodwell, D.A. Bender, K.M. Botham, P.J. Kennelly, P.A. Weil (Eds.), Harper's Illustrated Biochemistry, 31e. New York, NY: McGraw-Hill Education. accessmedicine.mhmedical.com/content.aspx?aid=1160192486
Elliott, B., Mina, M., Ferrier, C. (2016). Complete and voluntary starvation of 50 days. Clinical Medicine Insights. Case Reports, 9, 67–70. https://www.ncbi.nlm.nih.gov/pmc/articles/PMC4982520/
Paoli, A., Bosco, G., Camporesi, E.M., Mangar, D. (2015). Ketosis, ketogenic diet and food intake control: A complex relationship. Frontiers in Psychology, 6, 27. https://doi.org/10.3389/fpsyg.2015.00027