Overview
Definition
Hashimoto's thyroiditis is an autoimmune thyroid disease resulting in the destruction and failure of the thyroid gland.
Epidemiology
Age of onset is usually between 30 and 50 years.
More common in women than men: 10–20:1 ratio
Most common cause of hypothyroidism in iodine-sufficient regions
2nd-most common cause of hypothyroidism worldwide, after iodine deficiency
Etiology
Exact cause unknown, although genetic and environmental factors play a role:
Genetic risk factors:

↑ Risk with polymorphisms in immunoregulatory genes including CTLA4, PTPN22, IL2RA (all encoding T cell regulatory responses)
Associated with HLA-DR3, DR4, and DR5
Disease clusters found in families suggest genetic susceptibility.
↑ Incidence in patients with Down's syndrome and Turner's syndrome

Non-genetic risk factors possibly precipitate the disease:

Pregnancy
Iodine and amiodarone
Stress
Irradiation
Sex steroids
Pathophysiology
Immunology
When thyroid autoimmunity is induced, progressive depletion of thyroid epithelial cells ensues.
Thyroid cell destruction mediated by:
T cell–mediated cytotoxicity: CD8+ cytotoxic T cells destroy thyroid cells.
Local production of cytokines:

Tumor necrosis factor and interferon-ɣ impair cell function.
Recruitment of macrophages

Antibodies to thyroglobulin (Tg) and thyroid peroxidase (TPO): secondary role in thyroid cell death but are markers of thyroid autoimmunity
Lymphocytic infiltration and fibrosis of thyroid cells → follicles are disrupted and release thyroid hormones:
Transient ↑ of thyroxine (T4) and triiodothyronine (T3): "hashitoxicosis"
Compensatory ↓ thyroid-stimulating hormone (TSH) follows → T3/T4 stores gradually decline
End result: ↑ TSH + hypothyroidism (often permanent)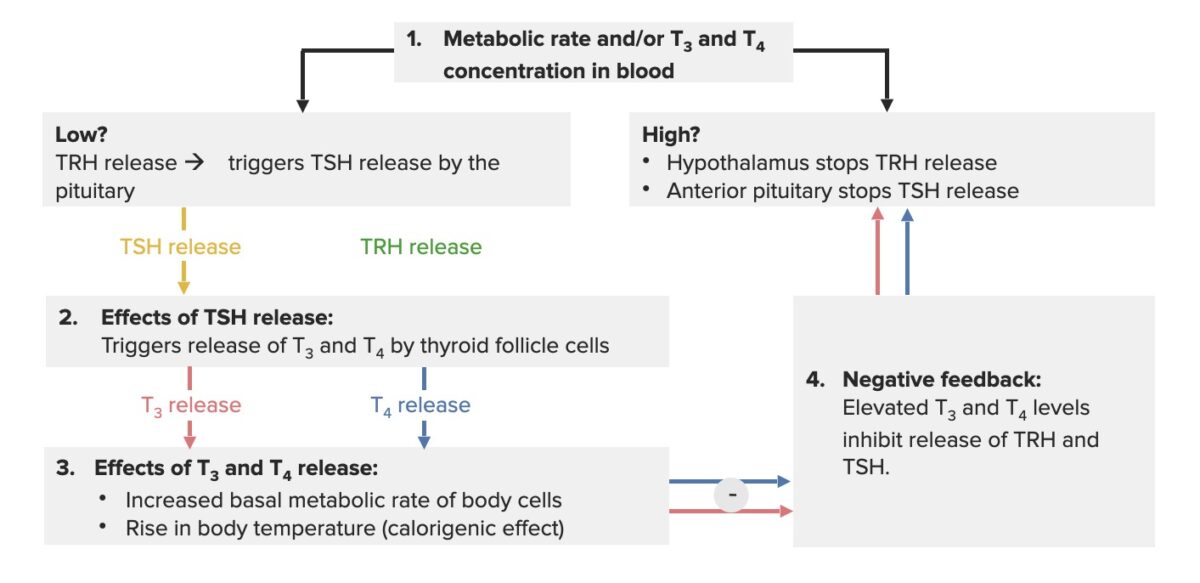 Pathology
Immunologic response seen histologically as:
Infiltrates of lymphocytes and plasma cells
Well-developed germinal centers
Thyroid cell destruction:
Atrophic thyroid follicles
Hurthle cells:

Oncocytic cells with abundant eosinophilic granular cytoplasm
Metaplastic change resulting from chronic injury

Increased connective tissue/fibrosis (limited within the capsule)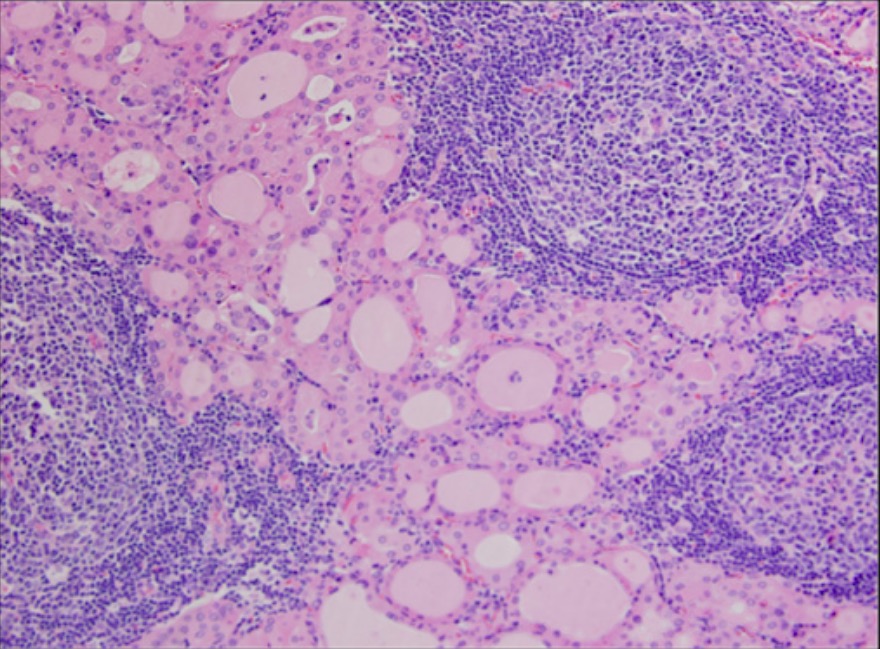 Clinical Presentation
Clinical course
Thyroiditis typically presents with a triphasic clinical course.
Hashimoto's thyroiditis presents similarly, without the final euthyroid phase.
Phases:

Hashitoxicosis: initial transient hyperthyroidism
Subclinical hypothyroidism:

Gradual loss of thyroid function
Asymptomatic

Overt hypothyroidism
Manifestations
Hypothyroidism common symptoms:
Fatigue, cold intolerance, weight gain
Dry skin, hair loss
Difficulty concentrating and poor memory
Hoarse voice, impaired hearing
Constipation
Menstrual irregularities (menorrhagia, then oligomenorrhea or amenorrhea)
Paresthesia
Hypothyroidism common signs:
+/- Goiter (some glands are atrophic in later stages)
Dry, coarse skin; alopecia; cool extremities
Puffy face, hands, and feet (nonpitting edema/myxedema)
Bradycardia
Delayed relaxation of tendon reflexes
Carpal tunnel syndrome
Diagnosis
Initial evaluation
Thyroid hormone levels will differ in each phase:

Hashitoxicosis: ↓ TSH + ↑ free T3/T4
Subclinical hypothyroidism: ↑ TSH + normal free T3/T4
Overt hypothyroidism: ↑ TSH + ↓ free T3/T4

Positive anti-thyroid peroxidase (TPO) and anti-thyroglobulin antibodies (Tg):

Noted in > 95% of cases of Hashimoto's thyroiditis
Antibodies may predict the progression to overt hypothyroidism.
Additional tests
Laboratory tests:

↑ Cholesterol, triglycerides
CBC shows normocytic anemia.

Imaging:

Not necessary for diagnosis
Obtained in cases of asymmetric goiter and/or + suspicion of nodules
Tests:

Radioactive iodine uptake (RAIU): low uptake (cold thyroid)
Ultrasound: hypertrophic enlargement or atrophic reduction depending on the type and phase.

Fine needle aspiration:

If there is a dominant nodule or suspicion of malignancy
Shows Hurthle cells and lymphocytic infiltration with germinal centers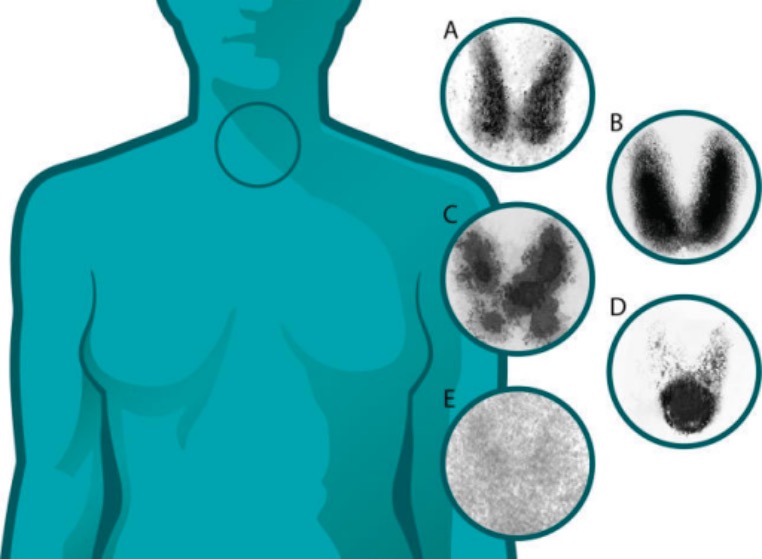 Management and Complications
Thyroid-replacement therapy
Levothyroxine: synthetic form of T4 that is peripherally converted to T3
Dosage:

1.6 mcg/kg body weight per day in young and healthy patients
Starting dose of 25 mcg per day in the elderly
Different dose for pediatric population

Duration: lifetime
Absorption reduced by antacids, iron, calcium
Measure TSH after 6 weeks, and adjust the dose.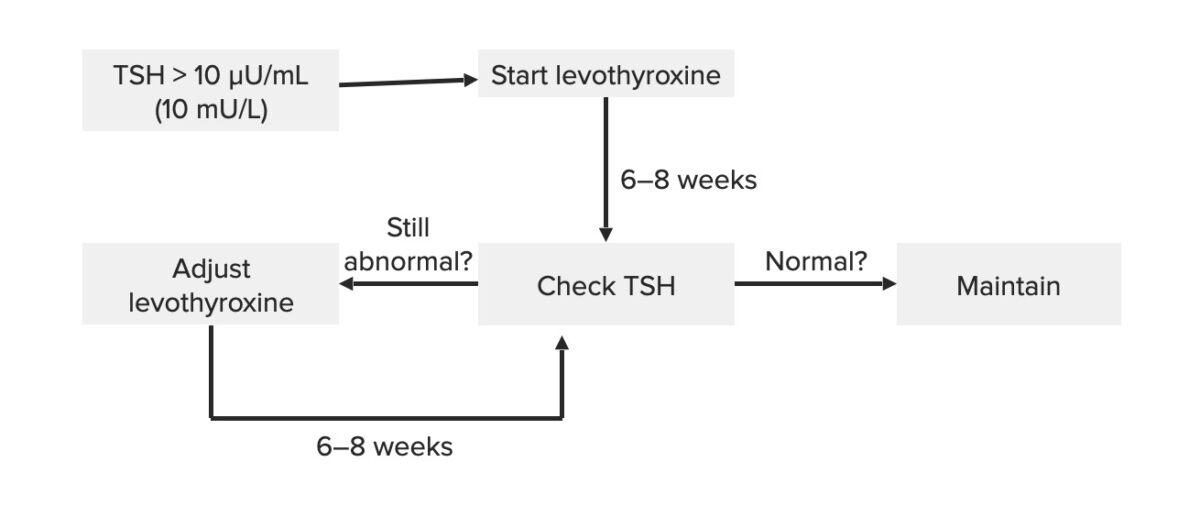 Complications
Myxedema coma: severe hypothyroidism characterized by slowing function of multiple organs

Considered a medical emergency
Can lead to shock and death (mortality rate up to 50%)

Patients with Hashimoto's thyroiditis have increased risk of:

Other autoimmune disease (e.g., type 1 diabetes mellitus, autoimmune adrenalitis)
B cell lymphoma of the thyroid gland
Differential Diagnosis
Granulomatous thyroiditis (De Quervain's syndrome): thyroid inflammation usually associated with a previous viral infection and the most common cause of thyroid pain. Presentation includes neck tenderness with goiter. Work-up shows low TSH, elevated free T4, increased sedimentation rate, and a low or absent radioactive iodine uptake. Often a self-limited course that can go through a hyperthyroid state and then a euthyroid state followed by hypothyroidism. Recovery to normal thyroid function takes months.
Subacute lymphocytic thyroiditis (painless thyroiditis): an autoimmune disease with diffuse enlargement of the thyroid gland. The same process occurs in postpartum thyroiditis. Laboratory tests depend on the phase of the disease but the initial hyperthyroidism shows low TSH and elevated T4. The condition is associated with a low radioactive iodine uptake. The disease pattern is a transient hyperthyroid state and then hypothyroid followed by recovery. Some cases do not become euthyroid, however.
Riedel's thyroiditis: rare form of thyroiditis characterized by extensive fibrosis of the thyroid gland and neck area. Riedel's thyroiditis differs from Hashimoto's thyroiditis, in which fibrosis does not extend beyond the capsule. Examination will show a hard, fixed thyroid gland, which is associated with other sites of fibrosis in the body.
Hypopituitarism: a disorder characterized by a deficiency in the pituitary hormone production, which results from disease of the hypothalamus or the pituitary gland itself. Hypofunction results in reduced secretion of growth hormone, TSH, gonadotropins, prolactin, and adrenocorticotropic hormone, which produces a complex syndrome depending on the hormones affected.
References
Davies, T. (2020). Pathogenesis of Hashimoto's thyroiditis (chronic autoimmune thyroiditis). UpToDate. Retrieved February 11, 2021, from https://www.uptodate.com/contents/pathogenesis-of-hashimotos-thyroiditis-chronic-autoimmune-thyroiditis
Lee, S., Nagelberg, S. (2020). Hashimoto Thyroiditis. Medscape. Retrieved January 25, 2021, from https://emedicine.medscape.com/article/120937-overview
Maitra, A. (2021). The Endocrine System. Kumar V., Abbas, A., Aster, J. , Robbins & Cotran Pathologic Basis of Disease, 10e. Elsevier.