Overview
Definition
Restrictive cardiomyopathy (RCM) is a disease of the heart muscle characterized by decreased compliance of the ventricles, nondilated heart muscle, and diastolic dysfunction (impaired filling of the ventricles).
Epidemiology
Rarest cardiomyopathy
5% of all cases
Incidence and prevalence are etiology-dependent:

Amyloidosis

Most common RCM in the United States
Men = women
Common in elderly

Sarcoidosis

Women > men
Highest incidence in Japan
Highest prevalence among Black women

Hemochromatosis
Loeffler endocarditis

Increased incidence and frequent cause of death in the tropics of Africa, Asia, and South and Central America
Secondary to high incidence of endomyocardial fibrosis in those areas
Etiology
Idiopathic
Familial:

Various known gene mutations
Typically associated with amyloidosis or considered part of familial hypertrophic cardiomyopathy

Underlying disease or condition causing scarring or damage to the heart muscle:

Amyloidosis (most common cause)
Sarcoidosis
Hemochromatosis
Endomyocardial fibrosis
Loeffler endocarditis (eosinophillic endocarditis)
Postradiation fibrosis
Scleroderma
Tumors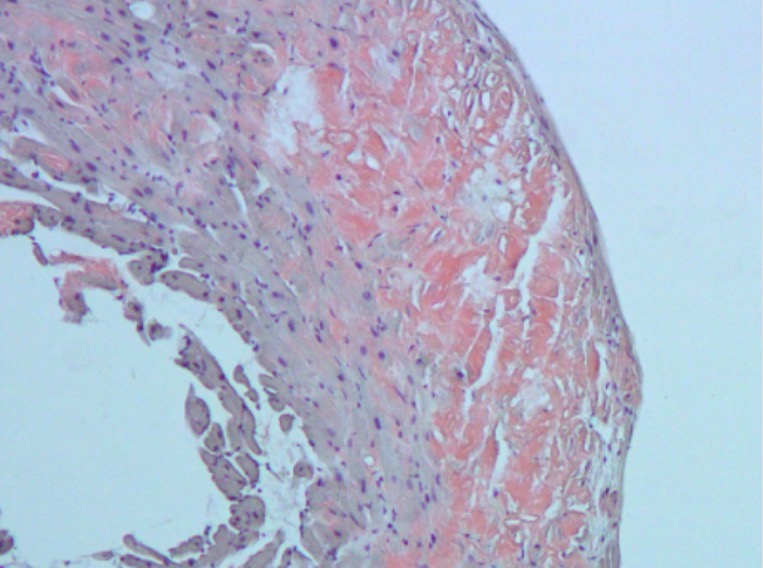 Pathophysiology
Cardiac muscle becomes increasingly stiff owing to:

Infiltration with abnormal cell/substances
Excessive deposition of metabolic by-products
Direct fibrosing injury

Reduced compliance and impaired ability to expand → impaired relaxation of the heart (diastole)
Heart muscle cannot fill properly during diastole → increased filling pressures and diastolic dysfunction → atria become dilated/enlarged secondary to the increased pressures → pulmonary and systemic congestion
With increases in heart rate, heart is unable to adequately ↑ cardiac output
Systolic function is usually normal.
No ventricular dilation or thickening
Clinical Presentation
Presentation is similar to that seen with right heart failure.
Symptoms
Dyspnea (shortness of breath), especially with exertion
Orthopnea (shortness of breath when lying down, as while sleeping)
Intolerance to exercise
Swelling in lower extremities and possibly abdomen
Weight gain
Dizziness
Syncopal episodes
Chest pain
Palpitations
Cough
Fatigue
Weakness
Physical exam
Cardiac:

S3 gallop
Systolic heart murmur (from mitral or tricuspid regurgitation)
Point of maximal impulse typically normal
Jugular venous distention, particularly Kussmaul's sign (jugular distention on inspiration), may be present.

Pulmonary: rales or crackles over lung fields (secondary to pulmonary edema)
Abdominal: hepatomegaly
Pitting edema in lower extremities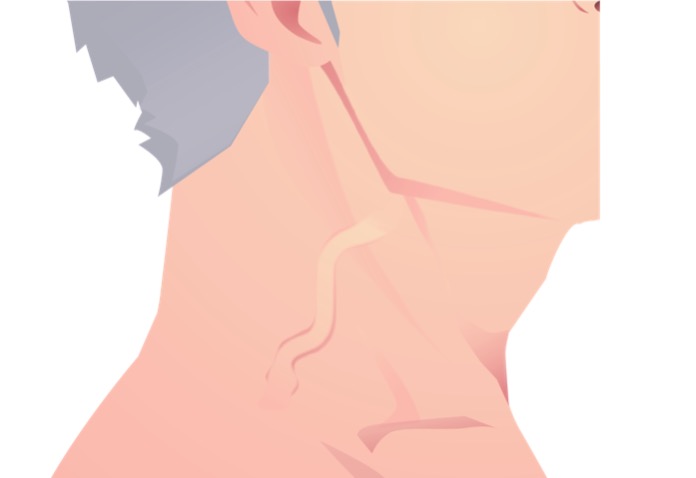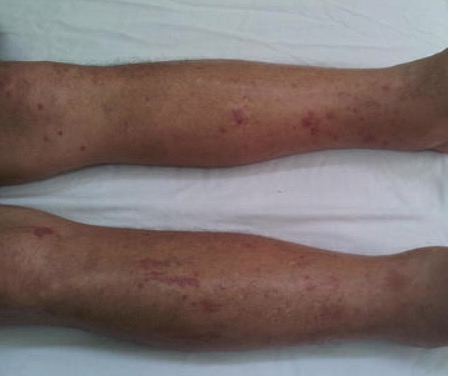 Diagnosis
History and physical exam
Signs and symptoms suggestive of heart failure:

Ascites
Dependent edema
Decreased exercise tolerance

Signs of causative pathologies:

Hemochromatosis: bronze skin
Amyloidosis: carpal tunnel syndrome
Sarcoidosis: respiratory symptoms
Laboratory studies
↑ BNP:

BNP is a marker of heart failure.
Renal failure can also increase BNP, making it less diagnostic in those cases.

Measure BUN and creatinine to monitor renal function/perfusion.
To investigate underlying cause, perform additional tests such as serum and urine protein tests (amyloidosis).
Electrocardiography
Typically abnormal but nonspecific
May include ST changes, conduction delays, and other arrhythmias
Low voltage may be noted in amyloidosis.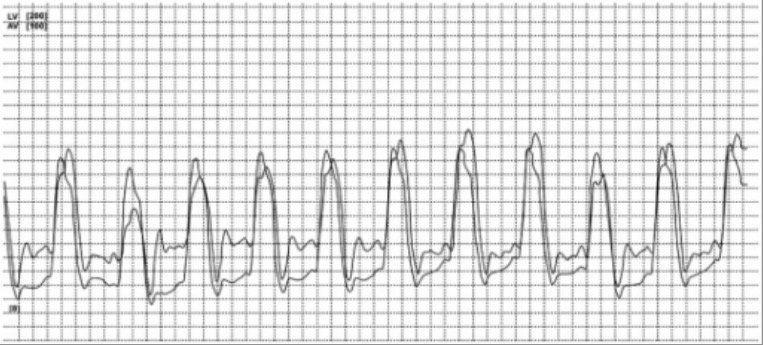 Chest radiography
May show normal or enlarged heart with biatrial dilatation and pleural effusions
Presence of pericardial calcification leads to suspicion for constrictive pericarditis as an alternative diagnosis
Echocardiography
Assess cardiac:

Size
Structure
Function
Differentiate from other causes.

Findings:

Biatrial enlargement
Abnormal diastolic function with a restrictive filling pattern
Relatively preserved ventricular size, wall thickness, and left ventricular systolic function

Ventricles may have abnormal appearance in setting of infiltrative processes or storage deposition diseases.
Cardiac magnetic resonance imaging with gadolinium enhancement
Cardiac MRI with gadolinium enhancement can identify and determine extent of:
Myocardial damage
Fibrosis
Scarring
Necrosis
Infiltrative processes
Other considerations and tests
Endomyocardial biopsy may be done to confirm diagnosis in cases in which prior workup has been inconclusive.
Further evaluation is required to determine underlying cause.
If no secondary/underlying cause is identified, further evaluation of family history for possible familial hypertrophic cardiomyopathy is recommended.
Idiopathic RCM is a diagnosis of exclusion.
Management
Treatment
Treatment is aimed at managing heart failure and underlying secondary causes.
Goals of treatment:
↓ Pulmonary and systemic venous congestion
↓ Venous pressure
HR control to ↑ filling time (with caution to avoid bradycardia)
Maintain atrial contractions.
Manage/correct conduction disturbances.
Manage/avoid anemia, electrolyte imbalances, nutrient deficiencies, and calcium overload.
Medication:
Loop diuretics (i.e., furosemide (Lasix)) to ↓ edema/fluid overload
Calcium channel blockers (i.e., verapamil) to control HR and ↑ filling time
Beta-blockers may control HR, ↑ filling time, and ↑ ventricular relaxation.
ACE inhibitors or angiotensin II receptor blockers (ARBs) are helpful in select cases.
Oral anticoagulation, such as with warfarin, is necessary if atrial fibrillation is present.
Surgical intervention:
Devices (pacemaker or implanted cardioverter–defibrillator) in significant arrhythmias or conduction disorders
Cardiac transplantation in patients with severe heart failure refractory to treatment
Complications
Arrhythmias
Thromboembolic events (i.e., pulmonary embolism or cerebrovascular accident)
Sudden cardiac death
Prognosis
Poor with ↓ survival rates
Those with restrictive cardiomyopathy due to radiation/chemotherapy or amyloidosis have worse prognosis.
Male sex, age > 70 years, and more advanced diastolic dysfunction are also associated with poor prognosis.
Differential Diagnosis
Constrictive pericarditis: a disorder in which the pericardial sac becomes thickened and fibrotic, impairing the heart's ability to function properly: Signs and symptoms are similar to those of RCM. Anything that can cause acute pericarditis (inflammation of pericardial sac) can cause constrictive pericarditis as well. It may be differentiated from RCM by the presence of a pericardial knock noted on exam, calcifications in the pericardium seen on a chest radiograph, and differentiating findings on cardiac MRI. Treatment involves removing the pericardium.
Dilated cardiomyopathy (DCM): most common type of nonischemic cardiomyopathy: Etiology may be idiopathic, familial, or secondary to a variety of underlying conditions. Dilated cardiomyopathy is characterized by enlargement of one or both ventricles and reduced systolic function. Patients typically present with signs and symptoms of heart failure. Similar studies as those performed for RCM help to obtain the diagnosis. Treatment is also similar to that for RCM, including medications and devices. Dilated cardiomyopathy is the most common reason for cardiac transplantation.
Hypertrophic cardiomyopathy (HCM): the most common inherited cardiomyopathy: Gene mutations affect contractile components of the heart called sarcomeres. The inheritance pattern is autosomal dominant; however, de novo mutations also occur. HCM is characterized by left ventricular asymmetrical wall thickening, diastolic dysfunction, and left ventricular outflow tract obstruction. Patients may be asymptomatic or suffer sudden cardiac death as the first sign of disease. Symptomatic individuals have dyspnea on exertion, chest pain, presyncope, or syncope. Diagnosis is made via ECG, echocardiography, stress testing, and cardiac MRI. Treatment for symptomatic individuals involves beta-blockers as first-line therapy with additional management depending on the presence of arrhythmia and left ventricular outflow tract obstruction.