Classification and Subtypes
Classification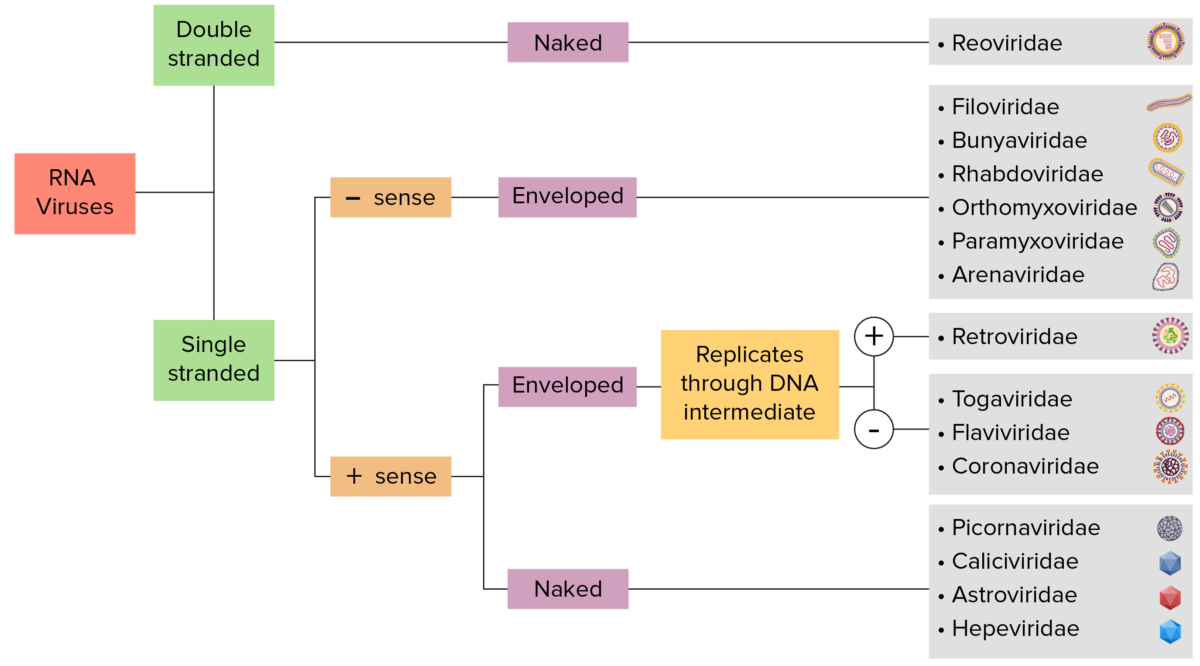 Family Retroviridae: Viruses use reverse transcriptase enzymes to produce deoxyribonucleic acid (DNA) from their ribonucleic acid (RNA) genome (reverse of the usual pattern = "retro").
Genus Lentivirus:

Cause chronic deadly diseases
Long incubation periods
Integrate viral cDNA into host DNA, infecting nondividing cells
Two subtypes of human immunodeficiency virus (HIV)
HIV-1 (discovered first, more virulent and more infectious than HIV-2):

Group M: stands for "major"; more than 90% of HIV/AIDS cases, several subtypes or recombinant forms
Group N: stands for "non-M, non-O"
Group O: stands for "outlier"; isolated to West-Central Africa
Group P: stands for "pending the identification of further human cases"; discovered in August 2009, isolated to Cameroon

HIV-2:

Lower infectivity, less virulent
Largely confined to West Africa
8 known subgroups (A to H)
Structure and Genome
HIV virion
Roughly spherical
Approximately 110 nm in diameter
Structure:

Virion envelope contains 2 membrane glycoproteins:

Gp41 (transmembrane)
Gp120 (surface/docking protein)

Matrix protein p17: surrounds the virus core
Virus core:

Capsid protein p24
2 single-stranded, enveloped positive-sense ribonucleic acid (RNA) coated with nucleocapsid protein
Enzymes (reverse transcriptase, integrase, protease)
HIV genome (9 genes that encode 15 viral proteins)
Env gene encodes gp160, which is cleaved to form envelope glycoproteins:

gp120: attachment to host CD4+ T cell
gp41: fusion and entry to host cell

Gag gene encodes p24 and p17, capsid and matrix proteins, respectively.
Pol gene encodes the enzymes reverse transcriptase, integrase, and protease.
Regulatory elements: tat, rev, vpr, vif, nef, and vpu
Genetic variability (very high)
Recombination between 2 RNA copies in every particle
Fast replication
High mutation rate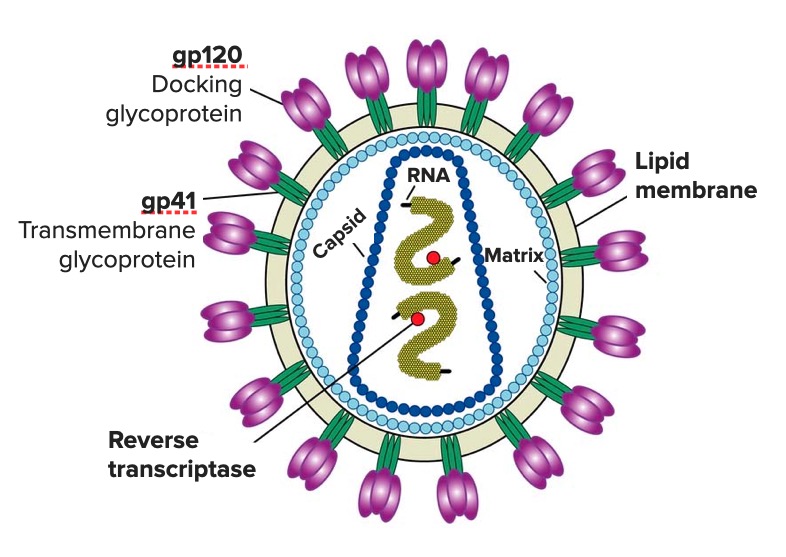 Life Cycle
Tropism
HIV can infect CD4+ T cells, macrophages, and microglial cells.
HIV surface glycoprotein gp160 (composed of gp120 and gp41): key for viral attachment to the CD4 surface molecules and chemokine co-receptors
CD4: expressed on the surface of T helper cells, regulatory T cells, monocytes, macrophages, and dendritic cells
CCR5: expressed on T cells (memory and activated CD4 lymphocytes), gut-associated lymphoid tissues (GALTs), macrophages, dendritic cells, and microglia
CXCR4: expressed on T cells (naïve and resting CD4 lymphocytes as well as CD8 cells), B cells, neutrophils, and eosinophils
HIV strains: can express CCR5 (R5 or M) tropism, CXCR4 (X4 or T) tropism, or dual tropism (X4R5)
HIV replication cycle
Target cells: CD4+ T cells, macrophages, and dendritic cells
HIV cell entry:

The virion first enters via a break in the mucous membrane.
The virion crosses the mucosal barrier and seeks target cells.

HIV replication:

Membrane fusion and binding of receptors (entry): The virion (carrying viral RNA, reverse transcriptase, integrase, and other proteins) initiates entry into the host cell.

Virion binds the CD4 receptor and a chemokine receptor (CCR5 on macrophages, CXCR4 on T cells).

Macrophage tropic viruses: R5 strains
T cell tropic viruses: X4 strains

Binding of gp120 with CD4 and the chemokine receptors leads to a conformational change, exposing the fusion domain at gp41.
The conformational change pulls the viral and cellular membranes together, fusing them.

The capsid protein shell (surrounding the viral RNA and proteins) is uncoated as the virion traverses the cytoplasm.
Reverse transcription: Reverse transcriptase-mediated synthesis of proviral DNA (from the viral RNA) occurs.
Integration: Viral DNA is transported across the nucleus and is integrated into the host DNA, facilitated by integrase.
Replication: Viral DNA is transcribed; multiple copies of new HIV RNA are formed and transported to the cytoplasm.

New HIV RNA becomes the genome of a new virus.
Other copies of the RNA are used to make new HIV proteins.

Assembly: New viral RNA + proteins + enzymes move to the cell surface and form a noninfectious particle.
Budding and maturation:

Particles (viral RNA + proteins) eventually bud out of the host cell with the immature HIV.
Viral protein protease then cleaves the newly synthesized polyproteins, producing mature HIV.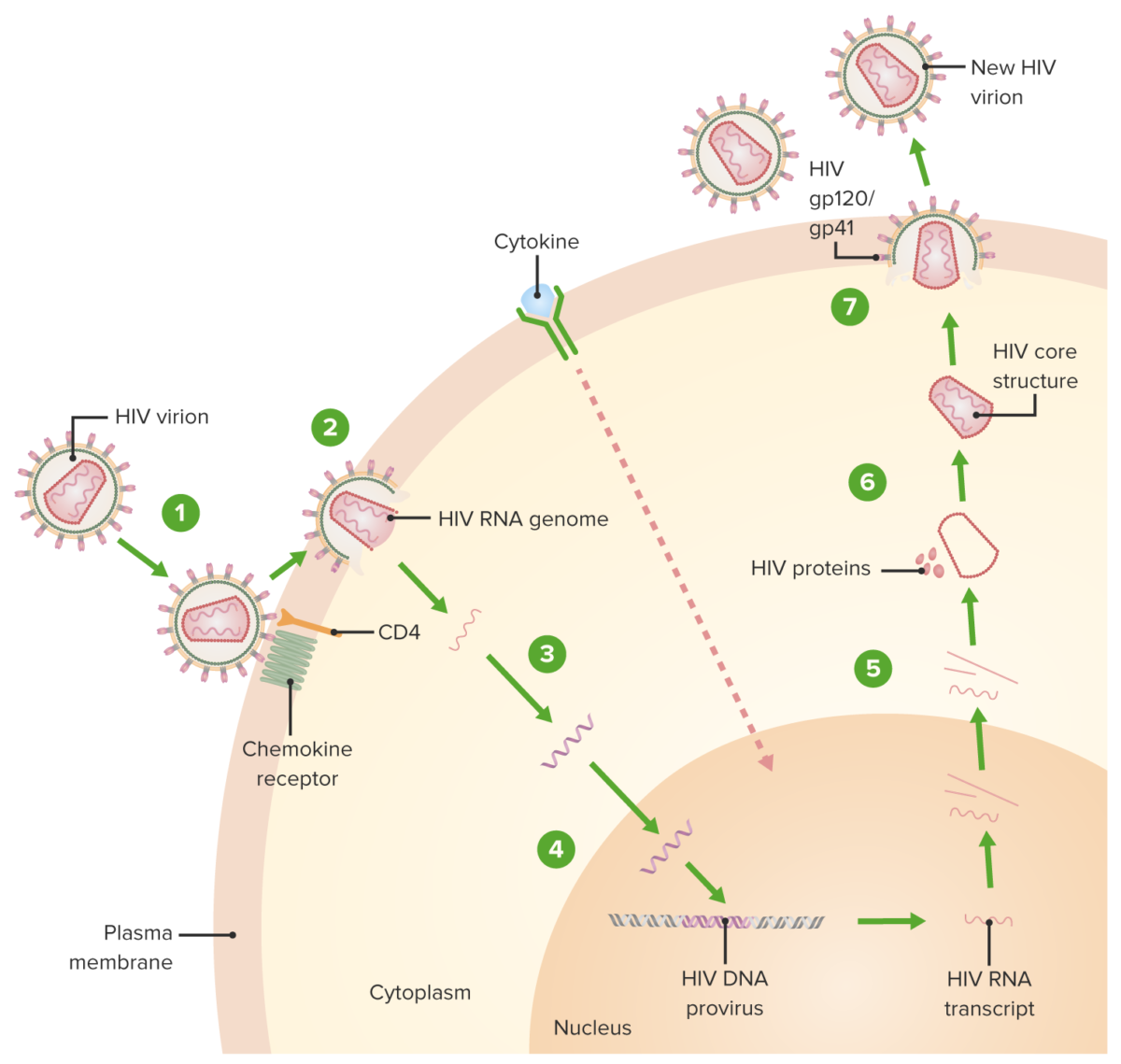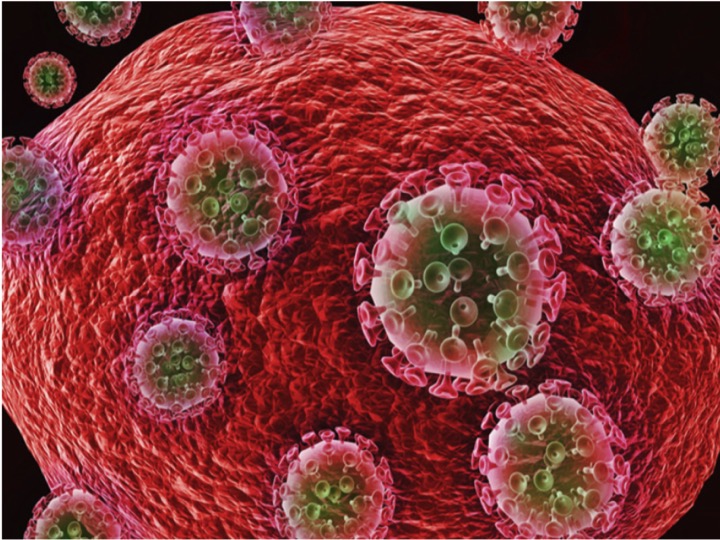 HIV Infection
Transmission
Sexual:

> 80% worldwide through heterosexual contact
Risk increases:

In the presence of other sexually transmitted diseases
With repeated intercourse with an infected partner
In the case of high viral load

Antiretroviral therapy decreases transmission risk.

Parenteral:

Intravenous drug users
Blood transfusion
Needle sticks in medical professionals

Vertical (mother to child):

During pregnancy
During birth
Through breastfeeding
Risks decreased by antiretroviral therapy
Pathophysiology
Initial entrance is most commonly through the anogenital mucosa.
Interstitial dendritic cells may serve as an initial target.
New infection is more commonly spread by macrophage-tropic viruses.
The infected cells then fuse with CD4+ T cells and the infection spreads.
Initial rapid increase in viral RNA corresponds with seroconversion (acute phase).
Viral RNA levels then drop in response to the emergence of HIV-specific CD8+ T cells.
Eventually, RNA level reaches a "set point" (over 6 months).
Progressive slow decline in CD4+ cells:

Direct cytopathic effects of the virus
gp120-mediated cytotoxicity
Activation-induced apoptotic cell death
CD8+ cell killing of infected CD4+ cells

Acquired immunodeficiency syndrome (AIDS) develops when CD4+ T cells < 200 cells/μL.
Clinical presentation
Early/acute phase:

60% are asymptomatic.
If symptomatic, mononucleosis-like illness:

Fever
Sore throat
Headache, rash, diarrhea
Myalgia/arthralgia

If symptoms last > 14 days, more rapid progression to AIDS

Chronic infection (without AIDS):

Generally lasts 8–10 years
Mostly asymptomatic
Accompanied by fatigue, sweats, and weight loss
Generalized lymphadenopathy
Can have recurrent candidiasis, folliculitis, and severe presentations of herpes, papilloma, or shingles

AIDS: defined by CD4+ count < 200 cells/μL and presence of AIDS-defining conditions (opportunistic illnesses secondary to immunosuppression)
Identification
HIV antibody (enzyme-linked immunosorbent assay (ELISA))
HIV antibody and antigen
HIV antigen
HIV RNA