Classification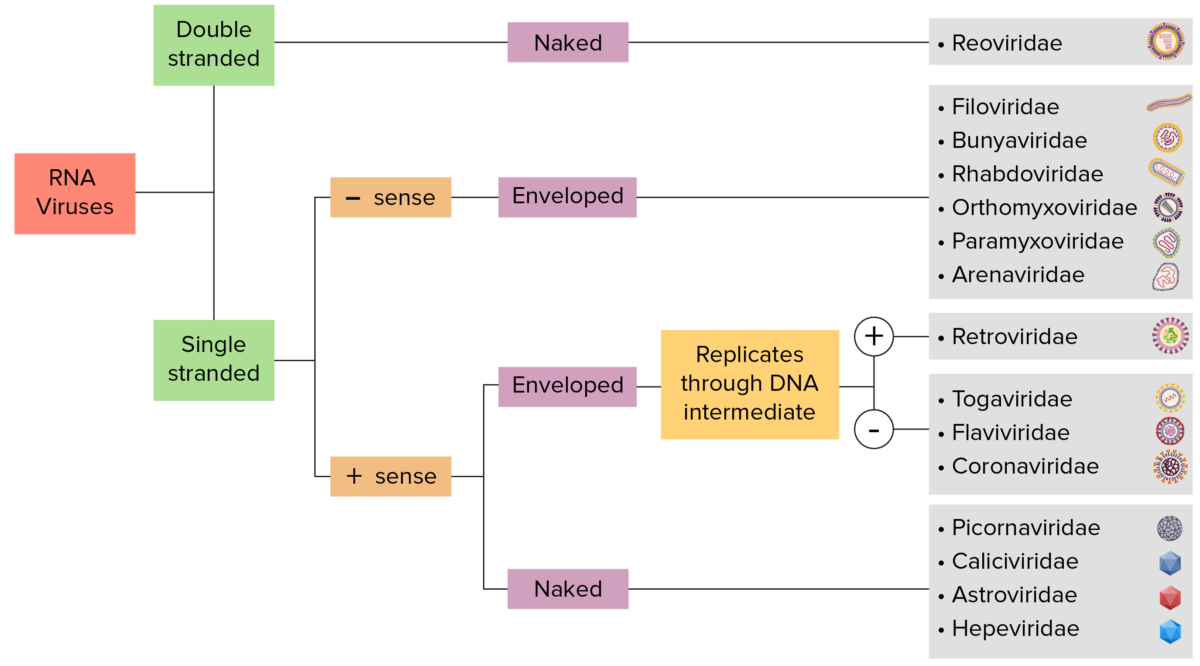 General Characteristics
Structure
Spherical
120 nm in diameter
Usually distinguished by its club-shaped or "crown-like" surface proteins
Enveloped, with the viral envelope containing the following proteins:

Spike (S) protein
Hemagglutinin esterase (HE) protein
Membrane (M) protein
Envelope (E) protein

The nucleocapsid is large and has helical symmetry.
Has a single-stranded RNA genome of approximately 26–31 kilobases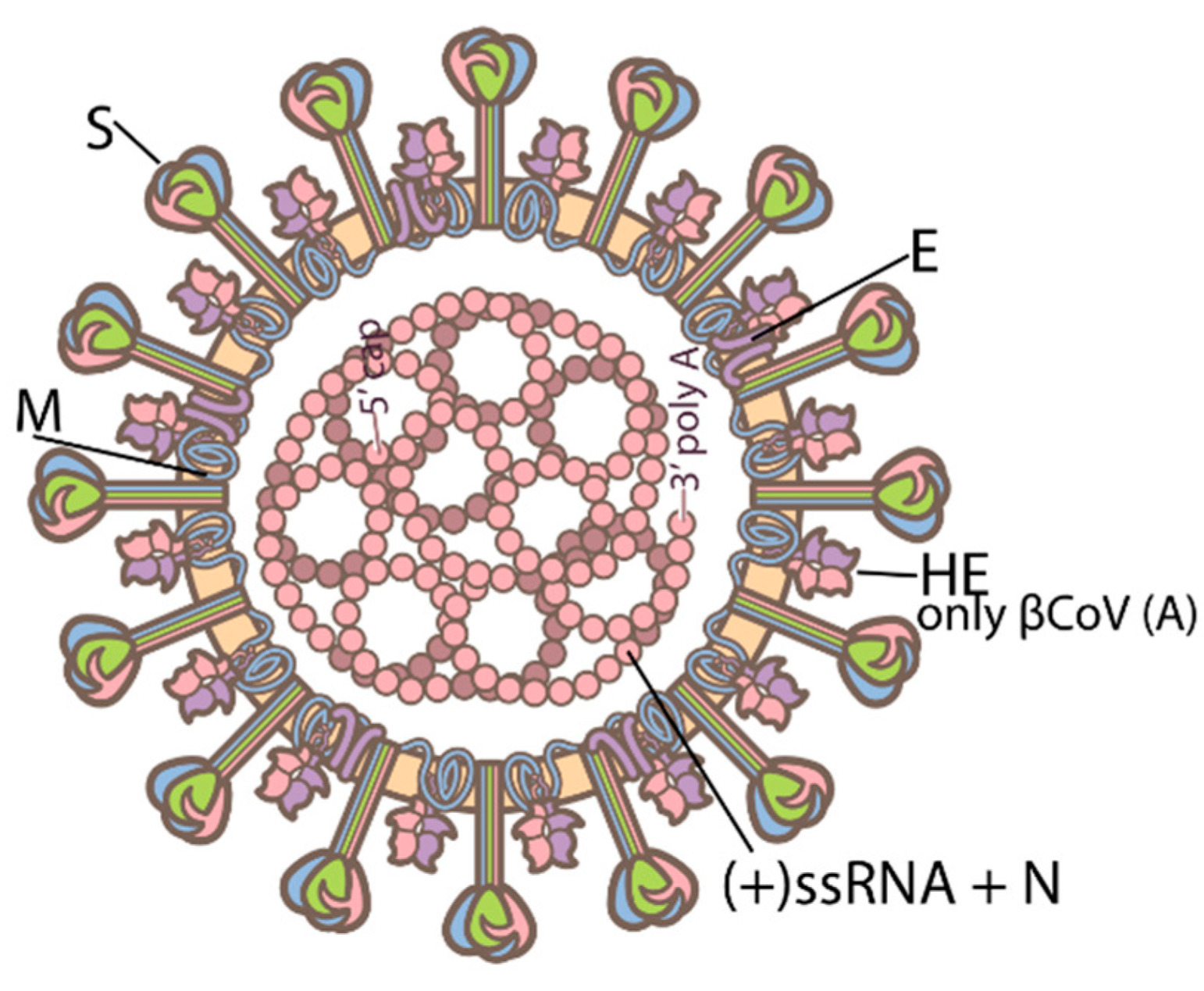 Clinically relevant species
The family Coronaviridae comprises 2 subfamilies:

Letovirinae (has no medically relevant species)
Orthocoronavirinae is divided into 4 genera:

Alphacoronavirus and Betacoronavirus (infect mammals)
Gammacoronavirus and Deltacoronavirus (mainly infect birds)

Most of the human-infecting species of coronavirus are found within the Betacoronavirus genus. The most relevant ones include:

Human coronaviruses (HCoV-OC43, HCoV-HKU1, HCoV-2293)
Severe acute respiratory syndrome coronavirus (SARS-CoV)
Middle East respiratory syndrome-related coronavirus (MERS-CoV)
Severe acute respiratory syndrome coronavirus 2 (SARS-CoV-2)
Pathogenesis
Transmission
Reservoirs:

Chiroptera (bats) are thought to be the origin host for all alphacoronaviruses and betacoronaviruses and, therefore, all human coronaviruses.
Camels can also be a reservoir for MERS.
Birds are the natural reservoirs and hosts for all of the gammacoronaviruses and deltacoronaviruses.

Routes of transmission:

Fecal–oral
Respiratory droplets and airborne spread
Contact with infected surfaces and fomites
Vertical transmission has been reported for SARS-CoV-2.
Virulence factors
Most coronaviruses have 4 structural proteins: S, E, M, and N.
S, E, and M proteins create the viral envelope.
The N protein forms a complex with RNA (nucleocapsid) and aids in the regulation of viral RNA synthesis.
The M protein projects on the external surface of the envelope and is important for viral assembly.
The E protein has an unclear function, although it may aid in virus release.
The S protein is a club-shaped surface projection that gives the virus its characteristic crown-like appearance on electron microscopy and is responsible for receptor binding and fusion with the host cell membrane.
Replication cycle
Coronaviruses bind to the host cell surface via the S proteins.

Viral entry occurs either by receptor-mediated endocytosis or through membrane fusion.
The virus escapes the acidified environment of the endosomes by transporting itself to lysosomes.

Coronaviruses have single-stranded, positive-sense RNA that can directly produce the proteins and new genomes in the cytoplasm.
The negative-sense strand template RNA is produced.
The new viral proteins are translated by the host's ribosomes.
The nucleocapsid protein binds with genomic RNA, and protein M is integrated into the membrane of the endoplasmic reticulum along with proteins S and HE.
An assembled nucleocapsid that contains the RNA moves into the endoplasmic reticulum to be encased and is released by exocytosis.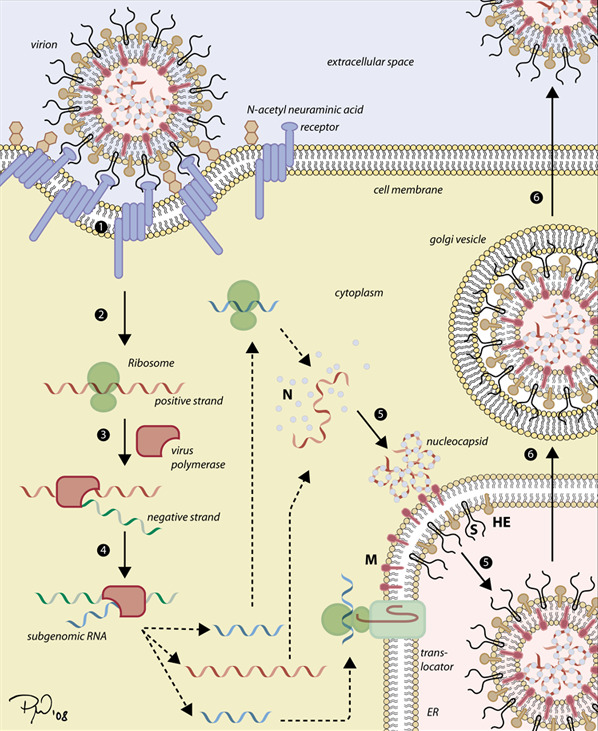 Diseases Caused by Coronaviruses
Common cold:

The common cold is usually caused by rhinoviruses.
However, coronaviruses cause 15% of common colds.
Incubation period: 3 days

GI infections:

Far less commonly caused by coronaviruses
Incubation period: 3 days
Usually presents as a very mild infection that causes diarrhea, diffuse abdominal pain, and vomiting
Rarely, can lead to neonatal necrotizing enterocolitis

MERS:

Emerged in 2012 in Saudi Arabia from dromedary camels.
Incubation period: 5 days
Clinical presentation ranges from asymptomatic infection to acute upper respiratory illness.
Can lead to rapidly progressive pneumonitis, respiratory failure, septic shock, and multiorgan failure, resulting in death.

SARS:

Emerged in 2003 in southern China from civet cats.
Incubation period: 4–6 days
Clinical presentation ranges from mild, flu-like illness with full recovery (25% of cases), to severe respiratory infection (approximately 70%), to death from respiratory failure (approximately 10%).
Usually manifests as low-grade fever, muscle pain, lethargy, cough, sore throat, and malaise
Can progress to dyspnea, pneumonia, respiratory failure, and death

Coronavirus disease 2019 (COVID-19):

Emerged in November 2019 in Wuhan, China, from horseshoe bats and caused a global pandemic
Incubation period: 2–14 days
Clinical presentation can range from asymptomatic or mild infections will full recovery (80% of cases), to severe respiratory infections (15%), to critical disease with multiorgan damage (5%) and death (2.2%).
Usually presents as dry cough, malaise, and fatigue and may be associated with hemoptysis, diarrhea, vomiting, headache, anosmia, dysgeusia, and chest pain
Can progress to pneumonia, ARDS, thrombosis, sepsis, multiorgan failure, and death
Table: Epidemiology of respiratory coronavirus diseases

| | MERS-CoV | SARS-CoV | SARS-CoV-2 |
| --- | --- | --- | --- |
| Date of first identified case | June 2012 | November 2002 | December 2019 |
| Location of first identified case | Jeddah, Saudi Arabia | Shunde, China | Wuhan, China |
| Average age | 56 years | 44 years | 56 years |
| Sex ratio (M:F) | 3.3:1 | 0.8:1 | 1.6:1 |
Table: Frequency of symptoms in respiratory coronavirus diseases

| | MERS (caused by MERS-CoV) | SARS (caused by SARS-CoV) | COVID-19 (caused by SARS-CoV-2) |
| --- | --- | --- | --- |
| Fever | 98% | 99%–100% | 87.9% |
| Dry cough | 47% | 29%–75% | 67.7% |
| Dyspnea | 72% | 40%–42% | 18.6% |
| Diarrhea | 26% | 20%–25% | 3.7% |
| Sore throat | 21% | 13%–25% | 13.9% |
| Ventilator use | 24.5% | 14%–20% | 4.1% |
Comparison of Similar Viruses
Table: Comparison of similar viruses
Organism
SARS-CoV-2
Rhinovirus
Coxsackievirus
Characteristics

Spherical
120 nm in diameter
Large nucleocapsid with helical symmetry
+ssRNA
Club-shaped S proteins

Icosahedral capsid
Non-enveloped
+ssRNA
Genomes 7200 to 8500 nucleotides in length

Icosahedral capsid
Small and non-enveloped
+ssRNA

Transmission

Aerosols
Respiratory droplets
Fomites
Vertical

Aerosols
Respiratory droplets
Fomites

Fecal–oral
Aerosols
Respiratory droplets
Fomites

Clinical

Fever
Dry cough
Shortness of breath
Anosmia
Hypoxia

Fever
Cough
Sneezing
Myalgia
Fatigue

Fever
Cough
Sore throat
Conjunctivitis
Herpangina
Vesicular rash

Diagnosis
Clinical diagnosis
Clinical diagnosis
Management

Careful observation
Hospitalization
Corticosteroids
Monoclonal antibodies

Self-limited illness
Symptomatic treatment

Self-limited illness
Symptomatic treatment

Prevention

Social distancing
Vaccination
Personal protective equipment
Respiratory hygiene

Social distancing
Respiratory hygiene

Social distancing
Respiratory hygiene
+ssRNA: positive-sense single-stranded RNA
References
Lee N, Hui D, Wu A, Chan P, Cameron P, Joynt GM, et al. (2003). A major outbreak of severe acute respiratory syndrome in Hong Kong. N Engl J Med https://pubmed.ncbi.nlm.nih.gov/12682352/
Tsang KW, Ho PL, Ooi GC, Yee WK, Wang T, Chan-Yeung M, et al. (2003). A cluster of cases of severe acute respiratory syndrome in Hong Kong. N Engl J Med 348:1977–1985. https://pubmed.ncbi.nlm.nih.gov/12671062/
Centers for Disease Control and Prevention. (2003). Severe acute respiratory syndrome. Centers for Disease Control and Prevention. Retrieved January 31, 2021, from https://www.cdc.gov/sars/index.html
Armed Forces Institute of Pathology. Severe acute respiratory syndrome (SARS). Armed Forces Institute of Pathology.
Hsu LY, Lee CC, Green JA, Ang B, Paton NI, Lee L, et al. (2003) Severe acute respiratory syndrome (SARS) in Singapore: clinical features of the index patient and initial contacts. Emerg Infect Dis 9:713–717. https://pubmed.ncbi.nlm.nih.gov/12781012/
Mole B. (2013). Deadly coronavirus found in bats. Nature. Retrieved 2019 Apr 10 from http://www.nature.com/news/deadly-coronavirus-found-in-bats-1.13597
Hemida MG, Chu DKW, Poon LLM. (2017). MERS coronavirus in dromedary camel herd, Saudi Arabia. Emerging Infectious Diseases 20:1231–1234. https://www.ncbi.nlm.nih.gov/pmc/articles/PMC4073860/
CDC. (n.d.). MERS in the U.S. Centers for Disease Control and Prevention. https://www.cdc.gov/coronavirus/mers/index.html,
Gallegos A. (2020). WHO declares public health emergency for novel coronavirus. Medscape Medical News. Retrieved January 30, 2020, from https://www.medscape.com/viewarticle/924596