General Characteristics and Epidemiology
Basic features of coccidioides
Taxonomy:
Order: Onygenales
Family: Onygenaceae
Genus: Coccidioides
Forms:
Dimorphic fungus
Exists as both mycelia or as spherules (asexual forms)
Reproduction:
No sexual form has been found.
Mycelia and spherules undergo binary fission.
Arthroconidia are the infectious particles of the Coccidioides species.

Transform into spherules in the lungs and tissues
Spherules are filled with endospores that burst and amplify the infection.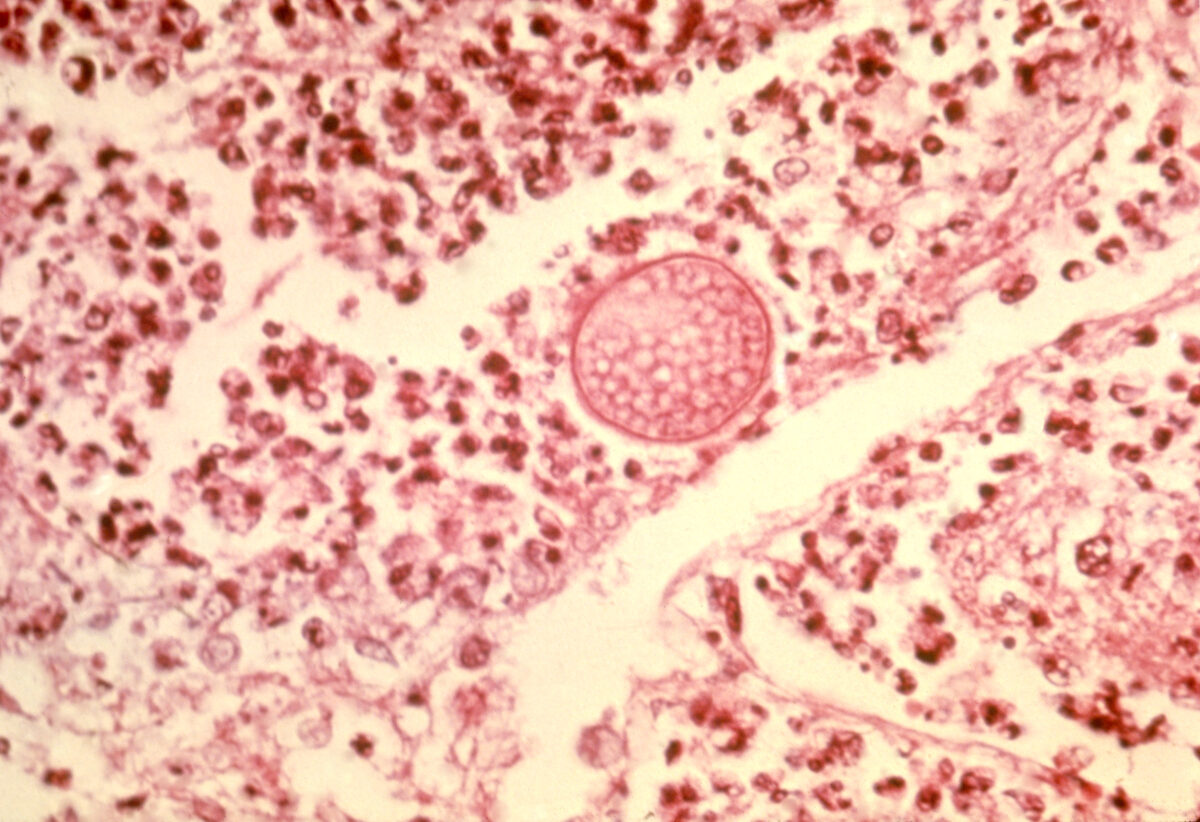 Clinically relevant species
Coccidioidomycosis (also known as San Joaquin Valley fever) can be caused by:
Coccidioides immitis
Coccidioides posadasii
Epidemiology
In North America, Coccidioides is endemic to the southwestern United States:

California
Arizona
Utah
Nevada
New Mexico

Approximately 30%–60% of people who live in endemic areas are exposed at some point.
Incidence: approximately 42 cases per 100,000 people

Highest incidence in elderly
Can cause 15%–30% of community pneumonia in these areas
Pathogenesis
Reservoir
Soil in endemic regions
Rodents may serve as animal reservoirs (no reported zoonotic transmission to humans).
Transmission
Coccidioides arthroconidia can become airborne when soil is disturbed, allowing transmission via inhalation.
Host risk factors
Progressive coccidioidomycosis is uncommon in healthy people, and risk factors include:

AIDS infection
Use of immunosuppressant medications
Chronic steroid use
Elderly
Pregnant patients
History of diabetes mellitus
African American or Filipino ethnicity

Those with high spore exposure are also at an increased risk:

Construction workers
Farmers
Archaeologists
Pathogenesis
Inhalation of arthroconidia → develop into tissue-invasive spherules

Enlarge and rupture, releasing thousands of endospores → can form new spherules
Can be self-limiting or cause pulmonary disease
Can trigger local inflammatory response

Infiltration of neutrophils and eosinophils
Granulomatous response with B and T lymphocytes and macrophages

Disseminated disease occurs via hematogenous spread (particularly in immunocompromised and pregnant patients)
Cutaneous disease can result from either:

Dissemination
Direct inoculation
Clinical Presentation and Diagnosis
The clinical presentation can vary from asymptomatic to life-threatening. The incubation period is 1–4 weeks after exposure.
Constitutional symptoms
Low-grade fever
Night sweats
Anorexia
Weight loss
Weakness
Chills
Pulmonary involvement
Chest pain
Dyspnea
Cough

Dry or with sputum
May present with hemoptysis
Cutaneous involvement
Cutaneous involvement may occur in conjunction with pulmonary involvement, with direct inoculation, or from disseminated disease.
Single or multiple granulomatous skin lesions
Abscesses
Draining sinus tracts
Immunologically induced eruptions:

Erythema multiforme
Erythema nodosum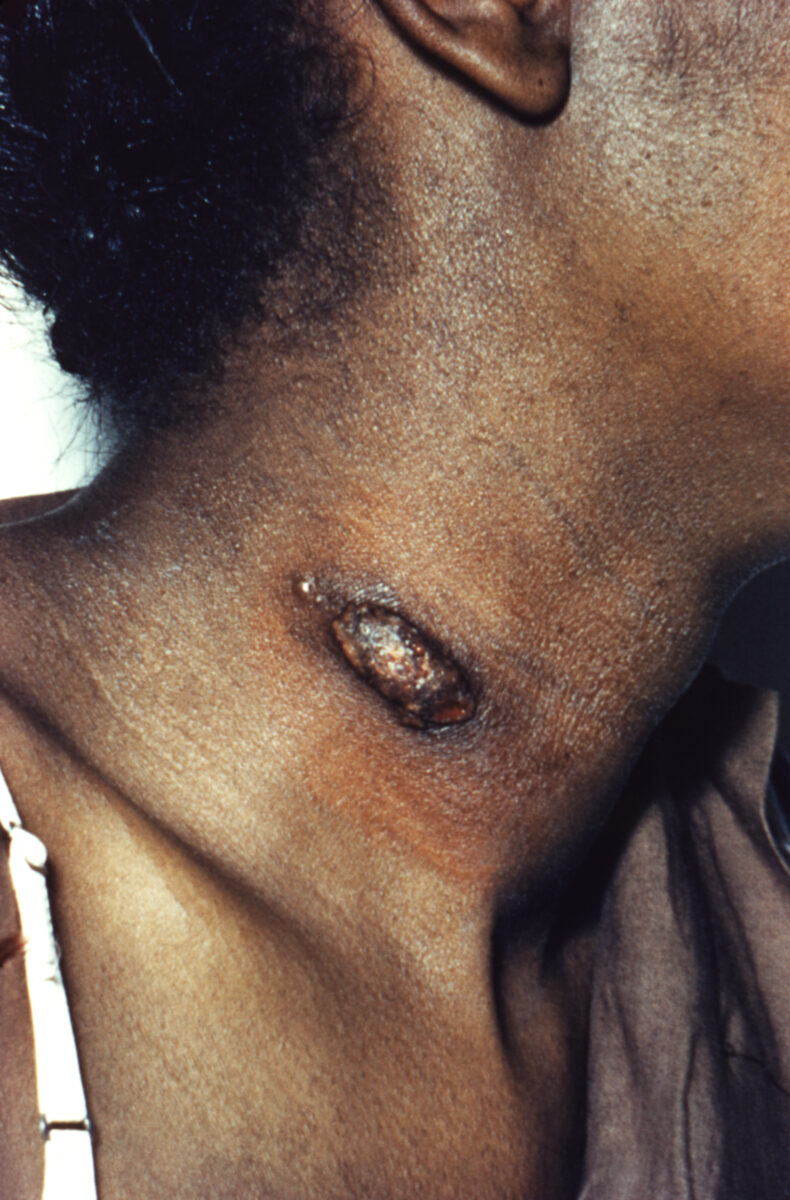 Disseminated infection
Disseminated infection is defined as disease outside the thoracic cavity and is considered an AIDS-defining illness. Patients can present with the following (this list is not exhaustive):
Meningitis
Muscle pain
Arthritis (particularly involving the knee)
Osteomyelitis
Classic triad of coccidioidomycosis
"Desert rheumatism" is often defined by the presence of:
Fever
Arthralgia
Erythema nodosum
Diagnosis
The diagnosis is made based on history and physical exam with supporting imaging and laboratory data.
Laboratory investigations
Fungal cultures
Microscopy for spherules in body fluid samples
Serologic testing

Enzyme immunoassay
Complement fixation (IgG antibodies)
Immunodiffusion kit (IgM or IgG antibodies)

PCR for lower respiratory tract samples (not widely available)
Urine antigen testing
Imaging modalities
Chest radiography

Pulmonary infiltrates, nodules, and cavities
Pleural effusions
Adenopathy

CT chest

Pleural infiltrates

Micronodular
Tree-in-bud sign
Multifocal ground-glass opacities

Pleural effusions
Hilar adenopathy
Cavities
Diffuse miliary pattern in immunosuppressed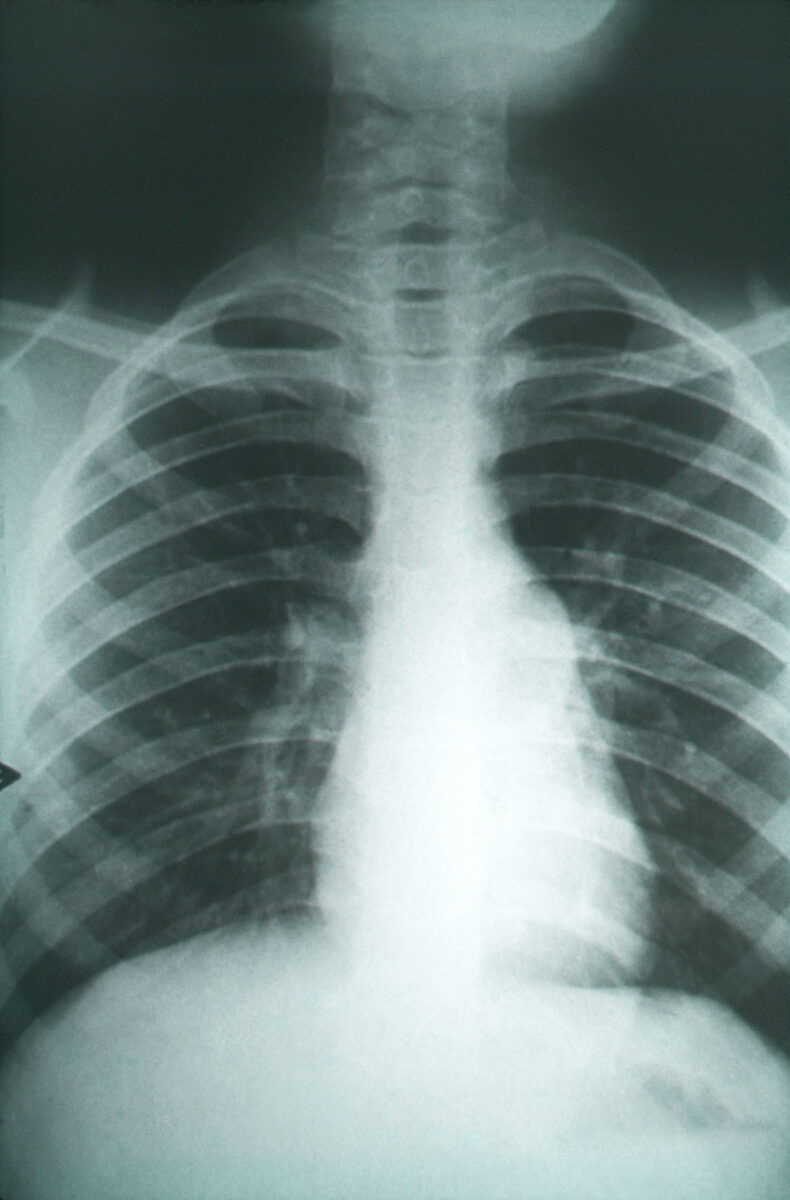 Invasive sampling
Bronchoscopy with bronchoalveolar lavage
Cerebral spinal fluid
Biopsy of infected site
Management
General treatment strategies
Mild asymptomatic cases do not require treatment.
Antimicrobials for symptomatic patients or risk factors for disseminated disease
Manage etiology of immunosuppression.
Supportive care with respiratory adjuvants and hemodynamic support
Surgery may be needed for progressive cavitary disease.
Antimicrobial therapy
Fluconazole (preferred) or itraconazole for mild-to-moderate disease
Posaconazole and voriconazole are alternative therapies.
Amphotericin B:

Preferred for severe disease or persistent infections
Switch to oral azole therapy once stabilized.
Complications and Prevention
Complications
Listed complications are associated with being immunocompromised and/or delay in treatment:
Severe pneumonia, progressing to ARDS
Pulmonary cavities

May require surgical resection
Secondary bacterial or other fungal pneumonia may result from an existing cavity.
Pyopneumothorax can result from a ruptured cavity.
Ruptured cavities can lead to bronchopleural fistulas.

Chronic fibrocavitary pneumonia
Disseminated disease
Prevention
It is difficult to prevent coccidioidomycosis when living in an endemic area. General strategies include:
Avoiding areas of dust (e.g., construction sites or excavation sites)
Wearing a respirator if unable to avoid dust
Avoiding contact with dirt
Avoiding dust storms
Addressing etiology of the immunocompromised state
Differential Diagnosis
Bacterial pneumonia: patients may present with fever, shortness of breath, cough, and malaise. A thorough history should address risk factors for typical versus atypical bacterial pneumonias. Diagnosis is based on history, exam, imaging, cultures, and antigen testing. Treatments include supportive care, supplemental oxygenation, and antimicrobials.
Blastomycosis: endemic to the Ohio and Mississippi River valleys and the Great Lakes regions of the United States. Blastomycosis can present with pneumonia, skin lesions, osteomyelitis, and meningitis. The diagnosis is made by identifying the organism in sputum or tissue samples, culture, PCR, or antigen testing. Antifungals are used for treatment.
Histoplasmosis: endemic to the Mississippi and Ohio River valleys. Patients can present with pneumonia, lymphadenopathy, hepatosplenomegaly, and oral ulcerations. Diagnosis is made with fungal cultures, serology, and antigen testing. Treatment is with antifungals and supportive care.
Tuberculosis: an infectious disease caused by the Mycobacterium tuberculosis complex bacteria. Pulmonary disease presents with fever, night sweats, cough, hemoptysis, fatigue, and weight loss. Extrapulmonary manifestations can include pleurisy, meningitis, Pott disease, pericarditis, and miliary disease. The diagnosis is established with tuberculin skin test, sputum culture, and lung imaging. The mainstay of management is anti-mycobacterial drugs.
Sarcoidosis: an inflammatory disorder characterized by noncaseating granulomas in the lungs, liver, brain, eyes, and skin. Diagnosis may be suggested radiographically and confirmed by biopsy. Treatment is with corticosteroids and other immunosuppressive agents.