Chemistry and Pharmacodynamics
Chemical structure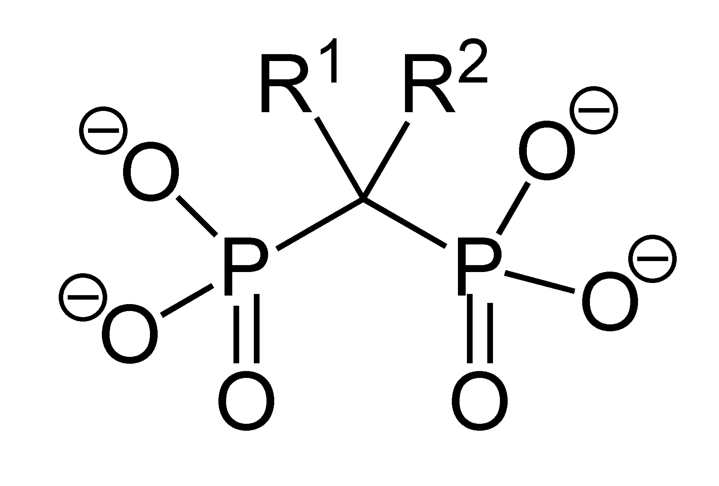 Pyrophosphate analogs, which mimic the structure of pyrophosphate
Common phosphorus-carbon-phosphorus chain
Long chain: R2 side chain determines the drug strength
Short chain: R1 side chain determines the pharmacokinetics
Mechanism of action
Bisphosphonates bind to hydroxyapatite crystals in the bone matrix.
Osteoclasts bind to and phagocytose bisphosphonate:

Nitrogen-containing bisphosphonates inhibit farnesyl pyrophosphate synthetase → promote detachment of the osteoclast from the bone
Simple bisphosphonates are metabolized to metabolites, which prevent ATP use → apoptosis

↓ Osteoclast-mediated bone resorption
Indirectly increase bone formation and bone mineral density
Pharmacokinetics
Absorption
Absorbed in the GI tract through paracellular transport
In general, poorly absorbed in the GI tract
Distribution
Binds bone
Preferentially binds to regions of bone with a high rate of turnover
Metabolism
Not metabolized
Long half-life (may exceed 10 years)
Excretion
Half excreted unchanged by the kidney
Half absorbed on the bone surface
Classification
Bisphosphonates are classified by structure. Bisphosphonate compounds are either nitrogenous or nonnitrogenous. The nitrogenous subtype contains nitrogen in the long chain (R2).
Nitrogenous (more potent osteoclast inhibitors):

Pamidronate
Alendronate
Risedronate
Zoledronic acid

Nonnitrogenous (simple):

Etidronate
Clodronate
Tiludronate
Indications
Bisphosphonates treat a number of conditions associated with bones:
Postmenopausal osteoporosis:

1st-line therapy
Increases bone mineral density

Prevention of osteoporosis related to:

Glucocorticoids
Androgen deprivation therapy

Paget disease of the bone (osteitis deformans):

1st-line therapy
Inhibits initial osteoclast overactivation

Bone metastases:

Reduces the risk of skeletal-related events
Zoledronic acid is preferred.

Hypercalcemia of malignancy: reduces bone resorption due to parathyroid-related peptide or bone metastasis
Hyperparathyroidism: improves bone density
Osteogenesis imperfecta (off label)
Adverse Effects and Contraindications
Adverse effects
Common:

Hypocalcemia due to decreased calcium release from bone
Hypophosphatemia due to decreased phosphate release from bone
Pill-induced esophagitis
Diarrhea
Constipation
Flatulence

Rare:
Very rare:

Dysgeusia
Alopecia
Peripheral edema
Avascular necrosis of the femur
Osteonecrosis of the jaw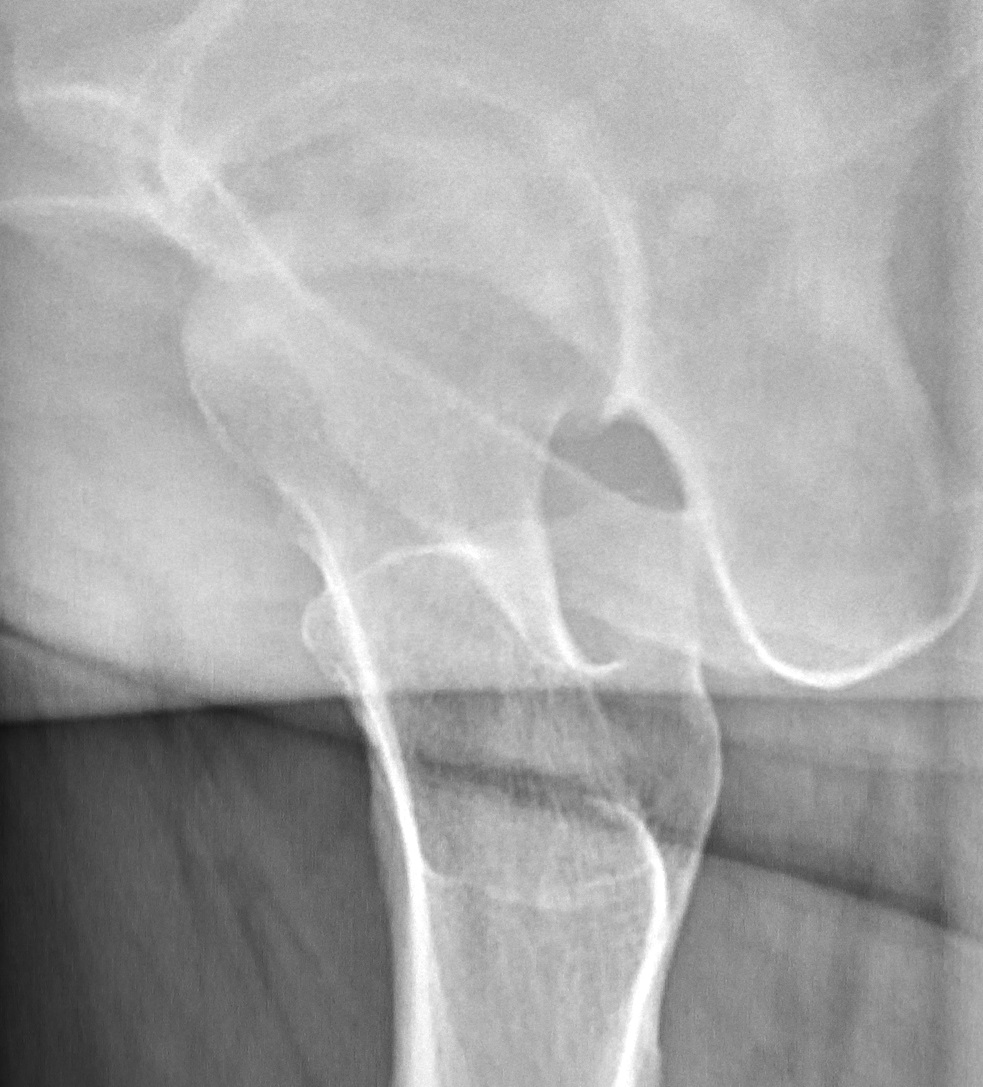 Warnings
Severe bone, muscle, or joint pain
Use caution in patients with renal disease.
Avoid in patients following bariatric surgery due to the risk of ulceration and poor absorption.
Contraindications
Hypersensitivity reactions
Hypocalcemia
Esophageal disorders with delayed esophageal emptying:
Inability to stand or sit upright for at least 30 minutes
Drug interactions
Aminoglycosides: exacerbate bisphosphonate-induced hypocalcemia
Aspirin: increase upper GI side effects of alendronate
Proton pump inhibitors: decrease bisphosphonate absorption
Comparison of Bisphosphonate Medications
Table: Comparison of medications within the bisphosphonate class
Medication
Classification
Half-life elimination
Indication
Alendronate
Nitrogenous
> 10 years

Osteoporosis
Paget disease

Risedronate
480–561 hours (terminal)
Pamidronate
Approximately 28 hours
In addition to the above:

Bone metastasis
Hypercalcemia of malignancy
Osteolytic lesions
Hyperparathyroidism

Zoledronic acid
146 hours (terminal)
Etidronate
Nonnitrogenous
1–6 hours

Paget disease
Heterotopic ossification

Clodronate
13 hours (terminal)

Hypercalcemia of malignancy
Bone metastasis
Paget disease

Tiludronate
40–60 hours
References
Rosen, H.R. (2020). Risks of bisphosphonate therapy in patients with osteoporosis. UpToDate. Retrieved June 11, 2021, from https://www.uptodate.com/contents/risks-of-bisphosphonate-therapy-in-patients-with-osteoporosis.
Rosen, H.R. (2021). Pharmacology of bisphosphonates. UpToDate. Retrieved June 11, 2021, from https://www.uptodate.com/contents/pharmacology-of-bisphosphonates?search=bisphosphonates.
Charles, J.F. (2020). Treatment of Paget disease of bone. UpToDate. Retrieved June 11, 2021, from https://www.uptodate.com/contents/treatment-of-paget-disease-of-bone.
Drake, M.T., Clarke, B.L., Khosla, S. (2008). Bisphosphonates: Mechanism of action and role in clinical practice. Mayo Clin Proc. PMID: 18775204. Retrieved June 11, 2021, from https://www.ncbi.nlm.nih.gov/pmc/articles/PMC2667901/.
Bikle, D.D. (2012). Agents that affect bone mineral homeostasis. Katzung, B.G., Masters, S.B., and Trevor, A.J. (Eds.), Basic & Clinical Pharmacology (12th edition, pp. 776). McGraw Hill.