Glucose-6-phosphate dehydrogenase deficiency (G6PD) is intravascular hemolytic anemia. It is inherited in an X-linked recessive manner. Patients have episodic hemolysis due to an identified oxidative stressor that causes damage to red blood cells (RBCs) which lack sufficient NADPH.
---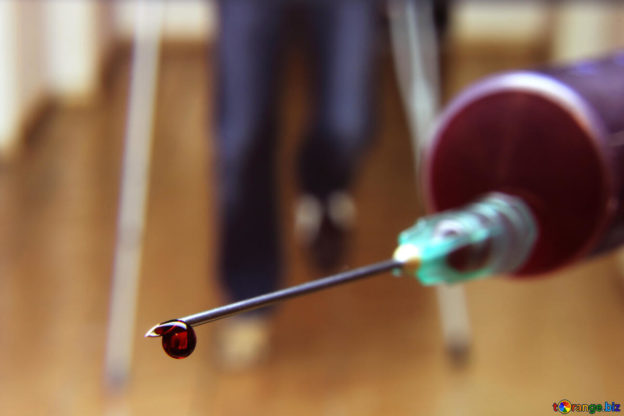 ---
Epidemiology and Etiology
Epidemiology
Found in Malarial Endemic regions; Mediterranean, African, Middle Eastern descent

Present exclusively in males as it is X-linked Recessive

Females can be silent carriers
Etiology
Mutation in the Glucose-6-phosphate dehydrogenase(G6PD) enzyme 

A single-base change that results in a single amino-acid substitution 

Mutation lowers the half-life of the enzyme 

G6PD deficiency results in a defect of the Pentose Phosphate Shunt during glycolysis

Inheritance is X-linked Recessive (band Xq28)
Video Gallery
G6PD Deficiency: Etiology by Carlo Raj, MD
G6PD Deficiency: Biochemistry of G6pd by Carlo Raj, MD
Pediatric G6PD Deficiency by Brian Alverson, MD
Pathophysiology
G6PD is the rate-limiting enzyme in the

Pentose Phosphate Pathway

G6PD enzyme is responsible for 

Oxidation of glucose-6-phosphate 

Reduction of nicotinamide adenine dinucleotide phosphate (NADP+) to NADPH 

NADPH maintains glutathione in its reduced form

Reduced glutathione is needed to neutralize oxidative metabolites

In RBCs, this is the ONLY pathway that produces NADPH.

Thus, a lack of G6PD results in a deficiency in NADPH and increased oxidative damage.

Oxidative stressors can denature hemoglobin and cause intravascular hemolysis.

Extravascular hemolysis would be due to splenic clearance of the deformed RBCs.
Common oxidative stressors

Drugs
Foods
Other

Sulfas (TMP-SMX)

Quinolones

Nitrofurantoin

Aspirin/NSAIDs

Methylene blue

Fava beans

Blue food coloring

Any infection

(most common)

Naphthalene (mothballs)

Diabetic ketoacidosis
Clinical manifestations
History of a trigger for the oxidative stress

Episodic Symptoms of Anemia

Pallor

Shortness of Breath

Fatigue

Tachycardia

Flow murmur (best heard at upper sternal borders)

Intravascular Hemolysis

Jaundice

Hemoglobinuria (cola-colored urine) – Hematuria

Neonate (Males)
Video Gallery
G6PD Deficiency: Clinical Pathology by Carlo Raj, MD
Diagnostics
Suspected in cases of episodic hemolytic symptoms.
CBC

↓ Hb

↑ Retics

↑ LDH

↓ Haptoglobin

↑ Bilirubin

Peripheral Blood Smear

Beutler test 

Done 2–3 weeks after an acute episode

quantifies NADPH/G6PD levels
Image:

Heinz Body (inclusions within the RBC) as seen on peripheral smear

by Ailuromancy. License: Public Domain
Image: Prevalence and molecular basis of glucose-6-phosphate dehydrogenase deficiency in Afghan populations: implications for treatment policy in the region:

"G6PD fluorescent spot test under ultraviolet light (365nm) (Beutler test) [[8]]. The left filter paper shows severe deficiency, and the two on the right show a normal reaction."

by Leslie T, Moiz B, Mohammad N, Amanzai O, Ur Rasheed H, Jan S, Siddiqi AM, Nasir A, Beg MA, Vink M – Malar. J. (2013). License: CC BY 2.0
Treatment
Prevention

Avoid oxidative stressors: infections, drugs, fava beans in the diet

During Hemolysis

If Hb < 9 with hemolysis – Blood Transfusion

Neonatal Jaundice – Phototherapy or exchange transfusion

Splenectomy considered in rare cases of chronic hemolytic anemia
Differential Diagnoses
Hemolytic Anemia

: Hemolytic Anemias encompasses anemia due to a shortened half-life of the RBC. The causes include extravascular ( extrinsic/intrinsic) or intravascular. G6PD is an extravascular, intrinsic type.

Sideroblastic Anemia

: It is microcytic anemia in which the bone marrow produces sideroblasts (ring-shaped

blood

cells) due to the inability of the body to place iron properly into hemoglobin. It presents with abnormal iron studies as well as splenomegaly.

Sickle Cell Disease

: A hereditary hemoglobinopathy resulting in hypoxia and anemia. They share demographics however, sickle cell disease is a chronic hemolytic disorder whereas G6PD deficiency is episodic and less severe.