---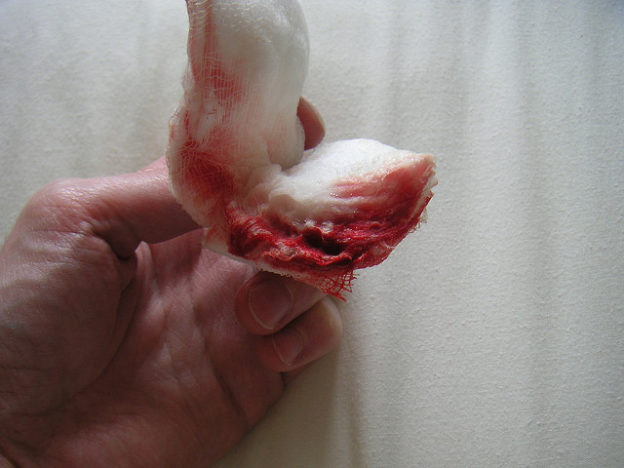 ---
Etiology of Hemoptysis
Coughing of blood is a consequence of a disease process and not a problem per se. It is important for the physician to accurately evaluate, diagnose, and manage patients presenting with hemoptysis. The causes of hemoptysis may be suggested by history taking, physical examination, or a simple investigation such as a chest X-ray. However, procedures such as bronchoscopy, bronchography, and pulmonary angiography may be needed to confirm the diagnosis. It is important to understand that minor bleeding may be an indication of severe disease; massive bleeding is associated with high mortality rates. Hemoptysis can occur in lung parenchymal disease, as well as airway and vascular diseases.
Small-vessel disease and hemoptysis
Certain immunological disorders, such as acute lung allograft rejection, Goodpasture's syndrome, Wegener's granulomatosis, and the antiphospholipid syndrome, are associated with small-vessel injury, hemorrhage, and eventually hemoptysis.
Patients with mitral valve stenosis and those on anticoagulant therapy are at an increased risk of small-vessel hemorrhage into the intra-alveolar space that could result in hemoptysis.
Although rare, pulmonary capillary hemangiomatosis and tuberous sclerosis may cause small-vessel disease-associated hemoptysis.
Large-vessel disease and hemoptysis
Hemoptysis related to small-vessel disease is rare. Infectious diseases, cardiovascular diseases, congenital malformations, malignant lung disease, and large-vessel vasculitis can present with hemoptysis.
Abscess, bronchiectasis, and fungal infections are the most commonly implicated infectious processes associated with hemoptysis. On the other hand, patients with uncomplicated pneumonia rarely present with hemoptysis.
Arteriovenous malformations are abnormal tangles of blood vessels between veins and arteries that are commonly found in the lungs. These vessels are fragile and associated with an increased risk of hemorrhage and potential hemoptysis. Large emboli in the pulmonary artery and rupture or dissection of a thoracic aneurysm are life-threatening and can cause hemoptysis. Patients with these conditions usually complain of severe chest pain, have known risk factors for embolic disease or aortic aneurysmal disease, and are hemodynamically unstable.
Patients with congenital conditions, such as cystic fibrosis and pulmonary artery atresia or stenosis, can also present with hemoptysis. In clinical practice, any patient presenting with new-onset hemoptysis should be evaluated for a possible neoplastic disease of the lung.
Bronchial carcinoma, lung metastasis, and adenomas are known to be associated with hemoptysis. As described earlier, vasculitis is associated with large-vessel disease and related hemoptysis.
Patients with a recent history of chest trauma might have lung contusions that can cause hemoptysis.
Cryptogenic hemoptysis
A significant number of patients present with hemoptysis of unknown origin, which is referred to as cryptogenic hemoptysis. While the exact etiology of hemoptysis is difficult to determine, it has been observed that a majority of these patients are smokers; therefore, the term 'smoke-related hemoptysis' has been suggested by experts instead of the term cryptogenic hemoptysis. High-resolution computed tomography scan of the lungs can reveal obscure etiology in patients previously diagnosed with cryptogenic hemoptysis. The table below summarizes the causes of hemoptysis.
Common causes
Uncommon causes

Bronchitis
Lung cancer
Bronchiectasis

Aspergilloma
Congestive heart failure (especially mitral stenosis)
Goodpasture's syndrome
Pulmonary

arteriovenous malformations

Pulmonary embolism/infarction
TB
Wegener's granulomatosis
Diagnostic Approach for Hemoptysis
Patients presenting with hemoptysis should primarily be evaluated for possible signs of hemodynamic instability. Life-threatening causes should be excluded by clinical history-taking and physical examination.
After excluding the life-threatening causes, a more sophisticated diagnostic approach should be employed for appropriate diagnosis to identify the etiology of hemoptysis.
Hemoptysis of pulmonary arterial origin is life-threatening and accounts for up to 95% of cases. It can be linked to pulmonary embolism or arteriovenous malformations. Hemoptysis should be differentiated from hematemesis and other similar conditions, which rarely induce asphyxia. Patients present with nausea, vomiting, and features of gastrointestinal disease. Lower- and upper-respiratory-tract hemoptyses should be differentiated due to the difference in management approaches. Blood from the lower respiratory tract induces cough, while expectoration of blood without cough is indicative of bleeding from the upper respiratory tract.
Chest X-ray
Chest X-rays should always be used as an initial step in the diagnosis of patients presenting with hemoptysis. Chest X-rays require no special preparation, are easy to interpret, inexpensive, and rapid. Additionally, the accuracy of chest X-rays in excluding life-threatening conditions of hemoptysis, such as massive pulmonary embolism and aortic aneurysm rupture or dissection, is reasonably high.
It is important to exclude the following causes by examining chest X-rays of patients presenting with hemoptysis: masses, pneumonia, chronic lung disease, or alveolar opacities. Focal or diffuse alveolar opacities can be related to focal or diffuse lung hemorrhages, respectively. Additionally, lung contusions in trauma patients can be identified by performing a chest X-ray.
Although a negative chest X-ray can be reassuring in the exclusion of life-threatening conditions, it is usually not sufficient to exclude other causes of hemoptysis such as malignant lung disease; therefore, a negative chest X-ray in hemodynamically stable patients warrants additional imaging studies prior to diagnosis.
Bronchoscopy
Patients with massive hemoptysis are good candidates for rigid or flexible bronchoscopy, which can identify the origin of the bleed and help determine optimal treatment. Bronchoscopy was helpful in identifying the cause of non-massive hemoptysis in 8% of patients compared to multi-detector computed tomography (MDCT), which was effective in 77% of patients. Thus, the role of bronchoscopy in patients with non-massive hemoptysis is questionable.
Although MDCT does not provide an option to retain bronchial patency or obtain a biopsy of the suspected lesion, it provides better identification of the etiology compared to the results obtained using bronchoscopy.
On the other hand, a recent study shows that while bronchoscopy is inferior to MDCT in the diagnosis of hemoptysis, it can be helpful in patients with non-conclusive or negative MDCT studies.
Multi-detector computed tomography
MDCT is superior to any other diagnostic modality in determining the etiology of hemoptysis, including bronchiectasis, pulmonary abscess, lung cancer, and large-vessel disease.
On the other hand, endobronchial lesions, such as blood clots from a previous hemorrhage, have been found to be misdiagnosed using MDCT; therefore, current recommendations suggest the combination of MDCT and bronchoscopy to improve diagnoses.
MDCT angiography is a recent technique that can be used to identify the possible origin of the bleed in patients presenting with pulmonary arterial hemoptysis.

This angiography technique can produce images in a single breath cycle. Hence, this procedure is ideal in patients who have tachypnea, especially those with pulmonary embolism.
Treatment of Hemoptysis
Treatment of hemoptysis is tailored to its etiology. Surgical treatment is recommended in patients presenting with hemoptysis due to chest trauma. On the other hand, patients presenting with massive hemoptysis that does not involve trauma are possible candidates for endovascular embolization. Endovascular embolization of the bronchial artery is implicated in 90% of patients presenting with massive hemoptysis.
A comprehensive diagnostic approach and treatment algorithm is recommended in patients presenting with non-massive hemoptysis. Treatment targetting the specific cause of hemoptysis using antibiotics and/or drainage of lung abscess should be resorted to if the chest X-ray is positive.
Patients with a negative chest X-ray should undergo MDCT and bronchoscopy to identify the cause of bleeding. If bleeding induced by adenomas, tumors, and arteriovenous malformations is surgically treatable, this option should be suggested.
Other causes of hemoptysis, such as small-vessel disease, vasculitis, bronchiectasis, and lung cancer, should be treated according to the currently available guidelines.
Patients with cryptogenic hemoptysis should be monitored for recurrent episodes. Smoking should be discouraged in such patients.