---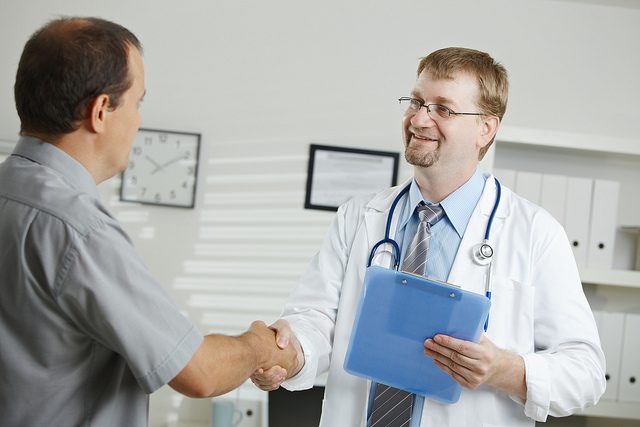 ---
The general practitioner (or family doctor) is the first contact for any medical issue or health concern his patients might have. Whether it is teenagers, parents, adults, or seniors; whether it is a simple cold, a cut wound, or even chronic diseases – the wide range of people with different concerns is what makes this job so special and challenging.
Patient-Physician Relationship
The particularities of a long-term healthcare relationship between physician and patient are especially important for the general practitioner. While medical specialists can also have long-term relationships with their patients, the contact mainly focuses on a certain problem area. It involves collection of the data related to health problems, diagnosis, plans to cure, healing, and support given to the patient.  For many people, the general practitioner is the go-to doctor for any type of health problem, and family members often consult the same practice.
This makes for a comprehensive patient-physician relationship, which encompasses both medical and biopsychosocial aspects. Biopsychosocial refers to the interaction between body and mind within a social context. The social context becomes apparent through the patient's descriptions about his life as well as through indirect anamnesis by information and impressions of family members.
The interview or interaction between patient and physician establishes the foundation of patient –physician relationship. By this interaction, patient is able to express his concerns about health, biological or psychological quality of life and physician gains his trust and satisfaction by actively participating in the interaction by delivering best care through his medical skills.
Interdisciplinary Actions
In line with a holistic approach to healthcare, general practitioners usually work closely in interdisciplinary collaboration with other (specialized) physicians and healthcare professionals. Interdisciplinary approach means a team of physicians and healthcare professionals who work together to assess diagnosis, medical or surgical intervention, setting of goal and creation of  a care plan. It is advisable as general practitioner to introduce oneself personally or by phone to the respective practices to get an impression of the treatments offered by other professionals.
Usually, cooperation partners of general practitioners are:
Physical therapists
Ergotherapy
Speech therapists (logopedics)
Psychologists
Home care nursing services/welfare centers
Mental health counselling services
Support groups
Emergency services
Referrals to a specialist are among the greatest responsibilities of the general practitioner. However, 80 % of cases are directly by general practitioner.  Referrals to a specialized colleague can include contracted services (radiography, lab tests), consultative examinations (e.g. for special diagnostics like gastroscopy in reflux cases), or continued treatment (e.g. complete further treatment by a rheumatologist in case of Bekhterev's disease).
Anamnesis in General Medicine
Anamnesis is the first contact with a patient and is a problem-oriented procedure that is limited to those aspects necessary for a successful treatment. It is basically medical history of the patient which requires to be explored thoroughly to provide effective treatment for health related problems.  It is a structured set of questions to be inquired about patient's personal or family history that is relevant to present problem. It is recommended to ask open questions:
Type and duration of the symptoms
First occurrence (time and circumstances)
Pain? Character and intensity?
Previous diagnoses or treatments?
Impressions, worries, fears of the patient
Occupational and/or familiy-related stress
If treatment is required, additional basic information has to be inquired during anamnesis in order to provide the patient with the best possible care.
Known pre-existing conditions (e.g. diabetes mellitus, high blood pressure, epilepsy…)
Allergies (especially medication) and intolerances
Alcohol, nicotine, or drug abuse
Medication
Women: pregnancy
Similar conditions in the family?
'Lived' Anamnesis
In German medicine, the term "erlebte Anamnese" ('lived' anamnesis; in the sense of participating, being involved) refers to a particularity of general practice: In the course of the patient care relationship, the physician gains a comprehensive picture of the patient's life, social and health conditions.
Repeated contacts in consultations, health check-ups and preventive examinations, occasional house calls, and the treatment of family members complete the picture of the patient and his living circumstances in the sense of an extensive family and social history. This way, the physician can document over the course of time all the relevant information.
Note: 'Lived' anamnesis is defined as information gathered over the long haul during continuous patient care, including medical (diseases, psychosomatic symptoms) and psychosocial (job, partnership, family situation, travels, stress) aspects.
This comprehensive picture of the patient provides the general practitioner with a firm foundation for any counseling or treatment decisions, especially with regard to developing mental problems (e.g., due to personal calamities, chronic diseases, or health problems) and general preventive actions. It also involves active participation of patient along with the physician to achieve goals of health. Therefore, 'lived' anamnesis is an important task for the general practitioner.
Decision-Making Rules in General Practice
Temporizing Inaction and Avoidance of a Dangerous Progression
In general practice, a physician is confronted with a very broad spectrum of clinical presentations and unselected patient information. Often, diagnoses cannot be made clearly or diseases are self-limited (e.g. common cold, simple diarrhea). Out of a number of 'harmless' cases, those that require immediate diagnosis and treatment have to be detected (so-called red flags). At the same time, it is important not to cause more harm than benefit through diagnosis and treatment. Thus, an important principle in general practice is temporizing/observing inaction while avoiding a dangerous progression.
There are two important aspects in decision making in general practice, generalizations and individualization. Generalizations means the physician places the patients health issues in a diagnostic category. Individualization means assessment of the patient and his behavior.
Requirement for the responsible application of this principle is an exact anamnesis and a thorough physical examination in order not to miss any significant aspects (e.g. appendicitis during a gastric flu epidemic). If a dangerous progression of the disease is unlikely, further diagnostics are deliberately forgone and the strategy of temporizing/observing inaction is chosen.
An important aspect of temporizing inaction is establishing feedback opportunities by either setting a follow-up appointment with the patient ("I would like to see you again in one week.") or a time limit ("Please come see me if the fever has not subsided in three days."). This enables you to observe the progression of the disease and to react to new symptoms or aggravations.
Double Hierarchization
A double hierarchization regarding frequency (prevalence) and urgency helps the physician in his/her decision-making.
Which disease is the most frequent cause for certain symptoms and therefore most likely? Which diagnostic measures are to be taken most urgently in order to avoid a dangerous progression (for a 60-year-old patient presenting with sudden onset of radiating chest pain, an ECG always has to be done in order to exclude, e.g., a myocardial infarction)?
With regard to treatment, there is also the issue of having to decide which symptoms are most urgent in case a simultaneous treatment of all symptoms at once is not possible. This decision is important to relieve most distressing symptoms to prevent any causality and ensure quality of life.
House Call
If a patient is physically not able to go to the physician's practice by himself due to medical or mobility reasons, a house call becomes necessary.
House calls can be agreed appointments or emergency calls if required at any time. For the family physician, can provide valuable insights into the living situation and environment of the patient in the sense of the 'lived anamnesis'.
Review Questions
Solutions can be found below the references.
1. Which concept describes the gathering of medical and biopsychosocial information about a patient during the continuous care relationship in general practice?
Social anamnesis
Lived anamnesis
Family anamnesis
Current anamnesis
None of the above
2. Which statement is false concerning house calls?
Physicians can replace a house call by electronic media/phone if this is sufficient in the individual case.
A house call offers the opportunity to assess the social and familiar circumstances of the patient.
A house call is necessary if the patient cannot reach the medical practice by his own efforts.
House calls can take place as both appointments and emergencies.
 A house call encompasses diagnostics and/or treatment of a patient in his own home.