Introduction and Epidemiology
Definition
Asthma is defined as the episodic obstruction of lung airways resulting from a chronic inflammatory condition.
Classification
Based on natural course:

Recurrent wheezing: caused by viral infections; usually resolves before patients are school-aged
Chronic asthma: allergy associated; usually persists into adulthood
Asthma with declining lung function: associated with hyperinflation in childhood and male sex

Based on disease severity while not on asthma medication (see Table 1):
Based on response to treatment (see Table 2):

Well controlled
Not well controlled
Very poorly controlled
Epidemiology
The most common chronic disease in childhood in developed countries
Prevalence in the US (0–17 years): approximately 9%
Among the most common causes of childhood emergency department visits, hospitalizations, and missed school days
80% of all asthmatic patients report disease onset prior to 6 years of age, but only a minority have persistent asthma later in life.
Etiology and Pathophysiology
Etiology
A combination of genetic and environmental factors cause asthma
Genetic factors: > 100 gene associations (no monogenicity)
Environmental factors associated with asthma:

Recurrent childhood wheezing: common respiratory viruses such as rhinoviruses, respiratory syncytial virus, adenovirus, influenza virus, parainfluenza virus, and human metapneumovirus
Home allergens can initiate airway inflammation in susceptible children.

Early childhood risk factors for persistent asthma:

Asthma in parents
Allergy including atopic dermatitis, allergic rhinitis, and food allergy
Severe lower respiratory tract infection such as pneumonia or bronchiolitis
Wheezing (not as a result of colds)
Male sex
Low birth weight
Passive tobacco smoking

Asthma triggers:

Allergens:

Dust mites
Animal dander
Molds
Cockroaches
Seasonal pollens
Seasonal molds

Air pollutants:

Environmental tobacco smoke
Ozone
Nitrogen dioxide
Dust
Sulfur dioxide

Strong odors such as perfumes
Occupational/lifestyle exposures:

Farms and barns
Paint fumes
Cold, dry air
Physical exercise
Emotional stress
Hyperventilation

Comorbid conditions:

Rhinitis
Sinusitis
Gastroesophageal reflux

Drugs:

Beta blockers
Aspirin and nonsteroidal anti-inflammatory drugs
Pathophysiology
Complex interactions between the following 2 components lead to airway obstruction:

Increased smooth muscle tone
Airway inflammation, edema and exudate with eosinophils and other inflammatory cells such as neutrophils, monocytes, lymphocytes, mast cells, and basophils

Inflammation is mediated by helper T cells that produce proinflammatory cytokines (interleukin 4 [IL-4], IL-5, and IL-13) and chemokines.
Exposure to triggers and lack of appropriate therapy further induces a combination of the following (see image below)

Inflammation
Airway hypersensitivity response
Basement membrane thickening
Subepithelial collagen deposition and fibrosis
Smooth muscle hypertrophy
Mucus hypersecretion
Clinical Presentation
History of chronic asthma
Most common symptoms: intermittent dry coughing and expiratory wheezing
Other symptoms:

Shortness of breath
Chest tightness
Chest pain
Self-imposed activity restrictions
General fatigue (possibly from poor sleep)
Limited physical activity
Worsening of symptoms at night or with triggers (see above)
Improvement of symptoms with asthma medications
Atopic dermatitis
Physical signs during exacerbations of asthma
Prolonged expiration with wheezing
Decreased peripheral breath sounds
Rhonchi or occasional crackles may be heard due to excess mucus production
Segmental crackles + decreased breath sounds may indicate asthma-induced atelectasis or lobar pneumonia
Peak expiratory flow in mild to moderate cases > 40%–70%
Severe exacerbations:

Respiratory distress
Suprasternal and intercostal retractions and nasal flaring
Expiratory and inspiratory wheezing
Markedly decreased breath sounds
Peak expiratory flow < 40%

Signs of imminent respiratory arrest:

Drowsiness or confusion
Paradoxical thoracoabdominal movement
Bradycardia
Absent wheezing
Peak expiratory flow < 25% (may not be required for evaluation)
Diagnosis
A diagnosis of asthma in children often involves a combination of careful history taking, physical examination, pulmonary function tests (usually feasible in children > 6 years), and radiologic studies to rule out other conditions.
Spirometry findings consistent with asthma:

Low forced expiratory volume in 1 second (FEV1) relative to predicted norms
FEV1:FVC (forced vital capacity) < 0.80

Main laboratory criteria consistent with asthma:

Reversibility in FEV1 with inhaled beta agonists by ≥ 12% or ≥ 200 mL
Worsening in FEV1 with exercise by ≥ 15%
Variation in peak flow (see Image 3) or FEV1 from day to day or AM to PM by ≥ 20%

Chest X-ray:

Typically normal in asthma
May show hyperinflation with flattening of the diaphragms during exacerbations or severe chronic asthma
Helps rule out other diagnoses such as aspiration pneumonia
Helps investigate complications such as atelectasis and pneumothorax during asthma exacerbations

Chest computed tomography scan: further delineates comorbidities, differential diagnosis, and complications
Skin prick testing for allergen sensitization
Genetic testing: only for exclusion of monogenic obstructive lung diseases that could be misdiagnosed as asthma (cystic fibrosis, primary ciliary dyskinesia), especially in patients with recurrent bronchitis and/or chronic productive cough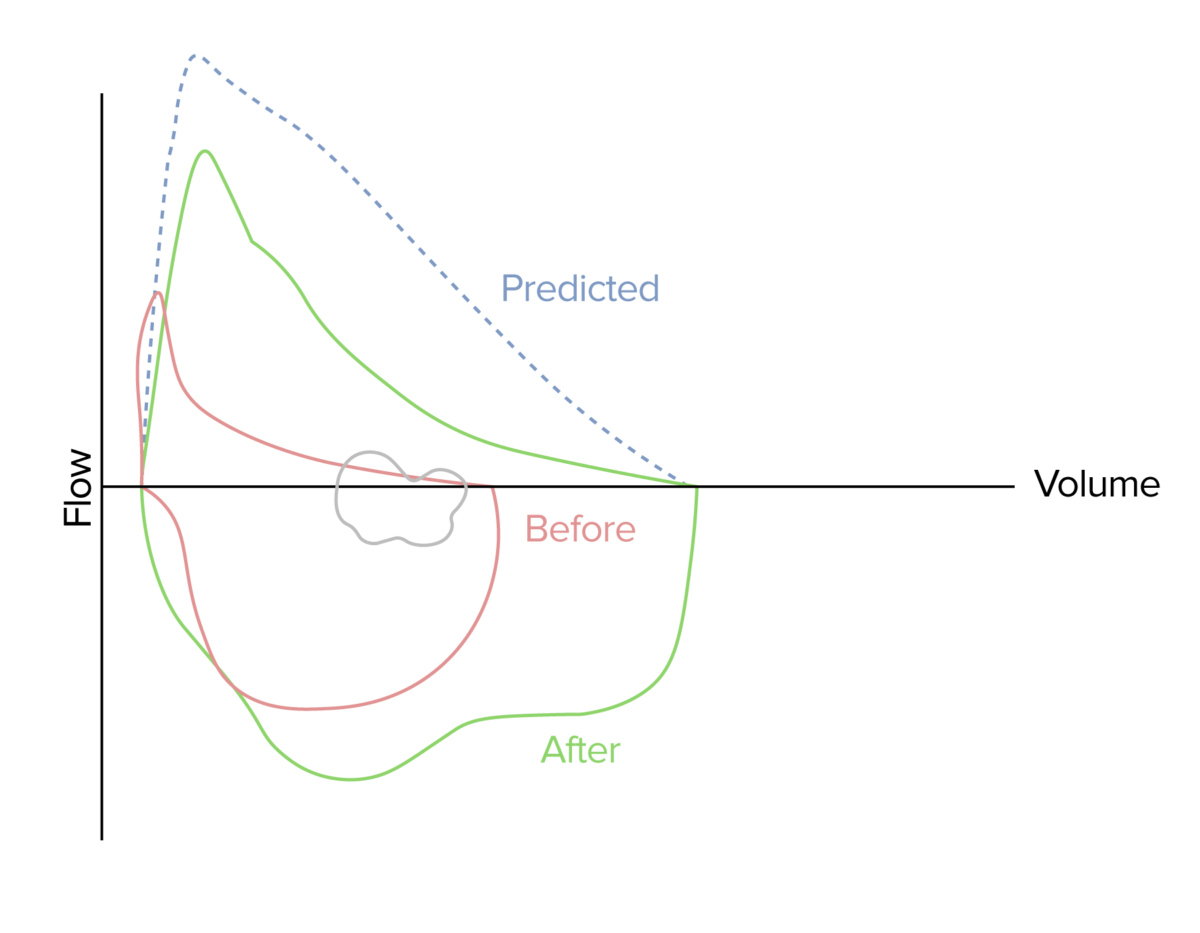 Management
The goal of asthma management is to prevent/minimize symptoms, exacerbations, and functional and psychological morbidity to provide a healthy lifestyle appropriate for the age of the child.
The management of asthma has 4 components:
Continued assessment and monitoring (initially every 2–6 weeks, later every 1–6 months) made through an assessment of impairment and risk:

Impairment: frequency and intensity of symptoms and resulting functional limitations
Risk: likelihood of exacerbations, adverse events from medication, and long-term deterioration of lung function

Education for self-management (includes exploiting nurses, pharmacists, clinics, schools, etc., in the education process):

Helping patients recognize their own level of control and signs of disease progression by peak-flow and/or symptom monitoring
Educating patients on environmental control, avoiding triggers and tobacco smoke, correct use of and adherence to medications, and difference between long-term and quick-relief medications

Identification and management of precipitating factors and comorbidities:

Identifying allergens through skin testing and counseling on avoidance strategies
Comorbidities may include bronchopulmonary aspergillosis, gastroesophageal reflux disease, obesity, obstructive sleep apnea, rhinitis, sinusitis, depression, stress, low vitamin D levels.
Influenza vaccination in all children > 6 months old with asthma

Appropriate selection of medications:

A step-up approach in pharmacotherapy is recommended to control impairment and risk. Once controlled, a step-down approach is implemented to maintain control on the minimum amount of medication (see Table 1 and image below).
Before every step up: assessment of adherence, appropriate inhaler technique, and environmental control for avoidance of triggers/allergens
Inhalers are best given with a spacer device to maximize efficacy.
Asthma medications are used for relief and control.
Medications for relief:

Short-acting beta 2 agonists (SABA; e.g., albuterol)
Systemic corticosteroids
Short-acting muscarinic antagonist (SAMA; e.g., ipratropium)

Medications for control:

Inhaled corticosteroids
Long-acting beta 2 agonists (LABA; e.g., formoterol, salmeterol)
Theophylline
Leukotriene modifiers
Anti-immunoglobulin E (IgE) antibody (omalizumab)
IL-5 monoclonal antibodies (mepolizumab, benralizumab)
IL-4 receptor alpha monoclonal antibody (dupilumab)
Inhaled cromolyn or nedocromil (not available in the United States)
Table 1: Classification of asthma based on disease severity while not on asthma medication and the recommended action for treatment
Component of severity
Classification of asthma severity
Intermittent
Persistent
Mild
Moderate
Severe
Symptoms
≤ 2 days/week
> 2 days/week
Daily
Throughout the day
SABA use
≤ 2 days/week
> 2 days/week
Daily
Several times/day
Nighttime awakenings
≤ 2/month
3–4/month
≥ 1/week
Nightly
Activity limitation
None
Minor
Some
Extreme
Lung function (only in children > 5 years)

Normal FEV1 between exacerbations
FEV1 ≥ 80%
FEV1/FVC > 85%

FEV1 60%–80%
FEV1/FVC > 80%

FEV1 60%–80%
FEV1/FVC 75%–80%

FEV1 < 60%
FEV1/FVC < 75%

Exacerbation requiring oral corticosteroid use
0–1 times/year
≥ 2 times/year
Recommended action for treatment
Step 1
Step 2
Step 3 + medium-dose inhalded corticosteroids (ICS)
Step 3 + medium-dose ICS, or Step 4 or 5
Consider a short course of oral corticosteroids.
In 2–6 weeks, evaluate for control and adjust dose accordingly.
Table 2: Classification of asthma control
Component of control
Well controlled
Not well controlled
Very poorly controlled
Symptoms
≤ 2 days/week
> 2 days/week or multiple times on ≤ 2 days/week
Throughout the day
SABA use
≤ 2 days/week
> 2 days/week or multiple times on ≤ 2 days/week
Several times/day
Symptoms
≤ 2 days/week
> 2 days/week
Throughout the day
Nighttime awakenings
≤ 1/month
≥ 2/month
≥ 2/week
Activity limitation
None
Some
Extreme
Lung function
FEV1
> 80%
60%–80%
< 60%
FEV1/FVC
> 80%
75%–80%
< 75%
Exacerbation requiring oral corticosteroid use
0–1/year
≥ 2/year
Acute Exacerbation of Asthma
Definition
Acute exacerbation of asthma is the acute or subacute progressive worsening of airway inflammation and obstruction in an asthmatic patient.
General features
Often occurs at night, during sleep
Decreased/absent response to SABA may result in a vicious cycle of shunting and further bronchoconstriction, leading to hypoxemia.
Exacerbations must be immediately assessed for severity (See table 3).
Management of acute exacerbations
At home:
Parents/guardians must have a written action plan and act early to prevent further worsening of symptoms:

Repeat SABAs 3 times in 1 hour (appropriate response: resolution of symptoms in 1 hour and PEF > 80%).
Contact physician if further exacerbations within 24–48 hours.
Use short course of oral corticosteroids and contact physician if partial response.
Call 911 if any sign of severe and persistent symptoms.
Use of home epinephrine autoinjectors and portable oxygen therapy may be indicated in extreme cases.

Emergency department:

Goals:

Correct hypoxemia with oxygen therapy
Rapid reversal of airflow obstruction with repeated doses of SABA and early use of systemic corticosteroids + SAMA (inhaled ipratropium)
Consider adjunctive treatments, such as intravenous magnesium sulfate or heliox, in severe exacerbations unresponsive to treatment.
Prevent recurrence by intensification of therapy ± short-term systemic corticosteroid therapy.

Requirements for patients with persistent severe symptoms and high-flow oxygen requirements:

Laboratory evaluation with complete blood count, comprehensive metabolic panel, and arterial blood gases
Chest X-ray
Monitoring for dehydration

Patients with any signs of imminent respiratory failure require endotracheal intubation and admission to a pediatric intensive care unit.
Table 3: Evaluation of severity — Clinical features during exacerbations of asthma based on severity

| | Mild | Moderate | Severe | Respiratory arrest imminent |
| --- | --- | --- | --- | --- |
| Alertness | Normal | Usually agitated | Agitated | Drowsy or confused |
| Respiratory rate (breaths/minute) | Increased | Increased | > 30 | Paradoxical thoracoabdominal movement or normal-low respiratory rate |
| Pulse (beats/minute) | < 100 | 100–120 | >120 | Bradycardia |
| Wheeze | End expiratory only | Throughout expiration | Throughout inhalation and expiration | Absent |
| Inspiratory/expiratory ratio (normally 2:1) | Inspiratory/expiratory ratio of 1:1 | Inspiratory/expiratory ratio of 1:2 | < 1:2 | N/A |
| Accessory muscle use | None | Common | Present | Present, but decreasing |
| O2 saturation | > 95% | 90%–95% | < 90% ± cyanosis | < 90% ± cyanosis |
| PCO2 (mm Hg) | < 42 | < 42 | < 42 | < 42 |
| Peak expiratory flow | ≥ 70% | 40%–69% | 25%–39% | ≤ 25% |
Differential Diagnosis
Rhinosinusitis: difficult to diagnose in younger children due to absence of localized sinus pressure or tenderness; may be a comorbid condition
Gastroesophageal reflux: can present with intermittent cough and wheezing; may be a comorbid condition
Younger children:

Recurrent aspirations
Tracheobronchomalacia
Foreign-body aspiration
Bronchopulmonary dysplasia
Cystic fibrosis
Primary ciliary dyskinesia

Older children and adolescents:

Vocal cord dysfunction: may present with daytime wheezing and stridor with coughing due to involuntary closure of vocal cords; spirometry and flexible rhinolaryngoscopy may confirm the diagnosis
Hypersensitivity pneumonitis in farms or bird-owner homes
Parasitic infestations or tuberculosis more commonly in rural developing countries
Chronic pulmonary disease, many of which may cause digital clubbing (absent in asthma)