Overview
Definition
Acute bronchiolitis is a clinical constellation of respiratory symptoms (increased work of breathing, wheezing, and crackles) caused by acute inflammation of the small airways (small bronchi and bronchioles), typically secondary to viral infections.
Epidemiology
Population statistics:

Peak incidence between 2 and 6 months of age
Leading cause of hospitalization of infants in the United States

Seasonal preference (respiratory syncytial virus (RSV)–related): fall and winter
Risk factors for severe disease:

Individual factors:

Prematurity (born < 37 weeks of gestation)
< 12 weeks of age
Low birth weight (< 2.5 kg)
Immunodeficiency
Congenital heart disease
Cystic fibrosis
Bronchopulmonary dysplasia (BPD)

Environmental factors:

Overcrowding (daycare or household)
Passive smoke inhalation
Contact with school-age siblings
Low socioeconomic status
Not breastfed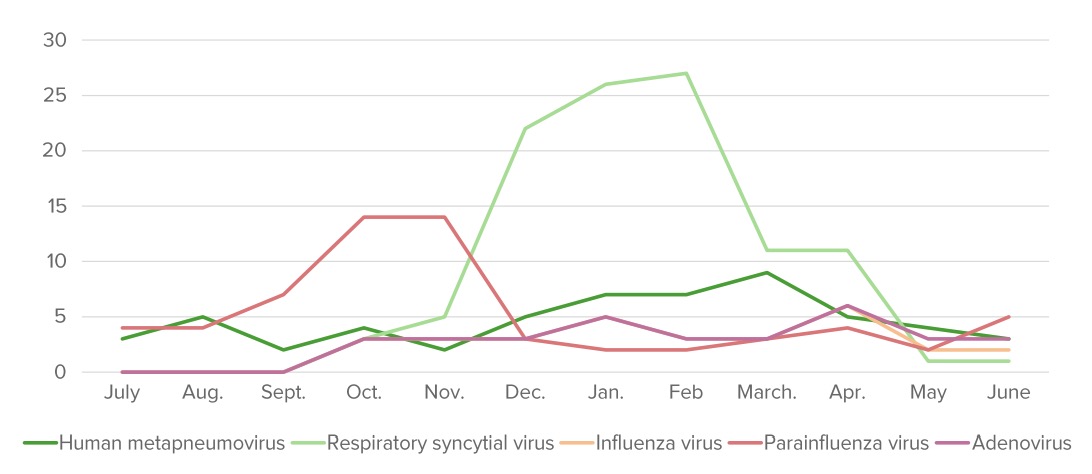 Etiology
Viral infection:

RSV: ⅓ of cases
Rhinovirus
Less common:

Parainfluenza virus
Human metapneumovirus
Influenza virus
Adenovirus
Mycoplasma pneumoniae
Pertussis
Pathophysiology and Clinical Presentation
Pathophysiology
Pathological changes are noted within 24 hours of contact with a pathogen:
Virus enters epithelial cells of terminal bronchioles.
Inoculation causes inflammation → edema, mucus secretion, and epithelium sloughing
Sloughing and edema → narrowing and obstruction of small airways
Narrowing results in atelectasis and symptoms begin to appear.
Clinical presentation
Symptoms are on a spectrum based on the severity of the disease:
Initial 1–3 days (upper respiratory tract symptoms):

Cough
Congestion
Rhinorrhea

Peaks on day 3–5, lasting up to 10 days (lower respiratory tract symptoms):

Wheezing and diffuse crackles on lung exam
Fever
Shortness of breath

Severe cases:

Apnea in infants, especially during sleep
Respiratory failure:

Tachypnea
Cyanosis
Nasal flaring
Grunting
Intercostal retraction
Hypoxia < 92% saturation
Diagnosis and Management
Diagnosis
Diagnosis based on clinical suspicion:

Characteristic lower respiratory tract symptoms
Patients < 2 years
Presenting during the fall and winter seasons

Further investigation:

High fever
Severe presentation
History of comorbidities

Routing testing of any kind is discouraged as it adds no additional therapeutic value.
Investigation in severe cases to evaluate comorbid conditions or superimposed infection:

Complete blood count (CBC): leukocytosis
Chest X-ray: hyperinflation with atelectasis
RSV testing on aspirate
Management
Management depends on severity:
Mild-to-moderate cases → supportive:

Caregiver education on upright positioning during sleeping and feeds
Use of cool-mist humidifier and antipyretic
Bulb suctioning of oral and nasal secretions
Maintain hydration and feeding
Follow-up if patient worsens

Severe (< 28 days old, apnea, respiratory distress, lethargic):

Admit for inpatient care
Humidified oxygen and nebulized hypertonic saline
Suctioning of secretions
IV hydration
No evidence to support use of albuterol, epinephrine, or corticosteroids

Complications, such as pneumonia and respiratory failure, can occur and must be managed accordingly.
Prevention and Prognosis
Prevention
Encourage breastfeeding.
Stop exposure to second-hand smoke.
Hand hygiene
Palivizumab (monoclonal antibody) in high-risk patients:

Meeting American Academy of Pediatrics (AAP) criteria for neonatal chronic lung disease:

Born at < 32 weeks gestation
Requiring supplemental oxygen during the first 28 days of life

> 1 year old at onset of RSV season OR >2 years old but requiring medication for neonatal chronic lung disease
Prognosis
Bronchiolitis is self-limiting, lasting 7–10 days.
Only 3% of patients require hospitalization, and recover completely within 28 days.
Differential Diagnosis
Asthma: an inflammatory airway disease that leads to bronchial luminal narrowing and thus obstruction of airflow. Characterized by cough, wheezes, and dyspnea. Asthma is usually diagnosed after the age of 2 and has known triggers, with reversibility of symptoms with bronchodilator use in all cases, differentiating this condition from bronchiolitis.
Pneumonia: infection of the lower respiratory tract that results in symptoms very similar to bronchiolitis in infants. Patients with bronchiolitis may develop atypical pneumonia due to superimposed bacterial infections or worsened viral infections. Chest X-ray findings typically lag behind presentation in these cases, so the diagnosis is made when a patient has sustained hypoxia with increased oxygen supplementation, consolidations on lung exam, and increased work of breathing.
Gastroesophageal reflux disease (GERD): Acid reflux into the esophagus in infancy and childhood may present with intermittent cough and wheezing. May also be accompanied by a lack of weight gain and increased irritability. Gastroesophageal reflux disease can be differentiated from bronchiolitis if symptoms correlate to feeding routine and not seasonality. Bronchiolitis usually presents with a history of upper respiratory symptoms prior to wheezing.
References
Teshome, Getachew, M.D., M.P.H., Gattu, R., M.D., & Brown, R., M.D. (2013). Acute bronchiolitis. Pediatric Clinics of North America, 60(5), 1019-1034. doi://dx.doi.org/10.1016/j.pcl.2013.06.005
Kliegman, R. M. et al. (2020). Wheezing, bronchiolitis, and bronchitis. In R. M. Kliegman MD et al., Nelson textbook of pediatrics (pp. 221–2221.e1). https://www.clinicalkey.es/#!/content/3-s2.0-B9780323529501004181
Justice NA, Le JK. Bronchiolitis. (2020). Treasure Island (FL): StatPearls Publishing. https://www.ncbi.nlm.nih.gov/books/NBK441959/