Should You Use the Lecturio Study Schedule?
How Long Should You Study for the USMLE Step 1?
Spoiler: 60 Days Can Be Just Right!
You don't have to be great to start, but you have to start to be great. (Zig Ziglar)
Every year, students across the United States ace their USMLE Step 1 exam and match into their residency programs of choice. We are convinced that ANY medical student can confidently pass the USMLE Step 1 exam. It's all about how you strategically plan and carefully study for the exam.
Traditionally, students spend roughly three months studying in a dedicated fashion for Step 1.
However, life and circumstances don't always give you the luxury of a dedicated 3-month period to study for the USMLE® Step 1 exam. Some medical schools might only allow for a single month of dedicated study time. Alternatively, students may find themselves with other responsibilities that don't allow them to study full-time.
When life gives you lemons, make lemonade! You can get ready to ace your exam in 60 days by studying in the most strategic way possible and make the most out of each day.
In 60 days, there's little time to be able to watch various lecture videos explaining all the basic science concepts a second time around, let alone taking down meticulous notes on every topic. Instead, the best use of your limited time will be to focus on learning high-yield medical concepts and practice taking USMLE®-style tests.
Lecturio's 60-day Step 1 study schedule guides you through all the relevant topics with a day-by-day plan of a combination of high-yield videos and study materials, quizzes, and matching Qbank questions.
Start your 60-day USMLE Step 1 learning path
From cell biology to nephrology and reproductive pathology: Get ready for the Step 1 exam step by step with an all-in-one study schedule set up for you at Lecturio.
How to Use the Schedule
1. Utilize the combination of learning materials
Each step in the study plan (within Lecturio, we call this a Learning Path), has two parts: a video lecture component and a Qbank component. You will study high-yield topics and immediately test yourself on them, every day for 60 days.
Daily active recall is what will help you retain the content, so don't ever skip the questions!
2. Focus on the high-yield stuff!
Lecturio's learning path only contains the key topics you need for USMLE Step 1, without extra discussions and unnecessary fluff. Time is precious and getting distracted in details you will not be needing can cost you valuable study hours.
The matched Qbank questions in every step match the topic proportions in the actual USMLE exam: Don't be surprised to encounter lots of Pathology questions. The goal is to prepare you efficiently for your exam by training you in exactly what you will encounter, not to cover each subject equally.
3. Stay consistent
It happens to all of us: We procrastinate and end up studying a lot in one sitting to catch up. Our advice is to make a serious effort to avoid this: The study schedule gives you a reasonable plan to cover topics every day. Go at your own speed, but do your best to keep up with the schedule. This way, you can avoid crashing after a big catch-up session and instead make use of the solid retention success that comes with consistent effort. So, if you're having a bad day, try to do at least a little instead of giving up on the day completely!
When you fall off the horse, get back in the saddle.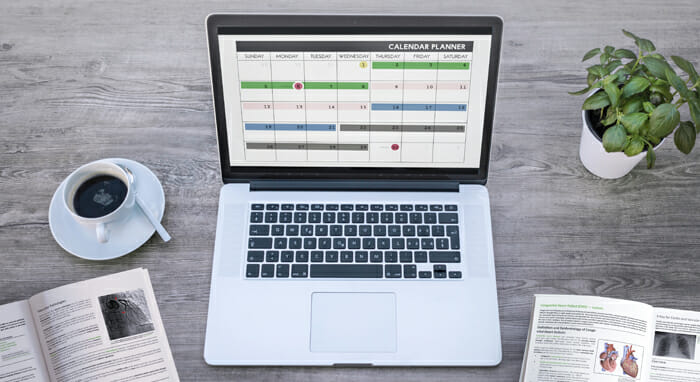 Final Thoughts
If you follow the 60-day study schedule, you should be in great shape on test day. Oh, sure, you might be nervous, but the confidence you have built up in yourself over the course of 99 days of intensive study can go a long way towards helping you overcome any amount of jitters. This is a test you can dominate because you'll be ready for it. This is an exam you can score outrageously well on because you made the commitment of time to hone your knowledge and to excel. You have what it takes to ace the USMLE Step 1 with confidence!