How is Lecturio's Qbank Unique?
The Lecturio Qbank allows you to create your own practice test to assess your learning progress and see which subjects you need to focus on, as well as what you need to review in order to prepare for your next exam. All USMLE®-style questions are based on the most recent NBME® standards, but you don't have to be preparing for the USMLE® for this Qbank to be helpful. It will help you to tackle any exam with full confidence.
The Lecturio Qbank also utilizes Adaptive Review. This is a feature that enables you to review Lecturio video lessons that are related to specific topics covered in your Qbank test(s). Directly after the test, or by going to your previous tests, you will be able to start your Adaptive Review, either by selecting all Subjects and/or Systems, or by selecting only specific ones.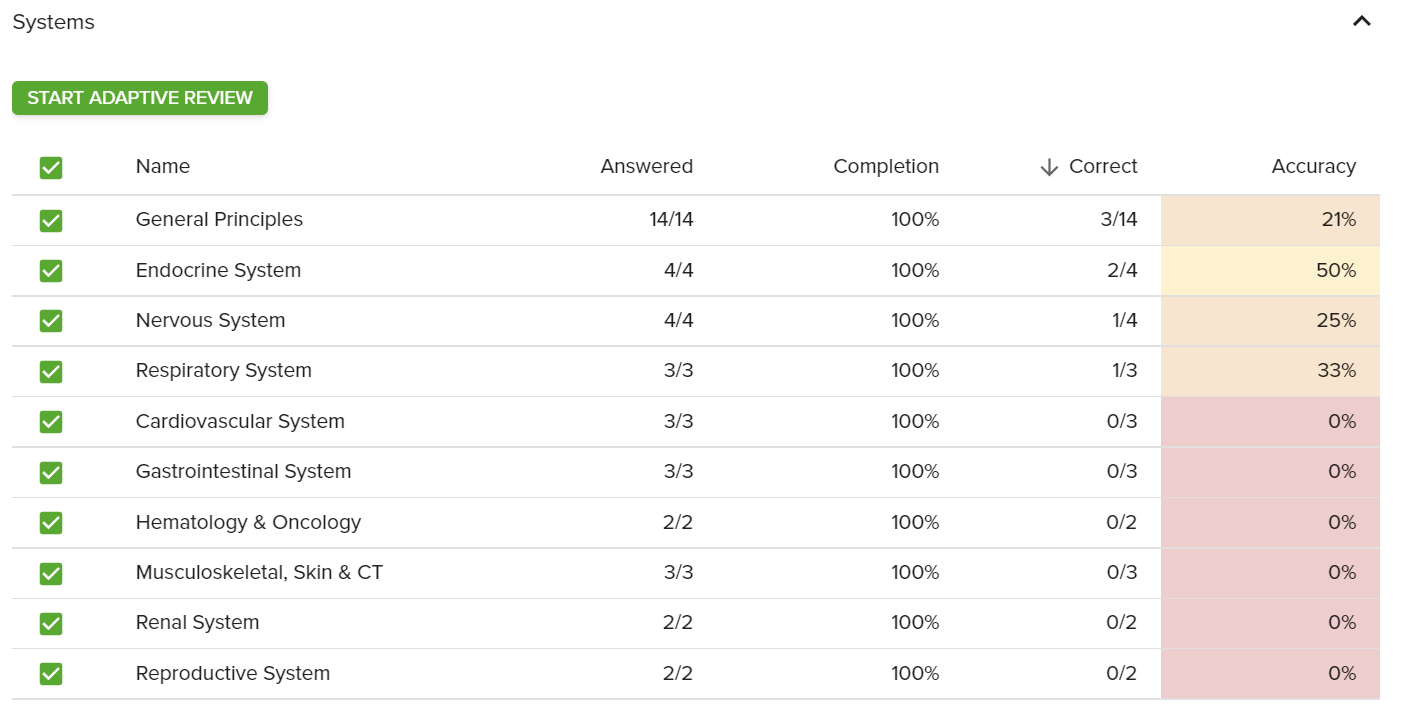 Please note that not all questions have a corresponding video lesson, so you may see an error message asking you to select a different Subject or System.
Let's dive into just how to use the Lecturio Qbank to simulate exam day as well as learn high-yield medical concepts.
How Can I Use the Qbank?
1. Start a Test
Create a test block and switch on the Tutor Mode if you are only interested in checking to see if you have understood concepts.
Choose the Timer Mode to practice answering questions with a time limit. Next, choose the topic(s) and system(s) you want to be covered. To simulate a USMLE® test block, set the number of questions to 40. Replicating actual test conditions will help you get a realistic idea of what to expect on test day.
2. Answer a Question Block
This is the moment of truth! Start working through the question set. First read the last two sentences of the question, as this is how you'll know what you'll need to answer, and quickly scan the answer choices. Then, carefully re-read the entire question. Cross out answers that are obviously incorrect (this will help you get to the correct answer faster). All NBME® test features are included in the Qbank, which means there will not be any surprises on the actual test day.
3. Review Your Test
After ending the block session, use Review Test Mode to carefully reread all the questions and review in-depth explanations for both your correct and incorrect answers. Is a concept new to you, or do you need to revise? That's where Adapted Review comes into play. Watch the integrated Lecturio videos or review the linked concept pages. Studying with Lecturio's Question Bank helps you practice essential multi-step thinking.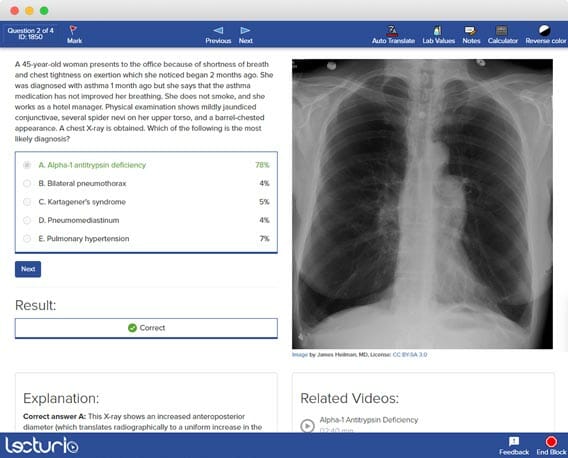 You can keep track of your performance by checking the detailed statistics in your profile. Each Qbank question will expand your knowledge and familiarize you with the best way to work through these types of questions.
What Other Lecturio Resources Can I Use with the Qbank?
Lecturio has a whole host of resources available to you. In addition to the Qbank, we also have high-yield medical video lessons, scientifically-accurate 3D anatomy models of the human body, study schedules, the Medical School Survival Guide, the Lecturio Bookmatcher®, and much more.
You can also keep up with the Lecturio App, available for both iOS and Android. Learn anywhere and anytime–even if you're offline. Get a new daily USMLE® question sent to you every morning and benefit from detailed answer explanations.
Lecturio is committed to your success as a medical student. By providing you with the best tools – like the Qbank – we're sure we will meet our goal of helping you not only survive medical school, but thrive in medical school and beyond!
Happy studying!