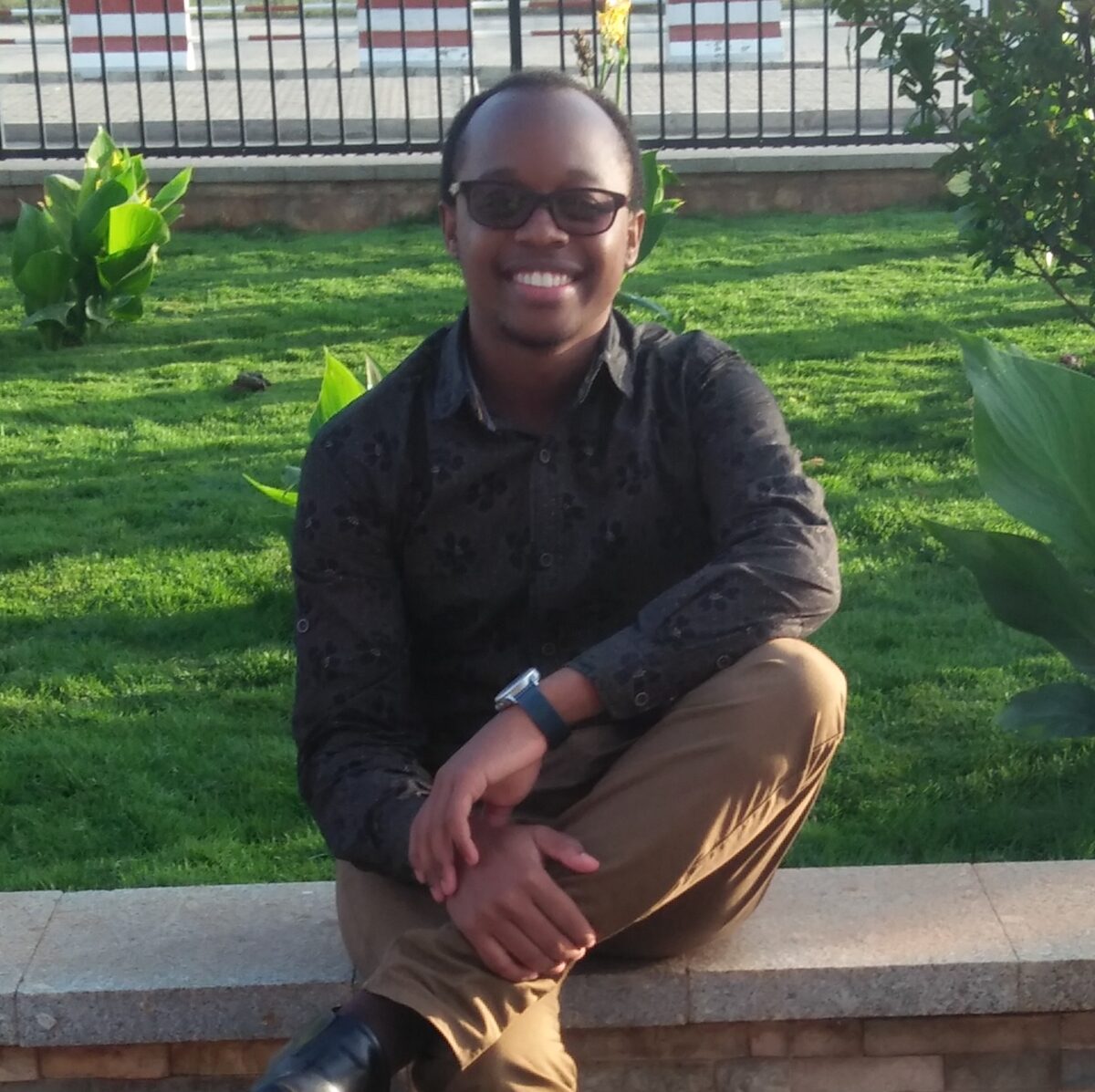 Nicolas Kioko
from Kenya
Nicolas Kioko, a fourth-year medical student at the Moi University of Medicine, has been dedicating himself to both his studies and advocacy. He is currently working towards a MBBS degree, but during the pandemic Kioko had to adjust his curriculum and extracurricular involvement to the circumstances created by COVID. When his classes were paused for a year, these adjustments to his routine introduced him to why advocacy is so essential and why it should be something all medical students are engaged in. He is currently working in a hospital and with the Medical Students' Association of Kenya (MSAKE).
What Was Your Life Like Before COVID?
Before COVID, I was in a normal school program. I was in my first rotation of the academic year. My normal routine was to wake up in the morning and attend classes. After class, I would go to the wards from 9 a.m. to 1 p.m., Africa time. Classes would start again at 2 p.m., depending on how available our consultants were. We usually use the term consultants here, but in the US the title is close to specialist or physician. I was in my pediatrics rotation and part of the surgery rotation before COVID. Pediatrics was busy because we have a lot of things to do. There are a lot of diseases that affect children in Kenya.
In surgery, we had a couple of set rotations, including pediatric surgery and neurological surgery. We had cardiothoracic surgery, general surgery, urology, and so on. We actually have seven sets in our surgery rotations that we do. Each of them is done for one week. It's quite enjoyable, but it's also a lot of work. That is expected of course because as a medical student, you have to find the time to go to check patients and also get the time to study.
The difference between pre-COVID and post-COVID included not wearing masks or taking any COVID precautions because we didn't know COVID was going to exist. The time and experience pre-COVID was amazing for a medical student. I was in the first two rotations of my clinical years. At Moi University, clinical years start in fourth year and go to sixth year. First year to third year are the pre-clinical years. I felt like I was really becoming a doctor because I was applying the knowledge I learned pre-clinicals to treat a patient and that was a good feeling.
What Were Some Major Changes You Noticed Because of COVID?
First, COVID reached Kenya in March 2020. At the beginning of March I had flown to Rwanda for a general assembly of the International Federation of Medical Student Associations (IFMSA). During the general assembly was when COVID started hitting Africa. I started practicing COVID precautions because it was becoming normal to take temperatures at the airports, practice social distancing, and so on. By the time I came back from Rwanda, we had two cases in Kenya already. There were a lot of precautions when entering the country, such as taking my temperature. I felt okay when I went back to school. I spent one or two weeks in school, then COVID escalated in the country, so the government closed schools in order to control the transmission. All the students had to go home. Only the residents in hospitals could possibly stay in school because they were important healthcare providers.
The week after I went home, I started developing COVID symptoms. I had a sore throat, felt feverish, and had a headache and body pains. I went to the hospital to report these symptoms. Many tests were done and they were negative. The only test that was remaining was for COVID, so the hospital put me in isolation. I was in isolation for two days. The first day they took a sample. On the second day, fortunately, the test came back negative so I was allowed back home. That was really a defining moment.
How Were Your Studies Affected by COVID?
We didn't have online classes for a very long time when schools closed. Deciding to do online learning or not was a very big debate. As medical students, especially in the clinical years, you can't do theory classes online. You need the practical experience, the interactions with patients. The universities in Kenya, and other universities in low and middle income countries, may not be able to afford to implement virtual ways of interacting with a patient.
Other universities, such as mine, didn't have online classes last year. This meant we had to take a pause in classes until our classes started in January 2021. In January, we had one month of online classes which were mostly theory classes that remained from last year. We used Zoom, which I think was a good and convenient experience. Some students faced barriers such as internet access, though. As of May 2021, we are still doing blended learning. Our theory classes are online and the clinical practice of interacting with patients is in-person. We do online classes in the morning then we go to rounds. After going through rounds and completing everything by lunch, we have another set of classes online.
How Did the Pause in Your Courses Affect Your Job Preparation?
The pause was a terrible experience because one of the worst things to do to medical students is to put a pause on academics. This pause lead to a break in the chain of learning. I learn from being engaged with my learning, including the interaction with the patients and participating actively in clinical rotations. I would have wished to continue with learning. In my opinion, it was not the best move by our government. As a medical student, I am preparing to be a healthcare provider. Being a healthcare provider means sacrificing yourself. The pandemic is something medical students are supposed to be involved in. We can know what to do in the case of future pandemics.
COVID, , which we didn't a lot about at the start of 2020, had fewer cases in March 2020 compared to now. We have still managed to continue with learning and protecting ourselves. The break did make students feel disconnected. When we came back we really had to read a lot and to catch up where we left off. We were left with one week of rotations then we did our examinations. That means I had to cover all the work that I lacked before and remind myself of the basics before going for exams.
What Did You Do During Your School's Break From Learning?
Since March 1, 2020, I have been the president of Medical Students' Association of Kenya (MSAKE). I was privileged to work with the Kenya Medical Association, an association of medical professionals. Our two associations are in a good working relationship and long-term partnership. When COVID started and all the schools were closed and students were at home, we started debating ways to engage medical students in reacting to the increasing pandemic within the country. We started putting students into active groups where we would come up with posters and educational webinars to sensitize other students about this disease. We taught the students skills to educate their communities on prevention or other public health measures that have been stipulated to stop the spread.
I'm really happy a high number of students were interested in that. We organized so many webinars. We organized webinars with people from the community and we were telling them COVID-19 is real and what to do to prevent further progression of the disease. We also did some groundwork in that partnership. We managed to reach out to the communities and distribute some Personal Protective Equipment. It was not much, though. I think what we distributed was a great contribution, to an extent. We also ensured active participation and sensitization of medical students because these types of things might happen in the future. If that happens, we will be part of the front-line workers.
What Has COVID Taught You?
COVID was a blessing in disguise in somehow. Even though we lost a lot of school time, I still learned a lot from that experience. It made me realize what being a healthcare provider will actually look like. It's a sort of professional sacrifice. A lot of healthcare providers succumbed to the pandemic. They became infected doing what they took the oath to do. This realization helped me that being a healthcare provider is a calling. I'll be there in good times and in bad times, and I should be prepared to be out in the field to fight against these things.
It also motivated me to put more efforts in my academics and gain more knowledge about being a frontline worker. There will be decision-making in the future and there will be strategies developed to manage future pandemics. This last year highlighted the importance of pandemic preparedness.
Pandemic preparedness is not something we have in our academic schedule.
During the break, we made initial efforts to organize webinars with a few pandemic specialists to highlight some few significant points in pandemic preparedness. I also plan to be an advocate for a change in the medical training to include pandemic preparedness.
Medical students need to be involved in advocacy work. I think we are lacking in advocacy work; most of my classmates are just studying and focusing on medical training. What they forget, though, is whatever happens in the hospitals, whatever happens in the wards with a patient's outcome is somewhat determined by the healthcare policies developed by decision makers. Medical schools should teach and incorporate some training on healthcare advocacy. I think it would really help when we are in the medical field and put in charge of a hospital. Students should know what to do instead of just learning in the field.
How has COVID-19 changed your med school routine?
If you want to share your story with us, please email us at students@lecturio.com (subject: "Pandemic Perspectives") and we'll be in touch!