Key Strategies for Preparing Your Students for the Next Gen NCLEX®
As a faculty member, you already know about the new NGN question formats, but would you like to learn how to teach your students key strategies on how to succeed on these questions? Let a veteran NCLEX® educator show you how you can best prepare your students for encountering Case Studies, Bow-ties and Trend items. We are excited to invite you to an interactive and practical session where you will leave equipped to prepare your students to face the NGN.
Prof. Rhonda Lawes, PhD, RN, a current nursing educator and Lecturio's Chief Nursing Officer, has 20 years of experience teaching NCLEX® reviews on a national level. She will guide you through key strategies you can use to prepare your students to take the NGN like a pro! You will leave the webinar with practical teaching strategies that you can implement in the classroom the very next day and an individualized plan for how to implement these strategies into your daily routine.
Key Strategies for Preparing Your Students for the Next Gen NCLEX®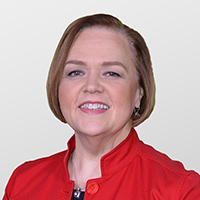 Chief Nursing Officer at Lecturio

Current educator in BSN program – emphasis on nursing research and advanced pathophysiology and pharmacology
Award-winning, certified nurse educator and PhD in educational psychology with 30+ years of nursing experience