Next Gen NCLEX-RN® Study Plan
Excel on the NCLEX with Lecturio's comprehensive
review course
A Proven
Success Strategy
Lecturio's comprehensive Next Generation NCLEX-RN study plan offers expertly crafted content and innovative learning tools for a dynamic learning experience.
Learn how to identify and approach different question types – even when you're guessing.
Deepen your understanding of unfamiliar concepts with supplementary video and library content.
Get practical exam-day experience with a simulated testing environment and realistic question types.
Seek
personalized support
Connect with your peers and nursing educators on Lecturio's Discord community.
Apply your knowledge and test-taking skills to optimize exam-day performance.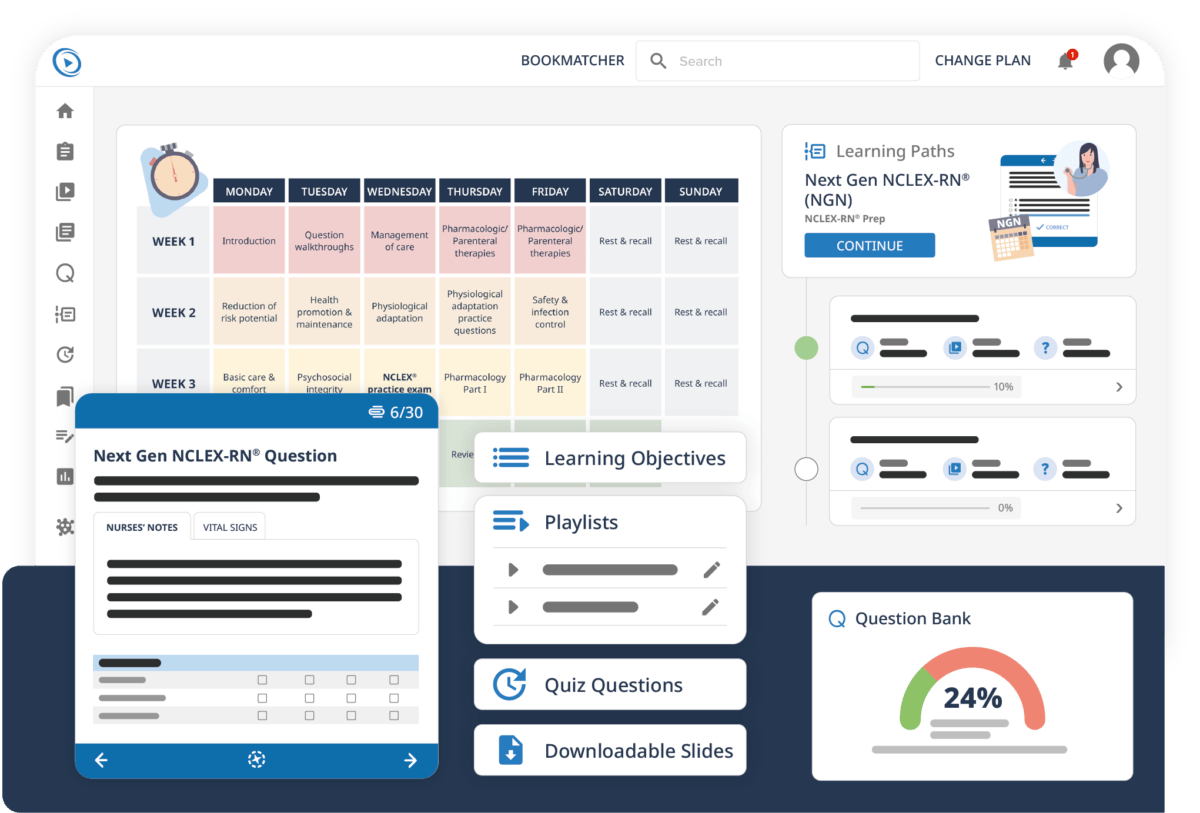 What Sets Lecturio's NCLEX-RN Review Course Apart:
Innovative Features and Proven Success Strategies
Introducing Lecturio's Next Generation NCLEX-RN review course, designed to help nursing students excel on the latest version of the NCLEX-RN exam.
This course offers expertly crafted content and advanced learning tools for a comprehensive and dynamic learning experience. Whether you're a first-time test-taker or seeking to improve your previous score, Lecturio's Next Generation NCLEX-RN review course is the ultimate resource for NCLEX success.
Learn How To Take the Exam
Begin by learning the basics of the types of questions and how to approach them. Our question walk-throughs teach you tips and tricks on how to answer questions, even when you're guessing.
Put Your Testing Skills to the Test with Practice Questions
Sharpen your NCLEX skills, including Next Generation NCLEX (NGN), with our practice questions that come with thorough rationales.
Brush Up on Unfamiliar Content When Necessary
With Lecturio, you don't have to look elsewhere for concept review. Our platform offers thousands of content videos that you can access to review topics that you need to brush up on.
Access Personalized Support by Joining Our Community
Our Discord community provides a platform for nursing students to connect with peers and access support from current nurses and nursing educators.
"Thanks to Lecturio, I passed my NCLEX-RN exam with confidence! I studied for weeks using your comprehensive video lectures and exhaustive exam practice questions. I passed my exam two days ago and I couldn't be happier! Thank you, Lecturio, for making this dream a reality!"
Top Educators

Lead You to NCLEX Success
Dr. Rhonda Lawes is a Certified Nurse Educator (CNE), and an Assistant Professor at the University of Oklahoma College of Nursing in Oklahoma, USA. She obtained her PhD in Educational Psychology from Oklahoma State University in 2016. Helping nursing students to use the science of cognitive learning to maximize their study effectiveness, Prof. Lawes has earned numerous teaching awards.
Liz is a Family Nurse Practitioner (NP) who uses social media to document the joys and challenges that come along with the nursing profession. Nurse Liz, as she is affectionately known, regularly offers tips to help nursing and NP students to help navigate the world of nursing education and the careers that follow. Her platform is designed to be an open and safe space where students can share their experiences and insights to build confidence and encourage growth in one another as part of a community.
Frequently Asked Questions